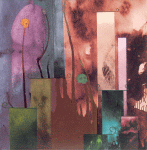 Artist:
Current 93
Title:
How He Loved the Moon (Moonsongs For Jhonn Balance)
Format:
2 x CD (double CD)
Label:
Beta-Lactam Ring records
(@)
Distributor:
Beta-lactam records, Revolver/Midheaven, Solielmoon, Clear Spot, Target Export, Cargo UK, Crosstalk, Musea, Vinal Edge, Drone etc...
Rated:
Current 93 is certainly one of the most prolific industrial/experiemtnal bands around, so as I go about reviewing this, I realize that they already have a dozen new releases out. But bare with me as I tell you about "How He Loved the Moon", a four tracks double CD packaged in a folding cardboard package that commemorates their dear friend Jhonn Balance (who passed away on November 13th, 2004). Although Current 93 is mostly the work and vision of producer David Tibet, this record actually consists of new mixes of the "In Menstrual Night" album, which was composed by Nurse With Wound's mastermind Steven Stapleton (who probably is the most consistently present member of Current 93, after and besides David Tibet). Ex-Coil member Balance is hereby remembered with an album that brings C93 back to their roots, before Tibet started venturing into the world of spoken-word poetry. Unintelligible children/female voices mixed with all sorts of low drones and reverberated ethereal noises, all interact and feed off of each other in a downward spiral of slinky-like effects that recreated what you would hear if you were in a huge and never-ending nightmarish tunnel where the walls speak and the light is nowhere in sight. Dedicated listeners of Nurse With Wound, Coil, Psychic TV and the most subtle and placid of Throbbing Gristle will enjoy this release, which is also available as 2 LP's.
image not
available
anymore
According the biography of Robbie Martin, we read he started playing/composing with electronic music a while ago and you can bet the cut/technical skill of this northern californian musician is not a mystery. You'll find a wild bunch of superimposed influences where it's hard to recognize this or that artist. First off, we're talking about a rhythmic release, therefore if you were expecting some pre-confectioned, ambiental, easy listening cd, perhaps that's not your cup of tea (at last one of his label mates is Venetian Snares). While working on rhythm and tempo changes Fluorescent Gray had the good idea of working on melodies (something that many electronic musicians think it's irrelevant... but it's not) and the result is positively fine but at the same time strange. At last Martin writes he has been drawing inspiration from artists such as Farmer's Manual, Zoviet France, Coil, Art of Noise and Bartok so please don't blame me/him if "melody" doesn't imply "easy listening". Every song hides a zillion of small particulars but still Fluorescent Gray keeps his eyes on the global image of his work which probably means he has a clear perception where his sound is headed. Seventy-three minutes of personal and somehow melodic electronic music, the release is a bit too long but the result is rather interesting.
Artist:
LITTLE SAP DUNGEON
(@)
Title:
Empty Rooms Breathe Heavily
Format:
CD
Label:
Backscatter / Dungeon Recordings
(@)
Distributor:
DSBP
Rated:
The nightmarish duo consisting of Kevin J. Cazier and Alan E. Wilson aka LITTLE SAP DUNGEON (please check back their interview somewhere on our site...) returns with a new full length CD which features some new tracks as well as a kind of retrospective of their highly acclaimed last studio work "Silent Entities". Unfortunately this new release is also a kind of farewell compilation, because this damned talented act has to take a longer pause from all activities and the future of this act is really uncertain. The lack of time caused through studies, full time jobs, getting a young addition to the Wilson family, seem to make it impossible to work and produce music with the required seriousness. This is very sad to hear, more especially if you take a listen to the both new tracks of this duo here, "Behind The Mask" as the opening track, and the scary title track following afterwards. Especially "Behind The Mask" really kicks ass – a tough and stompy Dark Electro piece with a dramatically produced melodic content – yes, the comparison with some heavy SYMBIONT stuff is thinkable and allowed! It is definitively one of the straightest tracks this duo has ever been produced so far. "Empty Rooms Breathe Heavily" then slows down the breathtaking tempo of "Behind The Mask", but this does not at all mean, that the title track is less interesting. This track is a perfect example for what LSD is known for through the years. A dark and depressive mood, uncountable scary voice samples, a lot of effects and noise to produce a detailed and filled background, and a rough whispered vocal inset are the winning points of this track, which documents impressive the preferences of LSD of being one of the best horror/splatter movie influenced acts around. Empty walls breathe heavily – how can you doubt on this? Also for the remixes, it is generally noticeable that the tracks provide a stronger dedication to some dancefloor compatibility than ever expected. CIRCUIT SURGEON have laid their hands on "Doorway Dweller", a rough instrumental piece originally, which was the opener on "Silent Entities". Most of the rotating noise sounds get removed now, so that some aggressive rhythm patterns could find its way on this remix – a well done alternative. This counts also for "The Children's Sleep" remixed by TWILLIGHT TRANSMISSION – the relationship to the original is hard to recognize. Thinks differ with the SYNAPTIC DEFECT remix of "In The Dark", but this one plays well with the amount of given voice samples. Kevin J. Cazier finally has laid his talented hands under his solo project PCP on the track "Phantasm" and also Xon of BOUNDLESS has not to be missed here with his quality remix of the new "Behind The Mask" – it is a bit more club-friendly, the mood also turns into a lighter feeling in comparison to the original. Also this release is a co-production between the both Salt Lake City based labels, Dungeon-recordings and Backscatter (www.backscatter.biz), and the nice DSBP should be responsible to do some mail order service. Get your copy of this, and take part on the funeral procession of one the most underrated acts around. I still hope somehow for continuation for this act...
Artist:
VV.AA.
(@)
Title:
EVP – Compilation Vol. 1
Format:
CD
Label:
X-Cem
(@)
Distributor:
SXDistribution
Rated:
Another compilation next to the successful "Lost In Darkness" series of the X-Cem community and so you'll also get some already known partners in crime here, mostly offering alternative versions or unreleased stuff. ACYLUM opens the reign here with title track of their full length "Your Pain" and follows strong the settled paths of acts like older SUICIDFE COMMANDO or DIOXYDE. DECLARE offer again their track "Blind", but this time in a remix which focuses more on Futurepop-sounds – not bad at all, but the voice sample "Der Herr lässt mich sehen" slowly starts to hurt my teeth... The duo RE:\LEGION offers one of the best tracks here with "Pests Of Flesh", which can satisfy with right combination between aggression and melodic content – an up and coming name to follow! Same can be said also for ENCEPHALIN, which is a side-project of DECLARE – on this comp they provide a better piece than the main project. With CHROME DIVISION (an ACYLUM side-project...) and SENSOGEN (a WYNARDTAGE side-project...) this comp offers some Powernoise-inspired stuff as well, while then MAY-FLY return to classic EBM/Dark Electro with a special edit of their strong piece "Raper". WYNARDTAGE of course have to be named as well, especially for giving the audience a new and previously unreleased track called "Dein Fleisch". LA MAGRA comes also up offering a Dark Electro piece which is a nice teaser for their upcoming debut on X-Cem, out soon. CYBER WHORE and ANIMA IMMORTALIS (another DECLARE side-project...) offer both female leaded dark pieces to conclude this compilation. 15 tracks in all on this "Electronic Voice Phenomenon Vol. 1" with some special stuff to fill the collection of the hard stuff user. Not to outstanding, but well done enough to grab some attention.

Tracklist:

01 Acylum - Your pain
02 Das Über-Ich - Honig im Kaffee
03 Declare - Blind (Angel's Return mix)
04 re:\Legion - Pests of Flesh
05 Encephalin - Dismissed (Album Version)
06 Krachmachine - Hass
07 Chrome Division - ElektroSchockTherapie
08 Sensogen - Burn in Hell
09 May-Fly – Raper (Edit Version)
10 Hiob - Todestraum
11 PsiPhy - Infected
12 Wynardtage - Dein Fleisch
13 La Magra - Vampire Dinner
14 Cyber Whore - Ice Romance (V.02. – Remix)
15 Anima Immortalis - In Taberna


Artist:
CБ
(@)
Title:
Demolished
Format:
CD EP
Label:
Advoxya Records
(@)
Distributor:
Poponaut
Rated:
The Estonian EBM/Electro act CYCLONE B returns under the shortened moniker CB and releases finally their long awaited follow-up EP to their highly recommended debut CD "Consequence Of Hidden Truth". Next to the reduction of the band name with the Russian "B" letter (...which is unfortunatly impossible to fill it into this review text, baah!) , there are also some changes in the lineup of the band members, and this can maybe explain the long delay of this release, which was originally set to late summer 2005. "Demolished" is the expected EP which features 3 new tracks, plus 8 remix works done by some fine and known names out of the international Electro/Industrial scene. "S.O.S." is the name of the opening track, a real hard EBM smasher, which is filled with several FX noises and a rough distorted vocal performance. It has a strong dedication to some classic FLA works maybe and can be called here as the best track this talented Estonian act has ever composed. The second new piece follows with "Place Of Nothingless" – vocals and the generally mood of this track are darker, also the tempo slows down a bit, nevertheless also this track is a winner and it documents the excellent musically development this band has done lately. Then we got several remix works on some tracks taken in their original version from the full length "Consequence Of Hidden Truth", "Sputnik" (done by XP8 and the Out Of Line recording artist ANGELS & AGONY), "Deathember" (by the German SYNAPTIC DEFECT and the lesser known act ERRATIK AFFEKT) – and surprisingly the slow and depressive track "Agony" featured in three remixes by BATTERY CAGE (USA), DEPRESSIVE DISORDER (Czech Republic), and THE-PULSAR (Russia). The most outstanding remix is done by BATTERY CAGE, because their remix really tries hard to drift away from the slow original "Agony" track and sounds more like a real new track than a remix. Please note also that this remix work of this famous US act avoids the use of some guitar sounds and Coldwave attitudes for which this act is known for. Add to this the original version of the old-school EBM track "Cybernation" – this piece was featured in a special edited version on the Interbreeding 7 DCD compilation of the USA-based label BLC Productions – and also the "Up Your Hate – Mix" of the dancefloor killer "Nothing" done by CB themselves, and this piece was available on the Advoxya Records compilation "Post Alcoholic Body Syndrome (Death) 1". 11 tracks in all here, no weak pieces and no fillers at a running time of more than 56 minutes – yes, this new and fine Advoxya output was worth the waiting time. Please note also the international presented remix artists featured here – this Estonian talent has made some good friends in almost every corner on this world. Promising new tracks and some excellent remix works – you can't ask for more!