Artist:
SPEKTRALIZED
(@)
Title:
Capture The Moment
Format:
CD
Label:
Accession Records
(@)
Distributor:
Indigo
Rated:
Second full length CD release for this Norwegian trio, this time completely created and produced on their own. For their debut "Elements Of Truth" they could get Sebastian R. Komor of ICON OF COIL doing some production for them. It seems that there can be found especially in Norway several acts focusing Synth-/Futurepop music, just think on some famous fellowmen like APOPTYGMA BERZERK, the already mentioned ICON OF COIL or PRIDE & FALL. But that they are now responsible for all production settings on their own, does of course not mean that they've failed somehow – no, it is more the opposite. SPEKTRALIZED could make a nice development and their new tracks are much closer to professionalism and perfection than ever before. The generally sound of the band can be called Synth-/Futurepop and they have taken a long and detailed look into the pots of ingredients of acts like A23, VNV NATION and/or PRIDE & FALL and how they cook their meal – without losing an own signature. Tracks like the strong Futurepop-inspired track like "Shy" or "Broken Thorn" will totally satisfy the friends of the above mentioned acts. But the highlights of this release have to be named with the slower ballads and more classic Synthpop anthems. Make sure to check out the excellent "Beneath You" which gives the most remarkable refrain of all tracks here, or the pure Synthpop piece "In The Rain", which proves that there's a clear musically boundary between Synthpop and Futurepop. The whole album is a pure entertainment without any failure. It shows a good diversity and is filled with some brilliant ideas. A welcomed alternative to the mentioned big players.
image not
available
anymore
Artist:
SCALD
Title:
Vermiculatus
Format:
CD
Label:
Aural Music/Code 666
Rated:
Scald are a truly atypical metal band from Northern Ireland formed by Peter Dempsey (bass), Paul McCarroll (drums), Michael Tierney (drums) and Glyn Smyth (drums). Yep, no vocals, not even samples, which for a heavy band is already quite remarkable, and a daring choice anyway. "Vermiculatus" features a single 47-minute track and a video developing the band's concept, based on the "metaphorical representations of the parasitic worm as psychological states" (to quote the press sheet for lack of further information). I found the audio part really interesting, though not always coherent and fluid. Their label defines them "progressive post-grind", but bear in mind that, except a few blast beats and frantic passages, Scald usually opt for heavy, complex mid tempos - let's say this is more similar to Neurosis than to Discordance Axis or Nasum. The oppressive, sludgy parts are skilfully varied with geometrical breaks - I'd be tempted to use the "math rock" tag if it didn't sound ridiculous or misleading in this context. The weak parts are, for me, the more traditionally heavy metal solos, and, here and there, a bit of baroque pomp - "progressive" in the negative sense of the term. But I'm making this sound worse than it is: it's actually a very nice disc of original heavy music, and personal tastes aside this is one of the most original metal records that I've heard in a long time. The second part of "Vermiculatus" is a sort of ambient industrial re-working of the previous instrumental session: hectic and much more uncompromising than I expected, it suffers from its fragmentary nature, but it's a welcome add to the whole head trip. And finally,the video track ("Vermiculatus B1"): whoah!! It only lasts 3 minutes and a half, but it's brilliant. Imagine high-tech images of mutating bodies, with the worm theme going on. Here, the electronic sounds actually work perfectly, as they merge with the frantic rhythm of the images. Very creative, well realized, and totally deranged visuals; don't expect anything close to a promo clip, or something you could see on MTV.
image not
available
anymore
Artist:
MASSA ┌LTIMA (@)
Title:
The Void Reflex
Format:
CD
Label:
Self-released
Rated:
Reviewing music on a regular (ahem! Not that regular lately) basis is great because you basically get to hear many records you would never cross with otherwise. Sometimes they're crap, sometimes they're pleasant surprises. Massa Última (aka Portuguese Rui Almeida)'s self-released cdr surely belongs to the latter category. Almeida, joined by Luís Couto on the title track, uses a lot of field recordings, mostly taken in Ireland and the Aran Islands, along with instrumental sources like guitars, keyboards, mbira, drum loops etc. For a debut, his style is already remarkable, though a little rough at times, or just a bit dispersive. But there are little gems like the droning title track (with bowed strings which could definitely appeal to those into guitar-based ambiences, à la Aidan Baker) or the equally captivating "Change Resistance" (a composition for radio waves, massage chair, broken drumpad and keyboard), which are very convincing in their fresh, handicraft approach. At times the used of looped concrete sources, as in the opening "Quiet Stratagem", reminded me of Murmer, though on the whole Massa Última relies more on electronics and instruments - "Opposite Reverse", for instance, is structured on a backward melody, though I must say this is the track I liked the least, as I found it a bit predictable. But as I wrote above, this is definitely a promising and at times original debut - let's see how Almeida evolves.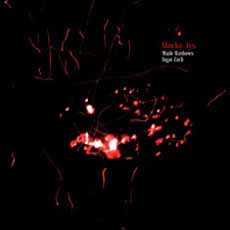 Artist:
WADE MATTHEWS/INGAR ZACH
Title:
M°rke-lis
Format:
CD
Label:
Creative Sources
Rated:
With six tracks titled by the dichotomy between light and darkness in six different languages, "Mørke-lis" is indeed an album of contrasts and unexpected superimpositions. I can only guess at how it was recorded, since Matthews is listed as "electronic synthesis" and Zach at "percussion": maybe the former filtered the latter via max/msp or something similar, as the music comes out sharp and scabrous, with an almost mineral quality. Whichever tecnique they may have used, this is a strong duo performance of algid electronic fibres shattered by frantic gestures, reaching their chaotic peak in the sixth and last track "Ténèbres Lumière"; and Zach's splendid photographs are the perfect visuals for such a volcanic performance.
image not
available
anymore
Artist:
ANDREW LILES
Title:
In MyFather's House are Many Mansions
Format:
CD
Label:
Fourth Dimension
Rated:
Anyone into drones should be familiar with Liles' increasingly recognized production by now, as both his solo works and the collaborations with the likes of Tony Wakeford (Sol Invictus), Nurse With Wound, Darren Tate, The Hafler Trio, Wander, etc. are remarkable. While rightly issued under his own name (also given the coherence of the whole set), this cd features "Andrew Liles as played by" an all star cast, probably gathering the best of the current drone/ambient circuit: Paul Bradley, Colin Potter, Aaron Moore (of VolcanoThe Bear), Jonathan Coleclough, Ruse, Band of Pain, Bass Communion, Aranos, Darren Tate, Irr. App. (Ext.), The Hafler Trio, Unsong, vidna Obmana, Nurse With Wound and Freiband. Given the quality of the starting material, and the visionaries and loonies involved, how could this disappoint? As expected, no track is less than well done, and everyone can easily pick his favourites (mine were Bradley, Bass Communion, Irr. App. (Ext.) and Nurse With Wound). Most of all, it's a collection which faithfully portrays Liles' sound art, both in its expanded drones and in its surrealistic collages. And by the way, the inner layout, with everything from Willy Wonka to S/M drawings passing through AC/DC, surely speaks more than a hundred reviews.