Bearing no resemblance to the Flock Of Seagulls classic, the title "I Ran" is, it seems, more of a play on the country name, as this release on the Disco Halal label revisits their Middle Eastern roots, setting plaintive prayer-like vocal sounds and distinctly Eastern plucked and percussive sounds into the structure of a steady, driving, single-groove house track. The electronica remains steady while the sampled elements gradually lift and build, fall and re-build.

For better or worse- in my opinion better- the original reminds me of the remixes of "Yeke Yeke" by Mory Kante, which had the sense to keep the core song substantially intact and respect it as the club rhythm wraps around it. It's like a modern Middle Eastern take on that approach, if you like, and it works very well.

The Simple Symmetry remix is a surprisingly different beast, with a very different appeal. Starting off with quite a synthpoppy arrangement, which then introduces a twangy lead guitar melody, it's a bit more sparing with the use of the Eastern source material and results in a brighter, more home-listening affair that makes for an unusual pairing with the original, yet it works nicely as a package.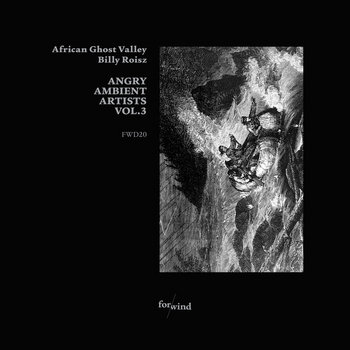 Artist:
African Ghost Valley & Billy Roisz
(@)
Title:
Angry Ambient Artists Vol.3
Format:
Tape
Label:
Forwind Press
(@)
Rated:
This new volume of Angry Ambient Artists is a split release by African Ghost Valley and Billy Roisz and, in spite of the title, is more oriented towards noise and experimental music territories than classic, or dark, ambient ones. Noisy sources are placed in times to variate dynamics and spectrum to create movement so it's not neither ambient nor industrial music but a crossover with a certain level of personality.
African Ghost Valley open their side of the tape with a noisy sound, vaguely reminiscent of certain '80s synth music, of "9732 XE" opens the first side of this tape and introduces the listener to a sort of noise ambient i.e., noise music without the deafening mass of layers but with a layer of quiet drone which sometimes emerges and takes the aural scene. "MM 152" is instead suspended on his oscillation between silence, quiet drones and sharp tones which creates a tension toward the final noisy section. From an initial part close to silence, "OC 154 T" closes the A side with an accumulation of layers which end in the closing mass of noise ending in silence.
Billy Roisz instead occupies her side of the tape with one track, "Hidden Layers", which oscillates between abrasive moments and quiet ones, both developed upon noisy elements asking the listener to follow a musical development rather to be overwhelmed by mass of sounds.
Perhaps a bit too noisy for the usual ambient fan, but it reveals al least a research of personal perspective of the crossover between ambient and noise. Not only for collectors.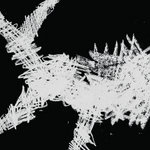 Artist:
Ghost Flute & Dice
Title:
Kropsbygning
Format:
CD
Label:
Attenuation Circuit
(@)
Rated:
The music of Ghost Flute & Dice is based on piano but, instead of being something closer to modern classical and its neo-romantic chichés, has a tie to the intuition of modernity where piano is considered more as rhythmic instrument than a melodic one. Moreover there's an use of effects and tape editing which creates a level of abstraction above the piano line mostly based on chords and looping lines vaguely reminiscent of minimalism.
The framework of this release is immediately exposed in "Emdrup": piano chords and effects creating odd resonances which are a proper layer above the piano creating some similar to the classic accompanying strings, but with a wider spectrum and elements of noise. "Kejser af Kina" is instead more focused with the rhythmic elements using the prepared piano and the reverse effect. "Glasvind" proceeds by accumulation while "Wrong is here" borders ambient territories as it starts with an electronic setup prior to the entrance of the piano. The layers of "Standardlösninger" generate an apparently complex sound but it's instead based upon variations of a fistful of melodic cells. "Pladearbejde" explores the string elements of the piano while "Undersult" the variations of sound masses. "No Name Nr 2" closes this release with a dialogue of the piano with his effect and noises.
Apart for some trivial moments where the experimental layer is a little expectable, the equilibrium within moments tied to tradition and to modernity is remarkable. Practically a release enjoyable by everyone.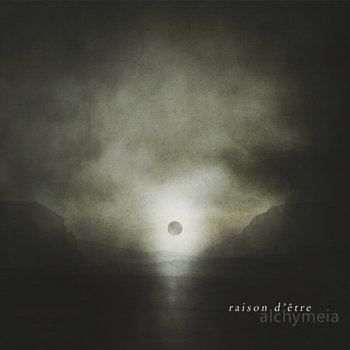 Artist:
Raison D'être
Title:
Alchymeia
Format:
CD
Label:
Cyclic Law
(@)
Rated:
This new release by this historical project is presented as based on "Carl Gustav Jung's notions of archetypes and the individuation process" but seems more based on traditional religious rites. The vocal samples are predominantly prayers in latin and the drones are immersed in a quiet atmosphere that let emerge every small concrète sample.
As "Nigredo" starts, the first thing that could be noticed is the impressive quality of the sound details as the religious atmosphere obtained with bells, concrete sounds and prayers in latin are depicted with both a sound patina and realism while the second part is based upon a droning crescendo and a martial atmosphere which surrounds the listener. "Albedo" is a track in three parts: the first one is quiet and suspended whose crescendo introduces a second part focused in a thick drone whose end is marked by the third part based on a child choir. The development by accumulation of "Citrinitas" build an audio spectrum in which the listener could drawn only to be taken towards a suspended end of the track. Whilst "Rubedo" starts as a meditative track centered on a resonances, it's suddenly twisted in a rarefied ambient track.
As someone could reasonably states that, at writing level, it's just another dark ambient release, he should also notice that the quality of audio detail and construction is so impressive to let gobsmacked. Recommended.
Artist: People Places & Things
Title: ACID03
Format: 12" vinyl + Download
Label: Art For Arts Sake Records

A track used in a recent Adidas ad narrated by Bez from Happy Mondays, "ACID03" revolves around a decidedly retro bit of 303 tweaking unashamedly routed in the world of the Hacienda and warehouse parties. That being said, the slow tempoed kick and more current-sounding long ghostly pad sounds are a slightly modern twist on it that give a real sense of atmosphere and prevent proceedings from getting truly novelty-ravey.

After the original mix fades away in a decidedly DJ-unfriendly manner, the Factory Floor remix keeps things in a pretty similar ballpark, changing the synth washes for something a bit more spacious and swapping basslines for something equally simple, feeling even more languid than the original, certainly closer to the chillout room than the mainroom in old school club terms.

It's a little bit uneventful in some ways, not quite demanding as much attention as it ought, slightly wallpaper-ish, but it's always good to hear a classic 303 tone or two. Everybody still needs them.