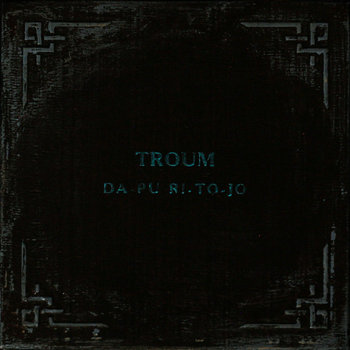 Artist:
Troum
(@)
Title:
Da-Pu-Ri-To-Jo
Format:
CD
Label:
Black Mara
(@)
Rated:
This new release by Troum is a a collection of 7" vinyl release, from 2004 to 2016, and it's introduced by a short script by the band where the overall concept is that this release could work as a description of the project. Their music could be roughly described as dark ambient but this release shows how they are able to wander across all variations of the genre.
While "Aerugo" is an open space ambient track, "Aetas Vetus" closes the listener into a noisy and oppressive territory. As "Agnus Dei" has certain level of solemnity, "Betonwolke" rework this musical elements towards almost post-industrial shores. The heavy and atmospheric basses of "Das Air" are balanced by the uncomfortable drones of "Gruoen". The long and filtered musical lines of "Nargis" and "Saiws" are as dark in the first one as bright in the second. As
"Segeler" is a crescendo of quiet drones, "Un / Mahts" is an almost monolithic mass of noises but with a movement. The last two track are from a digital only release and are the newest tracks: "Victoria" and "Unreleased Theme For River Endscene" reveals an idea of dark ambient where the drone is just a background for certain musical element to emerge.
As a release from a band classified as dark ambient, or post-industrial, this release reveals a band who search a musical way to express their ideas rather than repeat a formula on every track. Recommended.
Artist:
Jean-Luc Gionnet & Daichi Yoshikawa
Title:
Intervivos
Format:
LP
Label:
Empty Editions
"Intervivos" is a collaboration, bordering on a collision, between Gionnet's impulsive alto saxophone improvisations and Yoshikawa's instant feedback, resampling, sustained and electronic reprocessing.

It's a fierce and raw-edged affair in which high screeching tones and dischords are stretched, mangled and tortured. Long notes end in abrupt flurries of playing interspersed with silences and subtle drone sections built to throw the intentional awkwardness of the arrangements into sharp relief. Impulsive light percussive sounds are sprinkled lightly around to offer a form of counterpoint to the impossibly long sax breaths, sometimes looping and retriggering into an imitation of rhythm.

Across four pieces that are numbered not named, and across 44 minutes, there are plenty of truly nails-down-a-blackboard moments- but it's not entirely relentless. The latter sections of piece 1 develop a form of slowly evolving suspense where a sudden change of base note feels like real drama. In piece 4 there are sections that are sparser and feel like more traditional avantgarde jazz (accepting that contradiction in terms), deeper and strangely warmer notes- twelve minutes in being a dynamic highlight.

For the most part though this is a seriously challenging wall of noise to befuddle and overwhelm you. Wallow in it and get transported to very strange mental places indeed, or listen to it without concentrating and think "to be honest that just hurts my ears".
Artist:
MCVX
(@)
Title:
Voyagers
Format:
Download Only (MP3 + Lossless)
Label:
KrysaliSound
(@)
Rated:
It's pretty weird the first language for a set of human sentences included in the messages to the universe in one of the two golden phonographs, that are supposedly wandering in the universe through Voyager 1 and Voyager 2 like a bottle in the ocean by the inhabitants of this planet, was Sumerian. Believers of the theory of Ancient Astronauts could think it was a pretty ironic choice and maybe some of them could argue that this mission is a possible NASA hoax. Whether these space missions are real or not (this is not the space to discuss this thread), the simple idea that there's something surfing the deep space to testify that something's happening down here on "the third planet of the star Sun" (a quote of the sentence in Oriya language of these human greetings, attached to a set of images and music, selected by a commission led by Carl Sagan in the late 70ies) is a romantic source of inspiration for many earthlings, including the one of Carlo Monti - another Carl like Sagan...-, a young Italian guitarist, who moved into the territories of experimental and ambient music after years in the ones of prog-rock. Given that it's just his debut, this student of Music Information Science at the University of Milan explores a theme on the nose of many musicians, but he made it in a somehow original way. He also included some samples taken from the NASA Voyager Golden Record (no need to sign a waiver, as it's a Creative Common), but the most interesting aspect is the emotional framework that he evoked over this stream of clues and traces of human civilization. The graceful elongations of piano chords in the initial "Faded", the seemingly chaotic radio signals of "Perpetual Angels", the hyper-effected synth brasses and the vitreous consonances of "Oceanless", the meditative halo of "A Prayer" and the distant fluctuation in the infinite evoked by the boundless digressions by the final "On The Share" match the atavistic feeling in between astonishment and anxiety of those inhabitants of this planet, who didn't forget to be part of something bigger than the deceptive fences of private property yet. Available in digital format as free download according to NASA samples copyright.
Yoshinori Hayashi's four-track EP is a collection of tracks from the more wigged-out side of trip-hop and casual walking-pace electronica. Over some lovely and complex yet quite organic-feeling drumming and steady basslines, a procession of unexpected layers roll out and combine to create something with a really quite distinctive flavour that seems intent on wanting you to nod your head comfortably yet feel slightly confused at the same time.

Opening track "Palanquin Bearing Monkey" centres around some drunken, tape-warped piano forming the weirdest jazz groove you've heard all week, joined by strangely infectious clapping. The real low string sounds on "Stepping On Dewdrops" are a lovely touch, the improvised and super-quirky vocal evocations perhaps just a touch too knowingly weird.

"Pneuma" is a stand-out track that commands attention. The use of gradually building and seemingly arhythmic choral sounds over a steady and seriously funky bassline is one of those inspired arrangements that ought not to work, yet does. Final track "Chember" is the darkest and most experimental offering, again focussing on vocal ahhhs and wails but this time with a deeper and harder-to-follow rhythm that seems to want to run away from the listener.

An early contender for one of 2018's most standout weird-and-wonderful, sort-of-electronica offerings.
Artist: Mother Of Mars
Title: Seed 2 Sky (Remixes)
Format: Download Only (MP3 + Lossless)
Label: Ransom Note Records

I reviewed Vito & Druzzi's original "Seed 2 Sky" back in November, then coupled with an A-side "Hera In The Valley", calling it "exemplary electronica". Now, Ransom Note Records have followed it up with six remixes to pull the synthy, subtly progressive house with tribal percussion pattern sounds of the original into half a dozen different directions.

The outstanding version here is from C.A.R., who's used the instrumentation of the original as the basis for writing a brand new song that sounds completely coherent and like it ought to have been the original version all along. A slow, slightly proggy vocal over the steady, faintly Kraftwerk-y original groove with added more dramatic percussion as the song demands, it's on the edgier side of dream-pop and works exceptionally well- hopefully an indicator that the two parties should collaborate more in future.

Justin Robertson uses his Deadstock 33's alias and takes the track on a twelve-minute journey of slowly knob-twiddled staccato acid bassline with delay-washed higher elements, slowly layering up more and more percussive patterns and introducing the melodic elements one-by-one to raise the energy level with expert care. By comparison Ess O Ess's is a very mellow and straightforward house take with rich pads and feel-good synth washes, holding back a slightly more driving bassline until over three minutes in to good effect, but overall somewhat more modest.

Graintable's remix is a stripped-back breakdown, focussing solely on the synths and pads and completely percussion-free. The liberal use of a tape warp effect is strangely disconcerting and, for me personally, spoils what would otherwise be a very smooth and simple wave of calming synth noise.

Leaf's remix is another ten-minute adventure, this time with a slightly more indie-electronica vibe reminiscent of DFA. Again it's heavy in washes and slow builds, but is perhaps the remix that doesn't sustain its running time quite as well as the others. Finally Malestripper's version adopts a similar vibe but with a thinner and more electro rhythm and some dramatic, faintly novelty synthwave tom hits and a slightly weirder structure that's less interested in evolving normally.

It's a great packages of remixes, and one of those with enough variety and quality in it that it becomes a worthy 51-minute deep house listening album in its own right, which is rare.