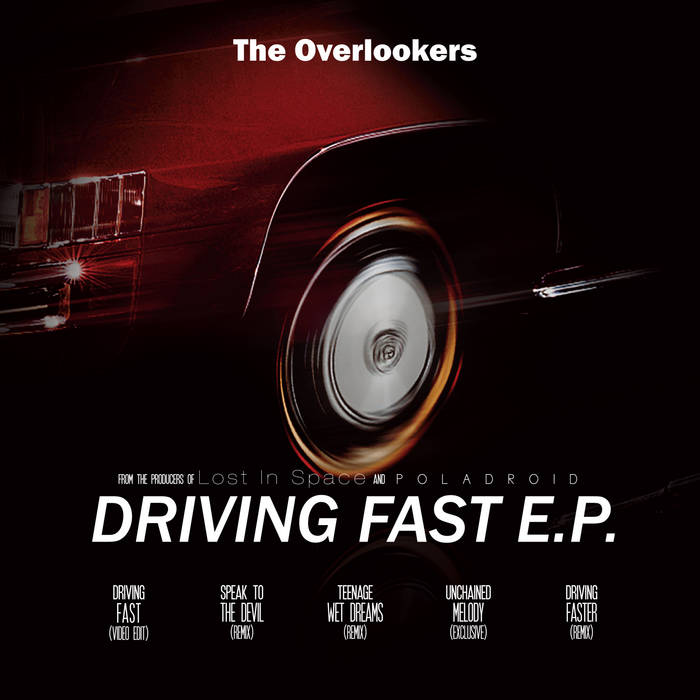 Artist:
The Overlookers
Title:
Driving Fast EP
Format:
CD EP
Label:
Boredom Product
Rated:
Initially I was thinking that The Overlookers were a mysterious band coming from France but they have recently posted a photo on their Facebook profile and it seems to me that one of them is JB, of Dekad. Anyway... Their first EP "Driving Fast" has just been released by Boredom Product and it contains three tracks which will be released on their first album "Teenage Wet Dreams", which you can find here remixed (only "Driving Fast" is here also with the video edit version), plus a cover of the Righteous Brothers' "Unchained Melody". The band, has been helped by Member U-0176, of Celluloide fame and boss of the Boredom Product label, for the "special effects" and post-production. The songs, find their roots in the 80s/90s synthpop but with a twist and in this case we have a bit of 90s e.b.m. influences helping to spice up the rhythm section, thanks to bumping bass arpeggios. The three original tracks "Driving Fast", "Speak To The Devil" and "Teenage Wet Dreams" are really nice and make you feel curious about the forthcoming album, because they are sounding quite different: the first is a uptempo killer (probably it's the one which is more e.b.m. sounding), the second is a mid tempo dark tune and the third one is a slow tempo which is recalling me the old Depeche Mode ballads of the likes of "Waiting For The Night" or "Question Of Lust", because of the overall atmosphere and also because of the the arpeggios progression, which melodically remembered me the Basildon boys. The "Driving Fast" remix, renamed "Driving Faster", is a good electro track which is focusing on the rhythmic parts of the song (bass lines, drums and synth percussions are the main elements) and the leads are added here and there to enrich the melodic parts. Check it here! https://boredomproduct.bandcamp.com/album/driving-fast-ep
Artist:
Andrea Neumann / Mads Emil Nielsen
Title:
Refound
Format:
10"
Label:
Arbitrary
This is a compact 10" collection of ten short numbered 'correspondence pieces' between Neumann and Nielsen where they experiment with piano-sourced sounds and process and rework them digitally into unrecognisable electronic shapes and atmospheres with a synthetic and sometimes slightly harsh attitude.

Super-short repeating glitches pan and warp over low grumbling sounds that sometimes make way for more harmonious layouts. Percussive elements drenched in delay are layered spontaneously, never really forming conscious patterns. At times, such as in part 5, there's a certain sci-fi quality to the heavy use of effects.

It's a very coherent 22-minute work, divided almost unnecessarily into ten tracks, but it's very familiar experimental soundscaping territory and it falls a little short of the unique character or challenge that would make it really notable.
Jensen's previous drones and atmospheres work was built from electronic sources, but for this new 6-track collection the key ingredient is processed recordings of string instruments. These long, organic sustained notes and tones are layered up, reworked and effected into otherworldly environments that certainly sound deeply electronic, but the string roots don't disappear and it never wholly detaches from classical string instrument timbres and the emotional shortcuts that they provide.

As such, what we've got here is a decidedly emotive collection of drones. It's surprisingly warm at times, with glacially slow pitch changes working the tone in and out of pleasantness but never getting truly harsh. There are noise elements, for example in "Eternity In Finitude", but they are, like everything else here, polished and softened into a broad gentleness.

It often languishes at the edge of your attention- "Silence Within The Sound" and most-melodic final track "The Passing By" both sounding like they could have been written for a tense moment in a video game where the audio was intended to unnerve you without properly being heard. There are occasional shades of rhythm, subtle pulsings within "A Shape Within A Material" that are barely audible yet carefully increase the tension aspect. "From The One To The Other" might be a good gateway track with which to introduce 'the deeper stuff' to fans of M83 or Radiohead who might be interested in delving deeper into what electronic music has to offer.

As temporal experiences of albums go it's rather short, barely scraping over 30 minutes. Seeking "the boundaries between true music and naked sound" has brought Jensen into territory that won't sound especially new or revolutionary to long-time listeners of ambient, but nevertheless it's a polished and high-quality-sounding example of its kind and it does have the power to hit a nerve.
Artist:
Chmcl Str8jckt
(@)
Title:
s/t
Format:
CD + Download
Label:
self-released
Rated:
Chmcl Str8jck (Chemical Straightjacket for the phonetically challenged) are the electro-industrial duo of Kevin Snell (keys, programming, vocals) and Mike Cairoli (guitar) from somewhere in northern New Jersey. Hey! I used to be from somewhere in northern New Jersey, but nearly a lifetime ago... Anywho, this self-titled 8-track album (that's an album of 8 tracks, not released on 8-track tape, although that could have been interesting) is their debut , released July 4, 2017. Yeah, I know we're really getting to this one late; it was one of the many that sat at Chain D.L.K. Central (Marc's domain) until enough material piled up that it had to be doled out to us lucky reviewers. So what have we got here? Well, this is pretty basic stuff with some good twists that comes across like a quirky sort of EBM (simple) without trying to be the next dancefloor killer. Effective but nothin' fancy synth programming and beats with str8t-ahead industrial guitar adhere to the KISS (keep it simple, stupid) rule. In the vocal and lyric department Snell co-opts Revco, Marilyn Manson, Alice Cooper, Jello Biafra, Skinny Puppy, etc., etc, with a sardonic sense of humor, which makes this thing seem to work better than it ought to. It's a horror-tinged cyber-punky sort of industrial with processed voice that is more spoken than sung, but somehow still works well. I saw the video for "Dressed to Kill" (the song that opens the album) and it's like Devo meet Ministry in Ed Gein's back yard. (No joke!) Some of it was filmed at a pole-dancing club called Platinum Dollz (Passaic, NJ) and although the vibe is uber-creepy misogynistic ritual killer stuff that might turn off some folks, for me it seemed ridiculously over the top enough to be chuckle-worthy. On the other hand, a different YouTube video of the band playing live proved to be somewhat of a yawn. Guess they need to work on their live presentation to kick it up a notch or three. The songs on the album still have a certain strange fascination though, although their next venture could probably use some diversity.
Artist:
Madhavi Devi
(@)
Title:
The Truth of Being
Format:
CD + Download
Label:
Spotted Peccary Music
(@)
Rated:
Madhavi Devi is electronic musician, harpist, and meditative sound painter Cheryl Gallagher from the Austin, Texas area. Madhavi Devi has had a few collaborative releases prior to this first solo outing on the Spotted Peccary label, but I haven't heard them. On 'The Truth of Being' Madhavi Devi employs a blend of digital, analog, modular and software synthesizers, concert grand and electric harps, viola, ambient guitar, Tibetan bowls. Howard Givens (ambient electric guitar, modular synthesizers, effects) and Stephanie Britten Phillips (viola) are special guests on this album but they never overshadow Gallagher's work. On 'The Truth of Being' Madhavi Devi's ambient is of a soothing melodic sort without ever getting too caught up in the melody. It is richly textured and world music influenced without leaning too much in one ethnic direction or another. Over the six tracks on the album that's just a few minutes under an hour (a couple of the lengthier tracks are well over 10 minutes each), Madhavi Devi takes the listener on an exotic, yet familiar journey that can also serve as tranquil meditation. Rhythm is sparse and somewhat downplayed yet still present on a few tracks. Most of the melodic input is abstract which is fine by me. (Too often good ambient can be ruined by melodic themes that come across as too romantic or cloying.) The one thing I really like about this album is its varying shades; different tones of light and dark that always seem to be resolved perfectly. While sometimes I was reminded of Constance Demby and Michael Stearns, Madhavi Devi's music has a vibe of its own not owing to any other particular sonic artist or work. Gallagher also designed and painted the artwork for the tri-fold CD slipcase, impressing that she's the total package. While 'The Truth of Being' isn't a revolutionary work in the ambient genre, it is a very solid one with a high degree of replayability.