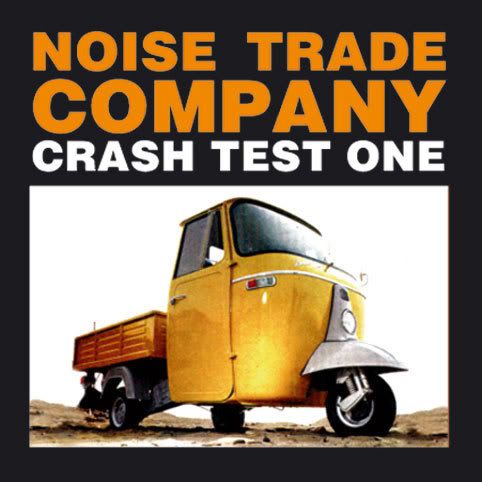 Artist:
NOISE TRADE COMPANY
Title:
crash test one
Format:
CD
Label:
N-Label
Rated:
During the first listening I have to admit I was a bit disoriented by the style, nothing that unusual or bizarre, I was just used to hear Gianluca Becuzzi aka Kinetix involved in experimental or ambient work and this new cd has nothing to share with it. This "crash test one" deals more with electro-rock, with a eighties feel and in some way this shouldn't be a surprise since Becuzzi early days saw him involved with Limbo and thought the style was significantly different sure he's probably been growing with all of this eighties martial/pop/dark/wave drum-machines and keyboards buzzing in his ears. Forget his ambient works above all the many collaborations with Fabio Orsi (here listed as guest on guitar together with Valerio Cosi on sax) and imagine some electro-pop-rock whose genus could be the result of a bland made out of Suicide, Cabaret Voltaire (they cover also "Nag nag nag"), Laibach, 808 State and more but all of this has to be imagined just much poppier and less hard pounding and with that typical male/female vocals duos (Becuzzi himself and Chiara Migliorini). Squared rhythms and synth/keyboards are the essence of the sound on this effort, guitar have a strong post-punk/new wave feel. I think this kid of product in Germany could sell well and this could also be pretty tasty for a dark-wave electro club for the fetish aesthetics is not that fat behind the corner. You have some noisy experimental splinters which may be a good indication of where Becuzzi is coming from, thought I can't say I'm a big fan of this style the cd is well done and some refrains are quite easy to be remembered ("waste your life... be an artist" for example) which is a good thing.

Artist:
VV.AA.
Title:
Rush For Black Celebration Russian Industrial Depeche Mode Tribute
Format:
CD
Label:
Kult Front
(@)
Rated:
Covering Depeche Mode is always a double edged weapon because of their characteristic style and because of their rich sound and it's also difficult to compete with Gahan and Gore vocals because half of the atmosphere they are able to create it's due to these performers. In the past many bands took this challenge, many failed and few did a wonderful job, so I was quite curious to listen to some industrial versions of the Depeche Mode tunes. Unfortunately this compilation doesn't gather Depeche Mode tunes (only few bands covered their songs with nice results) but it contains tracks inspired by those songs. The fact is that most of the tracks are made by sampled excerpts of the original tune and then re-assembled into a funny noisy way. This could be an original way of dealing with the matter of doing covers but despite the title, tracks like the ones of Ganzer (he fast forwarded and reversed "It's no good", "Freelove", Personal jesus" and Enjoy the silence" and shrank them into a one minute track) or the following Hladna (the cover of "Insight" now sounds like an industrial tornado and you can't tell what it is) sound like whatever song. Only few tunes actually sound like songs (the opening Das Reut's "Black celebration", Sal Solaris' "Rush" or M-28's "The sun and the rainfall") and it's a pity because they sound nice.
Artist:
COLD FUSION / RUKKANOR
Title:
Wunderwaffe
Format:
CD
Label:
Rage In Eden
(@)
Rated:
Originally released in 2004 as a limited edition of 100 copies then reissued in 2005 expanded from two to six tracks, WUNDERWAFFE has been reissued for the third and last time in a limited edition of 500 CDs and expanded to eight tracks (four by Cold Fusion and four by Rukkanor) to greet the five years of the label. Inspired and dedicated to the victims of the V-1, V-2 and V-3 missiles (and the guys want to underline that the CD has no a political meaning and it isn't linked to any ideology either) WUNDERWAFFE is one of the first releases of both the projects. Cold Fusion present four melancholic tracks in balance from neo-classicism and martial industrial while Rukkanor show his darker side with four powerful martial industrial orchestral pieces full of tension which are able tol give you the sensation of being inside a tank that slowly passes through a mine field. This is your last chance to get it!
image not
available
anymore
Artist:
DALGLISH
Title:
Ideom
Format:
CD
Label:
Record Label
Rated:
Dalglish is the new moniker of choice of Chris Douglas', previously known for his activity as O.S.T., with releases on Phthalo, Emanate and Qliphotic (and, just recently, Ideal) and a tour support activity with Autechre. A bit of namedropping which could hint at what you can find in "Ideom", i.e. angular, dark-tinged and experimental rhythmic electronica. When the pulse gets more regular and upfront, as in the tracks "Sach", "Morder J" and "Narpado", Dalglish could be loosely associated with those revolutionary minds that transfigured techno and dub into a much more obscure and cerebral headtrip: Basic Channel, Scorn and Plastikman, for example, all came to mind while listening. However, Douglas seems to be more interested in blurring and fragmenting any regular pattern (even alien and obsessive ones), leading to the collapsing architectures of "Tishm", "Damlicht" and "Amhain", a sort of post-human stare on beat-driven electronica.
image not
available
anymore
Artist:
SEMPERVIRENS
Title:
Dirge of the Dying Year
Format:
CD
Label:
Stellar Auditorium
Rated:
Estonian artist Margus Mets has allegedly recorded at least 6 full-length albums, but I guess this is the first one to receive public distribution, thanks to the newborn Stellar Auditorium imprint. Despite its gloomy title, "Dirge of the Dying Year" is a shady and elegiac, but not entirely bleak ambient disc, and for once I've found the press sheet suggestions (Biosphere, Northaunt, Brian Eno) totally appropriate. "Grey Skies above Us" opens with a low droning lament, layered with natural field recordings; then, an organ-sounding melody, full of nostalgia, rises from this more abstract tapestry. While the album is mostly based on obscure, a-melodic atmospheres (see "Sunken Consciousness"), Mets is not afraid to add some more openly musical passages here and there: the guitar picking of "Sails Engulfed in Fog & Fire" even has a '70's psych-folk feel, and "There Will Come Soft Rains" is a lullaby of refracting backward melodies. The not-so-exciting moments are limited to the jarring decayed tune of "I Rembember Everything", and a certain monotony if you take the whole album in one go; but "Dirge of the Dying Year" is good enough to leave you wanting to hear more.