The talented Norwegian musician Hans Kjorstad (starting his musical path when he played the violin at the age of 7 in Fron in Gudbrandsdalen, a small Norwegian village, that has a lively folk music scene) recently established his personal imprint Motvind - as a sister company to the Motvind Festival - by releasing the debut album by Miman, a trio he founded together with Egil Kalman (playing double bass and synthesizer) and Andreas Røysum (playing guitar and a clarinet). According to the notes (...and we have no reason to not trust them!), these three folks recorded "Ulme" with the support of Magnus Nergaard over three days in March 2017 during which they improvised in front of a fireplace (as you can guess by the title of the first song "Omkring Ilden", meaning "around the fire") in a cabin in the woods north of Oslo. Wood and fire are important elements of the set, as it seems the musicians constantly gave voice to them by means of scratches, hits, creaking noises, which don't disturb the delicate melodies on which they pop out like fairy entities or maybe like those mushrooms in the sylvan undergrowth of the nice cover artwork. Such an aural organization, combining flakes of electronics and acoustics leaning on a ground of references to Norwegian, British and Indian traditional sonorities, is particularly clear on "De Vises Club", the more extended track of the album, but it's clear on the other tracks - where they often change the way by which they assemble sounds - as well, covering a wide range going from quite abstract and almost not-musical improvisations ("Torre", "Skarvor") and bluesy moments ("VÄgen Ut") to the pastoral delicate transcendence of "Walden" - a reference to the masterpiece by Thoreau? I recommend to enjoy it while driving over lovely natural sets, as I did while driving around the pre-Apennine areas close to Bologna if you like driving without fearing twists and turns! - and the lovely reverie of the closing "Plaums Draum".
Artist:
Foamek
Title:
Radar Ruins
Format:
Download Only (MP3 + Lossless)
Label:
Youngbloods
Foamek's "Radar Ruins" is a well-executed throwback to the gentler and more chin-stroking side of 90's dance music, revisiting sunkissed late-90's balearic chillout-meets-trance and some slightly deeper instrumental techno, pumped through slightly lo-fi channels.

The fusion of old-skool breakbeat patterns, long melodic pads and electronic squeaks in "Marshhide" strongly recalls early Future Sound Of London material, while "Heart Won't Die" and "Prysm" recall mid-afternoon dancing on the beach vibes.

"Swing" has a bit of a French-style acid bounce to it that recalls Laurent Garnier or even Mr Oizo, while the bonus VIP version takes things in a more main-room direction. "Moving On" brings a more trip-hop flavour but still firmly cushioned and padded with mellow jungle noises and warm pads that put things in the territory of early Woob releases.

Opening track "Ingenue" is the most modern-sounding, in a slightly twisted way, as it involves the heaviest use of lo-fi effects and some interesting glitch-percussion work that demonstrate from the off that this isn't 'authentic' retro but a reworking with a fair bit of its own imagination.

Doing for 90's music what synthwave does for fans of the 80's, I lapped this up. Being almost excluslvely instrumental it lacks a unique selling point that will give it really broad appeal, but if like me your collection of 'proper' trance and classic chillout material is sounding a bit overplayed, this will certainly pad it out nicely.
The conclusion of Frits Wentink's trilogy of EP's under the extremely reviewer-friendly name of "Two Bar House Music & Chord Stuff" is a pack of four classic-style house tracks circa 125bpm, with light stepping beats and claps and lovely melodic synth work, FX and little vocal snippets- never a full vocal- wandering confidently and warmly over the top.

Numbered rather than named, each track does have its own character. "Theme 9" is bright and quite energetic, with some nice sharp-cut cymbal work. "Theme 10" is more stripped back, focussing on a bouncy little synth bassline and some rather cheesy, cheap-sounding (but strangely not in a bad way) organ keys. "Theme 11" has a touch of the funk and a bit of a Lenny D vibe, before "Theme 12" loops back to "Theme 9"'s vibe but less vocal, with shades of Todd Edwards.

A really nice bundle of feel-good house stuff that does exactly what it says on the packaging.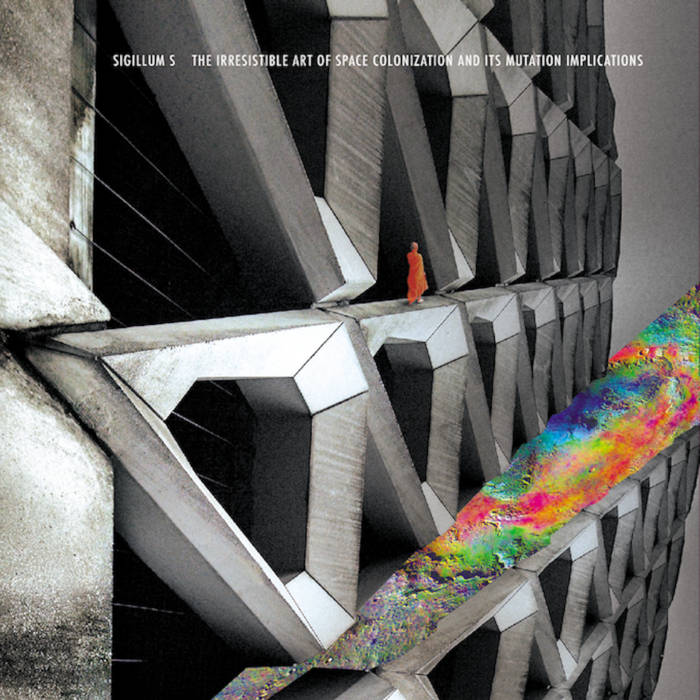 Artist:
Sigillum S
Title:
The Irresistible Art Of Space Colonization And Its Mutation Implications
Format:
CD
Label:
Transmutation LTD
Rated:
Sigillum S two years ago celebrated their 30th anniversary (one year later, because they started in 1985) by releasing three albums printed on CD, LP and tape. That moment was important for them not only because they raised the glasses to salute three decades of sonic terrorism and sound research, they also celebrated a new band member: Bruno Dorella. Bruno, owner of the label Bar La Muerte, is also member of the following bands: Bachi Da Pietra, Lava, OVO, Ronin and Wolfango. He started to play live with them but with the new album "The Irresistible Art Of Space Colonization and Its Mutation Implications", it's the first time that we have the chance to check how he helped Eraldo Bernocchi and Paolo Bandera to redefine their sound. As usual, the titles of the new album are recalling to me the works of people who had an impact on visual arts or culture in general: I mean people like Ballard, Burroughs, Cronenberg, etc. We have titles like "Occult Storage For Pan-Dronic Glossolalia", "Wrong Proto - Matter Gravitation", "Genetically-Engineered Insects", "When Comets Become Organic Households", "Through The Endless Streams Of Satellite Euphoria", etc. Musically Sigillum S always evolved and if on their beginning their music could have been defined as ritualistic and industrial, since early 00's they started to include into their music also elements of the sound that they had on their side projects. Eraldo played and collaborated with many people such as Mick Harris, Bill Laswell, Tony Wakeford, to name few and explored different genres from dub to guitar drone (as on his album under the Blackwood moniker). Paolo with Sshe Retina Stimulants, NG5361, Komplet his other projects and collaborations always explored the folders of noise electronic sounds. In my opinion, the album where they started to redefine their sound has been "23/20". It was featuring sound contributions from long time Sigillum S collaborators as well from artists they estimate. People like: Bill Laswell, Toshinori Kondo, Professor Shebab, SH Fernando and WordSound, Martino Nicoletti, Lorenzo Esposito Fornasari, ZU, Xabier Iriondo, Ephel Duath, various members of Crisis , Mark Solotroff, Thomas Fehlmann, Gudrun Gut, Andrea Marutti, Claudio Agostoni and many others. Anyway, let's start to talk about the new album. On this one, we have a sort of orchestral sound effect as we have several kind of sound layers, as well as several influences and I hazard to say that we have also a sort of melodic structure that wasn't really used before. All these layers are dosed in the mix, creating the effect of a whole orchestra using unconventional sounds. The kind of rhythms, ambient sounds, noises, vocals may sound familiar, but they have been used in a different way. Take "Through The Endless Streams Of Satellite Euphoria", for example: we have a dub bass, synth treated bleeps, a semi dub drum (I might be wrong but this is one of the few times that Sigillum S are using a real drum) and then a trumpet like sound. The first time I listened to this track I immediately thought about 23 Skidoo and I don't remember I ever thought about them while listening to Sigillum S. Sigillum S have been ritualistic but they never been "funk" and this has been a great surprise. We have the tracks mostly based on drones and noise and we have the ones where rhythm has an important part and it could be a normal drum, a treated one mixed with synthetic beats, it doesn't matter, because the tracks evolve and change one from the other. This is another thing that I liked a lot: the variety of atmospheres and sounds. A perfect example of what I mean could be the closing track "Celestial Heliocentric Cultures", which is the one that I felt connected to the cover made by Petulia Mattioli, because it gives me the impression of being influenced by Tibetan music but played by a mutant which filtered it with industrial soundscapes. It's like the cover: a Tibetan monk walking on a metallic landscapes made by an unknown species. The album will be out on the 14th of September on CD, LP and tape. https://sigillum-s.bandcamp.com/album/the-irresistible-art-of-space-colonization-and-its-mutation-implications
Artist:
Furtherset
Title:
Drawings Of Desire And Hate
Format:
Download Only (MP3 + Lossless)
Label:
-OUS
Furtherset's latest EP continues to explore the underside of mainstream electronica production, taking patterns and production values that wouldn't sound out of place in some of today's post-dubstep radio-electropop, but stripping away any overtly pop elements- and any drums- to revel in the synth basslines and the effects and atompsherics found underneath.

"Studio False Start" employs some nice dawning synth-string pads that give it something of a computer game intro flavour, while "Spring Training" wouldn't sound out of place on Planet Mu. The frantic, faintly Glass-like arpeggios and odd breathing rhythm of "Falling Makes Way For Rising" are a quirky third part that's harder to pin down.

A nice bit of chinstroking electronica, but with three tracks averaging four minutes each, it feels more like a sampler for a more extensive work than a fully-rounded and coherent EP.