Artist:
ANNI HOGAN
Title:
Kickabye
Format:
2 x CD (double CD)
Label:
Cold Spring
(@)
Rated:
If the name of Anni Hogan (she was Annie, back in the 80's) sounds new to you, you have to know that she was the woman in the shadows responsible of the fantastic piano/organ sound of various Marc Almond projects (Marc & The Mambas, Marc Almond and the Willing Sinners, then solo where she played with his band under the name "La Magia"). She played with Almond until the early 90's but she also collaborated with tons of other artists such as: Soft Cell, Simon Fisher Turner, Nick Cave, Paul Weller, Barry Adamson, Lydia Lunch, Zeke Manyika, Sex Gang Children, Yello, Caged Baby. After all these experiences she didn't quit the musical world as she's still active as a musician, dj, etc. This double edition of KICKABYE collects the only two 12"s she released under her name (in 1985 and 1988) plus a lot of unreleased tunes coming from the same period and new recordings of her performing four tracks she composed for Marc Almond. We have "The Frost Comes Tomorrow" (originally released on "The Stars We Are" by Marc Almond), "The Hustler" (originally released on "Mother Fist" by Marc Almond), "Blood Tide" (originally released on "Violent Silence" by Marc Almond), "Margaret" (originally released on "Untitled" by Marc And The Mambas). On these ones you can enjoy her touch and her capability to turn a piano melody into a romantic or a dramatic voyage. Also the unreleased tunes will amaze you, just check "Delirious eyes" (an outtake of the "Kickabye" E.P.) where her piano duet with strings sounding like a bullfight or "Senseless" (a song she performed with her later band Cactus Rain) where her voice is floating on piano, marimbas and percussions. The first CD, along with the original "Kickabye" version, contains also the Foetus version of "Burning boats" which was originally on the "The House Is Haunted (By The Echo Of Your Last Goodbye)" 12". The second CD contains three songs of recording session she did with Barry Adamson's production which were intended for a follow up to her E.P. "A place to belong", "Everything we do" and "Self" sounds like a mix between Marc Almond tunes and Aztec Camera and they sound really nice. "Story so far" and "Each day" are coming from the "Each day" 12" released in 1988 by Dinamo Records. These two mix introspection and pop with nice strings arrangements, piano and vocals. The sixth and closing track "Blue nabou" is coming from a Yello 12" titled "Vicious games". She met them when she was recording with Marc Almond in Bavaria during a pause and after a while they asked her to play into a particular jazzy electronic track. This is history and you won't miss it...
image not
available
anymore
Artist:
Splatterpunk
Title:
Channel 83
Format:
CD
Label:
Caustic Records
(@)
Distributor:
Masterpiece
Rated:
"The future is now" ... and it is obviously bad smelling... First full-length album signed by the evocative moniker of Splatterpunk (a term coined by D.J.Schow in order to describe a movement which rebels against the traditional horror fictional structure by depicting '" even from the graphical viewpoint '" the violence in a very tangible way and using horror novels just as a tool to propose a non-fictional analysis of the most disgusting portraits of the daily social life in a provocative way!), an interesting ebm project empowered by sharp reviews of contemporary lunacy, ideally broadcasted on channel 83, the highest frequency (now defunct) for NTSC-M terrestrial broadcasting! Even if there �re a plenty of references to some EBM classics, it's evident that a rich eclectic vein pulses using new music forms to propel its sometimes "subversive" messages in Splatterpunk's electromechanical body and Oscar Javierre Payà aka F18, the man behind this moniker, keep on dissecting the foggy pall enwrapping media-COMtrolled minds through an exquisite blend of sound tricks and well-crafted frequencies full of style variations, which sounds really good and absolutely enjoyable according to our ear response! Rooted down in the cyberpunk fertile cultural ground, the lyrics contains some eruptive statements since the beginning: Future Shock is a good ebm-techno liberation march related to the almost scientifical control some mass media use for enticing minds through apparently inoffensive bombing of info-shit ("digital emotion is the wrong devotion, connected to their lies by optic fiber line") and the nice Psychoterminal (... it's adorable that girl's voice contrasting with the hoarse one by Oscar repeating in an obsessive way "psycho"!) continues with the similar themes which is a sort of leitmotiv of the whole album, inherited by a lot of ebm and dark past acts ("the operative system that they install on your mind is just a simple extension of their fucking masterplan" evokes some dystopian writings by the legendary Philip K.Dick). After the whistling and suppurative minimalistic My Neurosis with the classic crumbling on some brass'n'bass sounds with an 808 State-like (to be honest, we should speak about a 909-State!!!) rhythmical pattern, there's the first pit stop, Robot Interface, a mumbling little candy (a little more than one minute is enough to take breath... !) with technospheric soundings which stands almost like a sort of tribute to Kraftwerk lessons before the further snapshot on social manias (un)frozen in the track Hi Technology, Low Life, a good example of danceable yeasty lo-fi tunes with grizzling "vocoderized" captions for a technologized world suffocated sentencing "the time has come and it will never come back again, we live in the last step of the final end", a nostalgic caress before the retro-futuristic high-propelled track Renegade Hacker 3.0 (prepare to repeat a lot of words ending with '"tion if you like to sing this song while dancing, folks!!!!). What a great track for a supposedly forthcoming Apocalypse engineered by Intel!!! Mr.Ralph appears again on Self Isolation, a catchy conglomerate of pitiful assumptions on people which decide to live this condition as a way of escapism... what can't be cured must be endured... ! A bleeding conceptual passage from robotic to zombie interface (not casual!) before another bath in an acid pool throughout the trance inducted by the well-done XXX-Terminator and the (voi)dances on a sort of vituperative "thrust and parry" in Suicde Epidemix ("I'm tired to see you in these fuckin photos, throw away this shit, it shows your self's lightlessness" seems to be the words a strong-minded friend will shout to an absent-minded one loving filling his albums on facebook!!!). Turbina Neoplastic with the flux of exercises on throaty beating vocals is certainly not my favorite track (even if it contains good samples), while the howls introducing the romantic intercepted love affair (let's say so!) of an idiot and a mechanical whore (containing a sample of the lies by Jose Maria Aznar told to Spanish people to justify the war on Irak... you should already know the bullshits on Iraki mass destructive weapons... shame on you, politicians!) is surely one of my favorite ones! Don't forget to have a listen (and some jumpy steps) on the two remixes included in the album, among which the ASCII-Disko one of XXX Terminator is an highlight! My personal compliments to Die-6 form Barcellona for pictures and artwork (well... the "fluttering" girl on cover artwork presumably taken from a Japanese porno movie is not the next picture taken from Berlusconi's Sardinean villa family album bought by El Pais!!!).
image not
available
anymore
Originally released in 2000 by Trisol and Invisible Records, THE HAND THAT FEEDS sees major names of industrial/experimental music scene of the past giving new life to classic Attrition's songs coming from their darkwave period. All the projects involved but Dance Or Die (they did a creepy short version of "I am a theif"), The Truth (they version of "Ephemeral" is a nice minimal ambient tune) and Flip Shriner (this one has been included here for the first time and "One of this morning" is sounding like an experimental nightmarish industrial track) opted for a dance floor/almost acid trance version of Attrition's songs. We have: "Cold Genius" Polaxe remix, "Waste not, want...more" D.O.S. remix, "Cosmetic Citizen" Stromkern remix, "Lip Sync" IT remix (IT was the other project of Nightmare Lodge's Ivan Iusco), "I am (Eternity)" Chris n Cosey remix, "White men talk" Morbus Kitahara remix (this is the less trance oriented track as it sounds like an orchestral, rock oriented upbeat tune), "The Mercy Machine" Attrition remix, "My Friend is Golden" Regenerator remix, "Acid Tongue" New Mind remix, "The Second Hand" Mark Crumby remix and "IAE" In the Nursery remix.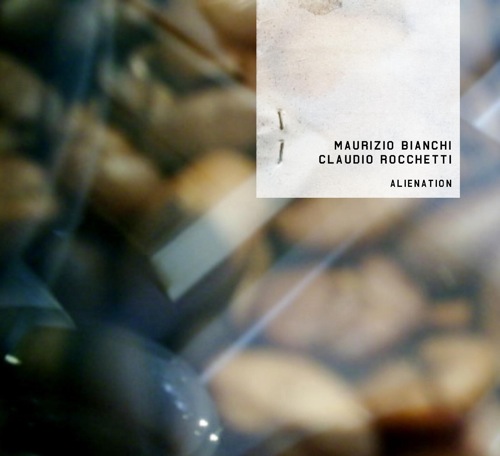 Artist:
MAURIZIO BIANCHI + CLAUDIO ROCCHETTI
Title:
Alienation
Format:
CD
Label:
Final Muzik
Rated:
A devastatingly physical approach to sound sources, I'm sure, was the spark of this collaboration between Maurizio Bianchi (think of his early and recently resumed experiments as Sacher-Pelz) and Claudio Rocchetti (also in 3/4 Have Been Eliminated, Olyvetty, In Zaire). No wonder the five tracks of "Alienation" are perhaps the most skeletal and improv-based MB collaboration ever, full of gaps and sharp edges rather than monochrome masses. "Avversione" is a harsher take on the trademark meditative music of Bianchi's 2000's comeback (piano, keyboards, orchestral samples è la "Cycles"), while on the other end of the spectrum Rocchetti drowns the rusty loops of "Estraniazione", after a crescendo of low thumps, in a swamp of buzzes and feedback. The whole album sort of oscillates between those two poles - sometimes in a quasi-orchestrated cohesiveness, sometimes showing bleeding cuts and raw nerves. It's a sort of long-distance tension which adds to the uneasy feel of this "dangerous terminal drama".
image not
available
anymore
Artist:
VIOLET
Title:
Violet Ray Gas and the Playback Singers
Format:
CD
Label:
Sentient Recognition Archive/Zeromoon
Rated:
If you're remotely familiar with the US post-industrial underground spawning from cassette culture and later cdr labels, the name of Jeff Surak (Watergate Tapes, New Carrollton, V., Zeromoon label) will certainly not sound new. After years of low-run editions, this looks like a major release for his solo project Violet, and comes in a nice 6-panel digipack, with a layout that incidentally reminded me of Pere Ubu, or some obscure tape release. B/w pictures, stark xerox contrast, a depressing urban landscape, get it? The deep underwater drones of "Marionetki", swept away in the very last minutes by roaring distorted tones, surely bear traces of Surak's background, the seminal - if not always acknowledged - (non-)style of US post-industrial (Illusion of Safety, early O'Rourke, the Sound of Pig imprint etc.). But "Violet Ray Gas..." is generally a brighter, if moody and thoughtful, experience, where the dusty loops of old vinyls half-bury distant melodies ("Plague Numbers", "Snakehead Lapping"). Not far from Stars of the Lid, the last - and stronger - tracks are variations on string-based slit wrist melancholia: the bowing in "Violet Ray Gas", still recognizable and just streaked with electronic treatments, is transfigured in a lush droning mass in "Interior Ghosts".