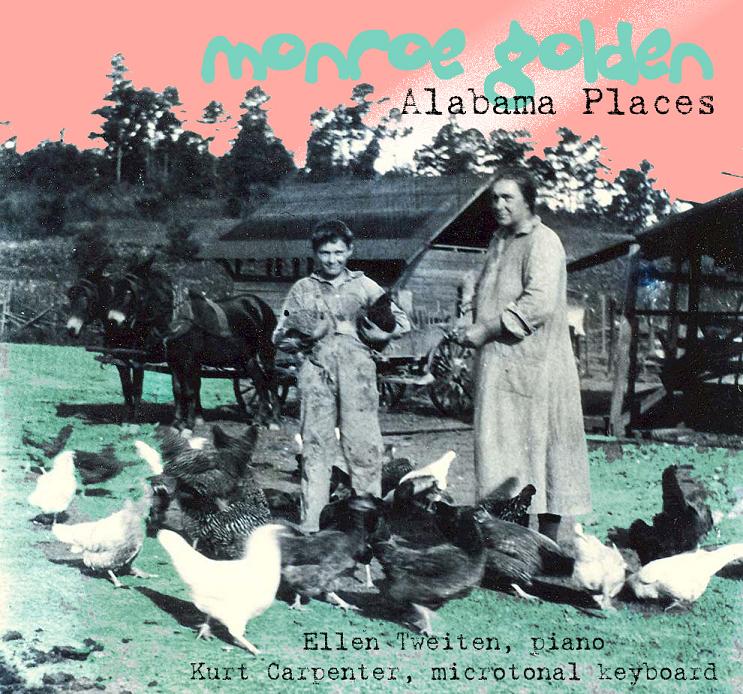 Artist:
Monroe Golden
Title:
Alabama Places
Format:
CD
Label:
Innova
(@)
Rated:
Duo of Ellen Tweiten on piano and Kurt Carpenter on microtonal keyboard. As you would expect there are some glaring sonic collisions when putting the equal tempered piano together with a microtonal keyboard. Considering the mention of geographic locations it seems to me that the musicians might be trying to express the juxtaposition of past and present? The past represented by the thin microtonal keyboard, sounds reminiscent of the supposed music of dead cultures using whatever was at hand, dramatic when compared to the full sound of the regularly tuned piano. An interesting experiment but is it worthy of 16 tracks (17 if you count the mp3 bonus track)? The sound can really grate on the nerves after a while. I even had to quit listening to music for a while to get my calm back and give my irritated eardrums a rest.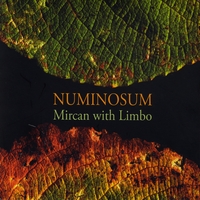 Artist:
Mircan with Limbo
(@)
Title:
Numinosum
Format:
CD
Label:
UCM
(@)
Distributor:
CDBaby
Rated:
Mircan Kaya (vocals) and the jazz ensemble Limbo as accompaniment. Semi-whispered songs of love, sadness and longing played for maximum impact. Most track lead into the next without a break. After 5 tracks of semi-impressionist ethereal sounds and vocals track 6, with its jazz bar vocals totally breaks the mood, after which we return to the nature-girl sounds of buzzing insects and rain followed by the previous musical type. Enjoyable for those who like the tree-hugger message with a bit of jazzy accompaniment to appeal to the hipster/coffee bar crowd. Standout track #9 "Water and Wine" with its dark, hypnotic pagan trance-inducing beat and gong exoticism.
image not
available
anymore
Artist:
Promonium Jesters
(@)
Title:
Psychic Warfare!!!
Format:
CD
Rated:
According to the promo material psychedelic industrial thrash. What the description says. Gets better when they let the keyboard player take his turn, otherwise the usual angry whining. There must be a lot of pissed off people out there. Kind of reminds me of early Alice Cooper in places, if he had grown up in the 90's. Six longish tracks which moves me to cautiously add another appellation to the description: Prog.
image not
available
anymore
Artist:
Everything Goes Cold
Title:
Prepare to be Refrigerated
Format:
CD
Label:
Sonic Mainline
(@)
Distributor:
CD Baby
Rated:
5 tracks with 11 tracks of remixes, a way to expand an EP into a full release. Angry, twitchy vocal stylings screeching cathartic lyrics and pounding aggro-Industrial Rock rhythms that try to threaten us with the adolescent whining of individuals who are constantly pissed off but ultimately impotent to change anything. Or this is a joke and I'm just not getting it. Like nails on a chalkboard, or the constant interruption of sleep by the feuding neighbors next door seeping through the walls at three in the morning. EGC is mostly Eric Gottesman, (aka See Colin Slash, Psyclon Nine, Deathline Int'l, Ayria). The remixes are done by Hate Dept., Panic Lift, Sam, Society Burning, Off_Ocus, Babyland, Embodi, Life Cried, Caustic, Epsilon Minus, and Dismantled. Extra points to Off-Ocus for actually doing something different with the remix material.
Released two years after their 12" "Take a picture", 13 HORRIBLE REMIXES is the first album by 3-1 and, strange for a first full length release, it contains twelve remixes of bands they like or they know (some of them are on the same label Basserk) plus a remix of their song "Take a picture". The track list is in balance from bands that have a sound similar to 3-1 (a sort of electro pop with punk attitude and use of distorted synth bass lines) to thing a little more techno or breakbeat (Nid & Sancy, Lilian Hak, Elecphonic or The Moi non plus). 3-1 did a good job by respecting the original tunes and at the same time personalizing them. Check how they changed Hotel's "Fool fool" by adding a cool distorted bass line to their flute/hammond based tune making it turn into a nice dance floor song. 13 HORRIBLE REMIXES is a good album to party with and also a good album to listen while driving, having the city lights as strobe lights. Here's the trackslist:
01. Nid & Sancy - My Rave remixed
02. Lilian Hak - What about it remixed
03. The Moi non plus - Hahaha remixed
04. Lucky Goat - Ooh yeah remixed
05. Fata el Moustache' remixed
06. Hotel - Fool fool remixed
07. Detroit grand pubahs - Riot 66 remixed
08. three cheers for dirty feat. Blondin - Blonpeepee remixed
09. Krause - Outta yer mind remixed
10. Elle Bandita - New years eve remixed
11. Elecphonic - Freakin on a sneaka remixed
12. Transformer di Roboter - Ultramaximizer remixed
13. 3-1 - Take a picture remixed