Artist:
Syndrome X/209
Title:
Feline Daemon
Format:
CD
Label:
Hellektro Holocaust Records
(@)
Rated:
According to the chosen name of this newcomer label, it's no longer a riddle, which musically content will be presented with this as well as with all future releases. We're welcoming Hellektro Holocaust Records out of Hungary to the international scene and wish them good luck, to invade the dancefloors of the worldwide dark clubs by storm. Hellectro/Harsh EBM is still a promising formula for success in this rather niche-like music genre, although it endlessly repetitions start to rumble in my stomach. It fits, that also SYNDROME X/209 out of Stockholm, Sweden, are completely new to the scene. Consisting of Kettil Sundberg, this music project offers the first steps on a pressed silver circle with a globally satisfying result, if you're a genre addict. Hate towards to a person out of his personal life has been a quell of inspiration – so the description in the attached label info sheet. Well – nothing else? Jazz and Grindcore have been his previous musically playing fields, but he got fed up with those and has concentrated more to produce Techno, which turned more and more into that Hellectro/Harsh EBM environment. Kettil knows how to punish his machinery to produced the expected bass lines and lead synths – but as expected – his arrangements are still too foreseeable and the used sounds still lack of an own signature. No problem at all since the normal user stomps to everything presented and Kettil isn't an exception. However, he hits at best the target with some rather dark-minded and ominous sounding tunes like the title track or "Blad", while those speedy contributions like "Rage" rather leave question marks in the faces of the listener. But best track – and this one really needs to be pointed and named out – is the last slow, with orchestral-sounding arrangements constructed track "It's All Over". This track stands for the biggest discovery: He is able to produce real music! Let's hope, he continues to develop with a possible next album and allows more different sounding tracks to strengthen his expected outfit.
image not
available
anymore
Artist:
MAGAS
(@)
Title:
Violent Arp
Format:
12"
Label:
Punch Records
(@)
Rated:
Presented into a special fold cut cover and limited to 333 copies on transparent red vinyl (containing also a coupon to download it as high quality mp3s), VIOLENT ARP is the latest Magas release. The last time I listened to his stuff was when he was on the now deceased Ersatz Audio label as I wasn't aware that in 2006 he had an album out. Anyway, this new MLP contains six tracks (five new and a cover of Couch's "Devil is flying", band where Jim Magas sung) composed using the Arp Odissey 2800 Mk I with the add of an old drum machine (it sounds like a Roland TR606). The six tracks are based on distorted synth melodies with an urge to make the speakers bleed. These sounds coupled with Magas voice create a sort of primitive electronic punk that will shake your guts. Even if few sounds are used, melody has a privileged place where dissonance and pop intuitions help making VIOLENT ARP a good lo-fi electronic record. Let yourself be convinced by the r'n'r ride of "Statue" or by the dark distortions of "Life's lonely grind". Punch Records with this release is confirming itself as one of the few Italian quality label: good ideas, great packaging and will to refreshen the alternative musical scene. You can check three tracks at the label's website.
Artist:
Supreme Court
(@)
Title:
Keep Calm + Carry On
Format:
CD
Label:
COP International
(@)
Distributor:
DDT Online
Rated:
Initially started as a side-project, SUPREME COURT has become the main playing field of Kai Härtel (ex-DAVANTAGE). Since his ex-comrades of DAVANTAGE have started separately with producing a high-skilled EBM/Electronica sound outfit with multi-layered and complex arrangements via Rupal Records, SUPREME COURT acts harder and rather follows current trends by producing a Harsh EBM/Hellectro-environment. Not very original – that were my first impressions, but I then got hooked by the amazing quality presented in both, music and production, of this project. This album perfectly represents with its harder and hitting Harsh-EBM-tunes like "Blood Shed", "Everyday Tragedy" or "Virgins And Priests" the state-of-art and what it is all about of Hellectro. Those tracks remind strong on acts like Germany's representative examples like X-FUSION and PAINBASTARD. But rather more interesting are surely the both collaborative tracks featuring the Danish master of dynamite, Mr. Claus Larsen a.k.a. LEAETHER STRIP, "Aeurope" and "Ovearkill". Regarding the titles it seems to be that Mr. Larsen himself has composed these tunes. "Keep Calm + Carry On" is a highly skilled Harsh-EBM album founded on a breathtaking production. Although licensed from Europe to swamp the American market , this one figures out to be a fantastic pick by the responsible COP-activists. Get it!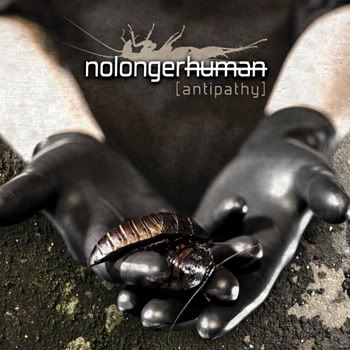 Artist:
Nolongerhuman
Title:
Antipathy
Format:
CD
Label:
COP International
(@)
Distributor:
DDT Online
Rated:
No license deal at all, NOLONGERHUMAN out of Portland seem to be a real COP-signing for their official debut album "Antipathy". After a promising compilation appearance on BLC's legendary "Interbreeding" compilation series ("Interbreeding IX: Kuru"), a signing to a label was about time and expected for Clint Robertson, the one and only brainchild behind this project. NOLONGERHUMAN is a Harsh-EBM project, which follows pretty much some already discovered paths – the attraction of the sound rather belongs on the fact, that you won't find a too obviously Techno/Trance-related sound outfit. The will of Clint to avoid minimal bassdrum stupidity and to use fat layered string-sounds and wider room- and reverberating-effects to produce some thrilling and scary moments comes out quite convincing ("Penitence" and my personal favorite, "Surrogate"), although the chosen weapons aren't the reinvention of the light bulb. For some reasons this kind of work discovered in some melodic synth drops and the kind of vocal processing reminds a bit on SUICIDE COMMANDO to the "Axis Of Evil"-era. Enough and hard-hitting stuff to satisfy all dancefloor-addicts can be discovered too of course, the energetic opener "Let Me Go", "Autonomy" or "End Times" are quite valuable examples. A quite good and promising debut, although there's room for further development to reach – the kind of vocal manipulation could be a bit clearer produced next time for example. Also there's still the same problem with this uncountable mass of genre-related acts: to reach an own recognizable identity has to be the target to hunt for and NOLONGRHUMAN aren't – so far – an exception. But nevertheless a quite good pick, get it, and watch out, what the future holds for this act.


image not
available
anymore
Artist:
Code Machine
(@)
Title:
Human Tragedy
Format:
CD
Label:
self-released
Rated:
I'm sorry, if I connected this EBM/Industrial-project at some earlier compilation reviews with the US-label Sigsaly Transmissions – CODE MACHINE have produced this new album completely on their own, as they like to inform with their release sheet. Although based since years in London, this is a productive French duo and live gigs of them are mainly happen in France. "Human Tragedy" is their second album and still based to follow the veteran-style of EBM music without sounding obviously like a NEP/DAF-rip-off, here and there mixed with lighter Techno influences. Musically the tracks of this album remind a bit on the Swedish act CRYO, especially both relative static tunes "I'm Your Mind" and "You Say I Say" draw some relations. Both I would count to the best tracks of this album and it doesn't wonder that much, that these tracks got picked up in different versions to take part on compilations (Electro-Arc, Sigsaly Transmissions). "Raise" is a fast pounding old-school-EBM-stomper, while both "Human Tragedy" and "Breathe For Me" offer some decent layer programmings. The charismatic voice of the singer surely adds a higher recognition attitude to this band, although not all timbre tones hit the target. A quite satisfying album especially to all those, who got fed up with the almighty and still rushing Hellectro virus.