Danville by Mark Snyder is one of those albums that triggered images and memories for me almost immediately. Although 99 percent of the album is little more than tones, drones, and layered synthesizers, it becomes much more that the sum of its parts. Danville feels like the soundtrack to a Kurosawa-esque battle scene, where after the fighting starts, the sound effects and dialogue are no longer heard over the score. However, instead of Kurosawa samurai battles, there are interstellar battles with space ships, robots, androids who no longer respond to emotions (whether or not they technically still have them), space stations with synthetic food processors, and computers who plan strategic battles with the effectiveness of the program traders of 1987's Black Monday.

There are only three tracks which do not fit this mold to a T. The first being America 1958, which sounds like an early Dosh song minus the drums and the other songs being Leary and 1217071 which feature Holmes Ives. America 1958 is my favorite track on the album and has made it as an interlude on my last few synth pop play lists. Leary and 1217071 are the only songs I do not like but this is not because they are not good. It is because I am Jealous of Holmes Ives and wish I was the one to add percussion and vocals.

Alluvium is a visual accompaniment of some of Danville's songs. The majority of the visuals are pictures progressively changing and overlapping one another, which fits the music's overlapping tone type. Once again, America 1958 is the stand out track because it features stock videos from what appears to be commercials from products circa 1958.

What is great about Mark Snyder and his work is that he brings a much needed feel of musicality to the tone-and-drone set. Instead of similar musicians who are doing the most they can with softsynths and the little musical training they possess, Mark Snyder's music is the soundtrack of someone who is using a wealth of musical experience to make perfectly simple music.
Calling Yximalloo (aka Naofumi Ishimaru) a Japanese Harry Partch may be saying too much, but there's no doubt that he lives in his own sonic world. And what a world it is too! Yximalloo could be classified as avant-garde but that label would be doing him a disservice. His unpop sensibilities are the result of the externally imposed limitations of lack of training, poverty and the wish to express himself as he is without the limitations of labels. In this time of over-produced radio swill this blows open the ears and counters our expectations. Yximalloo is not avant-garde, it's avant-avant-garde, the expressions of a new life form that needs to be studied to be understood. But since this is also music it needs to be listened to as well. Can we truly understand someone without learning their language first? I don't think so. Intensely original and not a little frightening in its courage. 24 tracks.
Artist:
Frank Rothkamm
(@)
Title:
Frank Genius is Star Struck
Format:
CD
Label:
Flux Records
(@)
Rated:
Another collection of cultural detritus and pilfering assembled around a dance beat. One wonders if there's anything original to the artist in this kind of musical expression. Of course he is the assembler, but could he actually come up with an original melody or beat without the digital machinery? Or perhaps there's no point asking that question. I'm wondering why the copyright lawyers aren't all over this guy. Fourteen tracks ranging from :04 to 4:09 all melting into each other for the ultimate DJ experience. His take on fascism (or is it just a pompous operatic sample) and Heavy Metal on track #12 "Ascending Megablast" is pretty funny though, and maybe not as ironic as that sounds.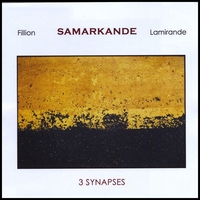 Artist:
Samarkande
(@)
Title:
3 Synapses
Format:
CDS (CD Single)
Distributor:
CDBaby
Rated:
Samarkande is Eric Fillion and Sylvain Lamirande, two musicians with a fair amount of academic cred, which may work for or against them depending on your perspective of the academic world. But when it is all said and done, it's really about the music anyway. Who gives a crap how it's made or how much education it took to get there. Either you like it or you don't. They present us with two long tracks and one shorter track painting sometimes twisted nightmare pictures of sonic voyages taking in not a few different landscapes to grab our attention. At times sounding like a screwed up Tangerine Dream knock off and then a Genesis Mellotron monster, at other times an imaginative mix of drum machine, vocal samples, random radio samples, free acoustic, free jazz, Minimalistic repetition and modern chaotic noise. Everything but the kitchen sink here, but that seems to be the way things are going nowadays. Genres are all melting together, the cross breeding sometimes giving us offsprings of great beauty and sometimes a monster or two. The important thing is they don't get stuck on any one sound but keep the surprises coming throughout the entire release.
Artist:
Expo '70
(@)
Title:
Black Ohms
Format:
CDS (CD Single)
Label:
Beta-lactam Ring Records
(@)
Rated:
Expo '70 is Justin Wright operating since 2003, and now stationed in Los Angeles, CA. Justin plays guitar, building ambient layers of sonic expectation/dronage taping into the vibe of the psychedelic 60's. This style of music has been, and still is being, done by probably hundreds of musicians all over the world to some extent. Layers, loops, pulsing tones, echoes, squeaks, buzzes. It's all here in spades. This is all a dreamer's world, the music not presenting us with any nasty surprises volume- or timbre-wise. Just the harmonically consonant atmosphere of tranquility. There is nothing new under the sun but the real point is whether it's any good or not, whether it accomplishes its purpose, which I surmise, is the opening of the doors of perception. I think it does, although I would suggest that quiet surroundings with a minimum of distractions, darkness, and a relaxed position would aid in the effect. The acoustic isolation of headphones may also help. Space music for the inner and outer mind. If you like this kind of spaced out drone music go for it. He gets some help from Matt Hill on the last track, also on guitar.