image not
available
anymore
Artist:
ATTRITION
(@)
Title:
Across The Divide / Heretic Angels
Format:
CD
Label:
Two Gods
(@)
Distributor:
Voiceprint
Rated:
Reissuing all the back catalog Attrition is now printing live albums. They are sold separately but being released on the same period I'm reviewing them together. Anyway... ACROSS THE DIVIDE is a live album of a concert held in Holland in 1984 during the Attrition/Legendary Pink Dots tour (the first Attrition tour outside UK) and it has never been released before. On this one Attrition were Martin Bowes, Julia Waller and Ashley Niblock and it contains tracks coming from "The attrition of reason" and "Voice of God" EP. It has been recorded directly from the mixer and even if the tapes were twenty five years old there's only a minor flaw during the opening "Pendulum turns". If you like minimal electronic wave with post industrial attitude this one is for you. HERETIC ANGELS, instead, have been released already for Trisol in 2000 but it have been unavailable for long time. It contains ten songs recorded in 1999 during the band's USA tour. Christine Reid replaced Julia Waller on vocals and that was the period when Attrition collaborated with Franck Dematteis (he played violins and viola and he came from the Paris Opera) at the "Jeopardy maze"/"Etude" albums. Here the sound see the caractheristic Martin/Christine vocal duets and the tracks turned from minimal electronics to dark electronics influenced by early e.b.m. The tracklisting have songs coming from "3 Arms And A Dead Cert" ("Prelude" and "Acid tongue"), "The Hidden Agenda" ("Lip sync", "Interference" and "The mercy machine"), "The Jeopardy Maze" ("Atomizer - custom mother"), 'A tricky business" ("A girl called harmony", "Right Hand Man" and "The second hand"), "The Eternity EP" ("I am eternity"). Both the CDs have a remastered sound and are representative of a different period and if you are a fan for sure you'd be interested...
image not
available
anymore
Artist:
OGOGO
(@)
Title:
redux
Format:
CD
Label:
III records
(@)
Rated:
Igor Ogogo is back, we've been reviewing this guitarist a while ago and here we've another chapter of his saga but this time it's a duet with a midi-trombone player called Rod Oakes. The outcome is quite bizarre even thought I've found traces of Ogogo's peculiar style. A strange cocktail that puts together jazz, Canterbury-music, kraut, blues and late seventies-early eighties atmospheres. Usually I don't go mad for midi instruments cause of their sound, but here the combination is overall good and fits well with those freaky, odd melodies. Both of them are twisting the sound of their instruments for the sake of weirdness, thus the trombone floats with echoes and the guitar quite often is filtered with what I suppose it's a pitch-shifter. Weird, during the listening of this odd cd it brought to my mind memories of no-wave mixed with Eliott Sharp and Faust, just a bit more bluesy. As I've said there's something quite bizarre pulsing underneath and it probably has to do with the dark-alien melodies they play. Stylistically their way of playing betrays many of their influences but if melodies still mean a thing, there's something quite disquieting in this music. While the cover suggests something really seventies like Gong or "Who by numbers" the music brings in a misty atmosphere of a distorted reality. Hey, if music is strictly linked to the times in which it has been conceived, all of this abstraction is a clear sing of the times. We're crossing a sort of new middle age of mind and hard times like these require a good dose of abstraction, I agree with Ogogo and Oakes.


image not
available
anymore
Artist:
PIMMON
Title:
Smudge Another
Format:
CD
Label:
+Preservation
(@)
Rated:
I can't even remember which one exactly was last Pimmon release I've heard and it's sad since I remember the good impression I got from the very early listenings of his materials, I guess that's another side-effect of the hyper-saturation of the market/music-scene and it has to do with the fact we're all living too fast. Paul Gough has quite often been filed under clicks/glitch and probably this definition fits really well with the majority of his works, above all those early releases (while writing I'm thinking specifically to a couple of remixes) but if you think the definition is a bit reductive, here comes a record that proves you and I were right. This cd could be easily filed under ambient-experimental music much more than glitch-click and if on the front cover the label defines it lava-flow ambient there's a good reason and it's hard not to agree with them. I know referring to Lava may lead you to think this could be a dark ambient-heavy-soup a la Lustmord, Andrea Marutti, Alio Die, Tribes of Neurot or in the likes, but nothing could be more wrong, Paul Gogh managed to work on these misty-crepuscular atmospheres maintaining that soft edge he had while dealing with different styles, just take the sweet melancholic organ sound of "Hidden". I think if you're friendly with ambient music and with dark moods in general, you'll easily perceive the different touch of this Australian artist. Furthermore I think this delicate touch when dealing with melancholic and obscure scenarios makes the difference and puts forth the fact Pimmon has been around for a while now, I mean he has his own style. I'm also aware of the fact all of this talking about ambient music may have put too much focus on this aspect of the release while as I've said its experimental factor is really significant, take "Dervieux" for example in which Gough introduced some kind of simple rhythms and a soft melody that's pulsing underneath, this' probably one of the things you can strictly connect to some of his previous works. Considering a record has its visual side, I can't but mention the fact the layout is beautiful, the idea is simple but holy shit, I love it! It made me think to a sort of origami thing, it looks like a small "map", I'm sure the record collectors out there will love it. "Smudge another" has a lot to do with self-control, above all during the early tracks, I think it's really interesting the fact that I've found it was growing while reaching the middle of the tracklist. Interesting release and if you're into Pimmon you won't be disappointed.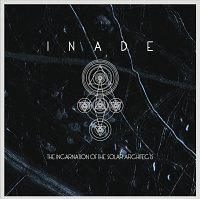 Artist:
INADE
Title:
The Incarnation Of The Solar Architects
Format:
CD
Label:
Loki Foundation
(@)
Rated:
Slow lava lapilluses, worlds collide, falling stars light the night of an unknown age. These are the images that arise while listening to the latest Inade album THE INCARNATION OF THE SOLAR ARCHITECTS. The ten tracks of the new album (released also as a double CD + dvd deluxe edition which is already sold out from the label) give some new elements to the mythology created by the band. As usual the darkest corners of sound have been explored and their sound sculptures (which can't be described only like dark ambient suites) find new ways of expression thanks to a great mix of melodies, noises, effects and vocals. "A lefthanded sign" shows us a new Inade sound by mixing their great sound to vocals and melodies. It's a good effect having blasts, deep vocals and ambient sounds all mixed like it was a pop song for angry deities. With a cover design that recalls a little the tree of life I was expecting some kind of link to it and I think we have it with "From the angle of aleph": a ritual track with sounds that recall the Tibetan human thighbones. Passing from different grades of tension the album closes with "Aion teleos", a track of the apparent calmness which is the perfect soundtrack for a post apocalyptic scenario.
Artist:
Alter Der Ruine
(@)
Title:
The Giants From Far Away
Format:
CD
Label:
Crunch Pod Records
(@)
Distributor:
Crunch Pod Records
Rated:
I have to admit this one threw me for a loop. Having no familiarity with Alter Der Ruine whatsoever, I could only go by their CD cover featuring some bare-chested enraged man-beast, which looked like either an RPG video game or a poster for a really bad martial arts movie. Imagine my surprise when I popped in the CD and heard neoclassical strings with orchestral percussion moving into a dramatic piano melody that went faster and faster and faster until- the REAL Alter Der Ruine took over. So what's that like? Take every electro-techno-industrial beat, sequence and melody you've ever heard, and distort, contort, and abort the living shit out of it. That's Alter Der Ruine in a nutshell.

On first listen, I absolutely HATED this album. Gee, I thought I was going to get some interestingly orchestrated heavy neoclassical, or maybe some martial industrial, but no, that was just to fuck with my head. Subsequent listenings still produced some ambivalence but I found myself actually enjoying it to an extent, "Demon Missle" which is a relentless breakneck introduction of what Alter Der Ruine has to offer is definitely an attention getter. After that, it's a mixed bag of ideas that have a certain loopy appeal. You'll find the familiar (the kind of passages you've heard in Skinny Puppy, Frontline Assembly, Combichrist, etc) but with even more obnoxious sounds, brutal beats and twisted synths. Alter Der Ruine employ their fair share of spoken word soundbytes, but hey, this is industrial music and you've got to expect that. Sometimes it was amusing, other times really annoying.

Maybe what makes me feel somewhat ambivalent about the album is the lack of any real vocals, relegating it to the experimental industrial dance music category. I think a lot of the ideas here are good ones; for the most part they just don't seem to come off as more than ideas. Still, there is merit, as I can see club DJs playing some of these tracks (one would be enough, don't want to overdo it) between songs to shake things up a little as most of the tracks good dancefloor potential. To listen to the entire CD all the way through is a bit exhausting.

I imagine these guys (who hail from Tuscon, Arizona by the way) have some interesting remixing skills. I'd like to hear what they could do with some straight VNV Nation, Covenant, or even Combichrist tracks. Hey, maybe they could even shake the Cruxshadows out of their doldrums!

In spite of the shortcomings of "The Giants From Far Away", It's still worth a listen, especially if you're addicted to warped and contorted sounds. In the future, they might actually morph into a really formidable electro-industrial outfit if they can put their ideas into song structures and add some real vocals to give it personality