image not
available
anymore
Artist:
Ayreon
Title:
01011001
Format:
2 x CD (double CD)
Label:
InsideOut Music
Rated:
Perhaps it's the first time you can read here about a band playing progressive metal, but 01011001 is probably the best album I've heard this year. Calling Ayreon a one-dimensional metal band is kind of simplification as Arjen Anthony Lucassen, the man behind this project combines various genres, from ambient to progressive metal. I'm sure, however, that even orthodox electroheads may find this mixture interesting.
Some people say that progmetal is soullles - not in this case. On 0101100 you won't find tedious guitar solos or other displays of showing off. It sheer emotional music.

If you're not sure you'll like it, I'd suggest starting from the second song - "Comatose". It's a dreamy song full of electronic sounds featuring both male and female vocalists.

01011001 is a concept album - another sci-fi story by Arjen Lucassen. The lyrics at the album are as great as the music. 01011001's plot is tied to the "Planet Y" and "Forever of the Stars" storyline developed in the albums Into the Electric Castle, Universal Migrator and The Human Equation, but you don't need to know these albums to have fun exploring the lyrics. "01011001" is the binary representation of the hexadecimal number 59 (i.e., 5 = "0101", 9 = "1001"), the decimal equivalent is the number 89, which is the ASCII code for the letter Y. It makes sense if you know the story of imaginary Planet Y.

The album features 17 vocalists and 10 instrumentalists. Pretty impressive, isn't it? Thanks to it's complexity, it's very difficult to get bored with this masterpiece. Moreover, it's a double CD release which means that there's really a lot of music. Some of the songs last about 10 minutes yet they keep a listener focused all the time.
As it was said before, 01011001 is a concept album but each single song is a masterpiece of it's own. There's no point in analysing them because they are really difficult to describe - they need to be experienced, not described.
In my case it's one of the albums that have changed my point of view on music. No matter what you listen to everyday, give Ayreon a chance, it may turn out that there's vast area of music you didn't even expect to exist.
Artist:
Terra Sancta
(@)
Title:
Disintegration
Format:
CD
Label:
Malignant Records
(@)
Distributor:
Terra Sancta website
Rated:
You can always count on Malignant Records for some of the best Dark Ambient music ever recorded. Terra Sancta's "Disintegration" is a fine addition to their catalog, and an intense work at that. Terra Sancta is actually Greg Good from Australia, probably not the first place you think of for Dark Ambient music. Terra Sancta has had two releases prior to this one. "Anno Domini" from 2002 was self released, and Aeon (2004) was released on Malignant. This is my first exposure to Terra Sancta, and it's really quite enthralling. Comprised of four long tracks that are just under and hour in total, there is a fluidity and consistency to "Disintegration" similar to what you'd expect of Lustmord or Robert Rich. The first piece, "Disintegration I" begins with rumblings, and muffled voices as it builds slowly in intensity. The sonics give the impression of vast spaciousness, a quality that can be found throughout the album. You could imagine huge glaciers falling into the sea or the engines of a gigantic spacecraft. More electronic sounding drone tonalities creep in both higher and lower timbres that support the impression of an alien craft, as there is motion in the sonority. Words just can't describe how huge it sounds.

"Ashes From Dust" is swathed in an ocean of white noise washes, and once again there is impression of something massive; the forces of nature released on an epic scale. As the firmament subsides, traces of muffled speech transmissions can be heard in the aftermath of the cataclysmic event, until the wave of disruption occurs. This cycle is repeated a few times with different turbulent occurrences. Quite an awesome soundscape.
"The Shifting Sands" takes the art of reverberated vastness to new levels, perhaps beyond anything I've ever heard before. This is truly deep space, and as the listener, you can't help but be enveloped in it. Wave after wave of smooth but powerful sonics of varying atmospheres slowly wash over the sound palette drowning you in their immensity.
"Disintegration II" brings back some of the tonalities (as well as muffled voices) from "Disintegration I" while adding a new dimension to the apocalyptic entropy. Extraordinary in every way for this kind of Dark Ambient music, "Disintegration" is a five-star release. Highly recommended!

image not
available
anymore
Artist:
RAPOON
Title:
dark rivers
Format:
CD
Label:
Lens records
(@)
Rated:
I was really anxious to give a listen to the last Rapoon release and it hasn't absolutely betrayed my expectations. It's so good and what's most his style is so peculiar and at the same time you've impression everything evolved naturally, I mean despite its experimental nature Rapoon is not psyched to demonstrate anything, it's like everything blossomed the way it had to blossom, "following the course of nature". For those who has never heard anything by Robin Storey I will say that the music could belong to that grey area between genres like industrial, experimental-electronic music and psychedelia, I think this' one of the most interesting limbo ever, infact the musicians you can file in this actegory somehow are the natural heirs of the kraut avant-gardism of the seventies. It all means we're crossing a nowhere-land inhabitated by shadows of jungian ghosts, we're dealing with an hybrid path where we could meet Nurse With Wound, early Current 93, Asmus Tietchens, John Waterman, nd many others among which Rapoon. The music is not extreme or dark for the mere sake of heaviness, I think everything has much more to do with an inner search or with that music that pays homage to the "sacred" idea of having a trip. Most of the songs have a really explicit and weird melodic approach and evolve around the pulse of a really simple rhythm. Everything sounds ethereal, softly obsessive and stoning like music made out of repetitive loops. Sometimes I even have the impression this could have been dub gone bad, but this' not exactly dub anyhow, I can assurre the use of reverb and delay wouldn't have been the same without the the historical mark of people like Lee Perry in the production of music. This cd is highly recommended, it's a top notch release.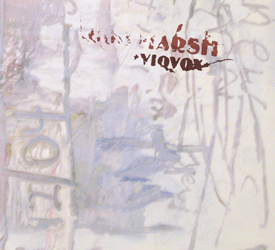 Artist:
BOB MARSH
Title:
VioVox
Format:
CD
Label:
Public Eyesore
(@)
Rated:
Sometimes a few line notes inside the cd are necessary to help listeners make a picture of the hows and whys of the cd and believe me this' not exactly what you may label as an "ordinary collection" of "songs". I've already heard the name of Bob Mersh even if I don't know that much about him, he played violin, cello, he used several pedals above all loop machines and he used also vocals and he constructed the different loops and recorded it direct to minidisc. The result is odd, sometimes lo-fi but interesting. "Most of the songs are not songs" writes Mersh and I think that's the way it has to be considered as a sort of flux of conscience where a collection of scattered parts takes place in a bizarre sculpture. The process and the outcome would have made Jung so happy of the final result., the first obvious comparison that came to my mind is that to the weirdest Current 93, but above all to Nurse With Wound or to the most bizarre passages of the kraut era. This' not a post-industrial release that's what surprises me the most of some similarities I've found, Mersh ship-wrecked nowhere in his sub-conscience, that's the point. Not all the words have a meaning but you know if we say something or if we chose this sound in place of another there should be a specific reason, so I'm tented to comment this could be an interesting exhibit for a psychiatrist. Some passages are really interesting and sure I've found the simple and clear explanation of the modus operandi quite interesting but I think this work has to be approached very individually, I imagine many of you could find it meaningless. I repeat, it's really hard to judge it all under a stylistic perspective even if the music is confused dark and really experimental, based on loop constructions, crossed by some alien oniric voice speaking like the friendly ghost of Ghost-busters. Anyhow I like people crossing the twilight zone of their brain and judging from this piece of plastic Mersh has bought a one way ticket for the dark side of his brain when he was involved in the recording. "We're living in in dark age" (No Means No).


Artist:
Centhron
Title:
Roter Stern
Format:
CD
Label:
Scanner
Distributor:
Soulfood
Rated:
"Roter Stern" (Red Star) by Centhron is though no new masterpiece like their previous album "Gottwek" was but it is a solid follow up to it. There are 13 tracks on the album which pick up where "Gottwerk" left off.
The beats, the catchy melodies, the loops and the shouting vocals do their job be it morning of a late night. Those who overslept in the morning will be wide awake to start the day after the first tunes right away. And in the night the album offers just what you need for a party to let the steam off. Just make sure you don't play it in the chill out area; that is not what the album was planned for.
Elmar demonstrates little restraint with his German lyrics as he shouts them. It still provides no guarantee for artistic value, however, but it sounds very aggressive and abrupt which fits the music. Sometime you get an impression the vocalist just screams his head off, main thing being it fits the rhythm.
Dear DJs, with this album you've got painful choices to make: the title track, "Bitch of dreams", "Orkan", "Cleopatra" being the most attractive for the dance floor, but the rest is far from being bad either. There is a whole bunch of good stuff on this cheeky CD. "Roter Stern" may not be the most groundbreaking release of this year so far, but industrial and EBM fans have a quality product here.