image not
available
anymore
Artist:
COBRA KILLER
Title:
Uppers & Downers
Format:
CD
Label:
Monika Enterprise
Rated:
After eleven years and four albums Gina V. D'Orio and Annika Line Trost are still able to entertain and surprise their audience. In the past they toured with Peaches, Sonic Youth, Marylin Manson and Jon Spencer and they convinced all of them about their ability to create a fresh mix of electronic music/punk/pop. Thanks to this appreciation, on their fifth full length album UPPERS & DOWNERS Gina and Annika have J. Mascis, Thurston Moore and Jon Spencer as special guests. The eleven tracks of the album sounds dissonant but at the same time they are kinda pop thanks to their vocal duets. Samples are used heavily but they are always functional. Guitars and weird electronic sounds often clashes and form a good energetic music background. Sometimes melodies recall me 60's girl bands and this create a particular effect with the weird electro punk music they make. UPPERS & DOWNERS sounds entertaining, intriguing and melodic and I'm suggesting you to check it... for real!
Artist:
VV.AA.
Title:
Help Can\'t Wait
Format:
2 x CD (double CD)
Label:
Black Rain Rec.
Distributor:
D: Nova MD GmbH A: Rebeat Music Vertrieb S: Non Stop Music Records
These are usually George Clooney, Oprah, Brad and Angelina, and other stars of the entertainment business that are known for their charity projects aiming to help the starving and the deprived. The Gothic scene has not yet become known for such activities if I'm allowed not to mention a small number of exceptions. The main reason for that is probably that nobody makes any real money here unlike in Hollywood unless your band plays Wembley. Therefore it is especially good to hear that the guys from Elektrofront Erzgebirge, Black Rain and Promofabrik started a charity project with a purpose to help children in Bihar, the poorest province of India. All the money gained with the sells of this 2CD compilation goes to Humedica, the project of the PENIEL SOCIAL INSTITUTE. With that income two school, an orphanage and a hospital will be supported.
The "Help Can't Wait" compilation unites over thirty artists of the contemporary dark electro scene all of whom contributed their works with altruistic and non-profit intentions.
Now, except for your wish to help the children in Bihar, why should you purchase the 2CD? Let me mention just a handful of artists that are featured on it: Leaether Strip, Die Krupps, Vigilante, Jäger 90, Soman, Elite, Die Perlen, A Spell Inside, Wynardtage, Cephalgy, Project Pitchfork, Wintry, Black Wedding etc. Many of the titles are released as remixes.
The opener by Leaether Strip bears the title of the whole album and sets the motto for the album; dark, intensive and urgent. TET offer a track for fans of military themes. Der Gleichstrom throw into the listener "Antagonist" that will not make anybody fall asleep. The German Industrial Rock dinosaurs Die Krupps contributed a live version of "Für einen Augenblick" which is no worse than the original in any aspect.
Phase III enliven the atmosphere a bit with their "Es wird dunkel". The song is about our fun and funny scene and the lyrics include names like: Tilo Wolf, Aderlass, Die Verbannten Kinder Evas, Schelmisch, Rammstein, Letzte Instanz etc. put together in peculiar combinations that always make me grin when I listen to it. Black Wedding close with Schnitter Tod" (Reaper of death) according to their traditional electronic but slower manner and remind everybody that one day we all will leave the theater on earth, each in his way. Wake up, people and do something good out of your lives. You only have got one. And making this world better is a part of that. More than worrying about your puny existence only. If only just a couple of you will by this limited to 1000 copies compilation, I'll consider my good deed for today done. Thank you for your help.

image not
available
anymore
Artist:
This Morn' Omina
Title:
Momentum Of Singular Clarity
Format:
CD EP
Label:
Ant-Zen
(@)
Distributor:
Ant-Zen
Rated:
Wow! The return of the international renowned Industrial-musician Mika Goedrijk under his main project THIS MORN' OMINA promises a lot, although this new release is only a 5-track-EP. Together with partner in crime Sal-Ocin (EMPUSAE, TZOLK'IN), he has decided to hire with Spike a third member for all future productions of this Belgian IDM/Industrial outfit. These five tracks are musically more based into the Dark Electro genre featuring a slight Tribal influence, instead of Noise, a quite surprising, but welcomed development. The main track is "Momentum", available in two versions, a hard and forward moving tune, which should be able to appeal the dancefloor-oriented people. No cheap Hellectro relations included, this piece is one of the few smooth pieces consumable at your home entertainment too. "Nuraghi" starts with some fine layer sounds which remind a lot on TZOLK'IN until the beat and some sparse inserted vocals dominating the scenario. Another highlight has to be named with pure instrumental tune "Ananda", which leaves completely out all floor-compatibility – it's the dark mood well presented through tasty arrangements, which score here. Again – all I can say is "wow!" – this EP is a mouthwatering new sign of life of this Belgian collective. When to expect a new album... ?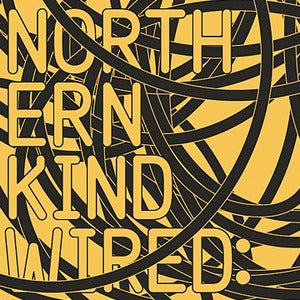 Artist:
Northern Kind
(@)
Title:
Wired:
Format:
CD
Label:
self-released
Rated:
British Synth-/Electropop-duo NORTHERN KIND returns with a second studio album and it seems, that the both protagonists, Sarah Heeley and Matt Culpin, have decided to release it as a collaborative effort with the UK-based Electronically Yours community (www.league-online.com). "Wired:" generally continues with their smooth and catchy music already discovered through their debut "53 Degrees North", combined with one of the best female vocalists around. The music itself offers a high dedication to the glorious 80ies Romantic-/Wave-Pop era, although Matt Culpin knows well to push his buttons with his state-of-art recording abilities. Like with lot productions out of this special music genre, the music can be unbeatable well done and flawless produced, if the vocals do not fit completely to satisfy the highest demands. The audience rather tends to rate a release after the quality of the vocal performance, the music often has to take a backseat. But what I mentioned above, Sarah provides brilliance with her nice timbre and tracks like "Electric To Me", the rather slow and ballad-like "Into The Blue" or the social-critical "T & Text" offer the most passion behind. Dancefloor-oriented tunes are featured too with "Pleasurely That Machine" or "Dirty Youth", while some vocoder experiments on the vocals in "Tranquil Eyes" can't be left out. The hearts of the Synthpop-oriented audience should be beating faster with this well done album, which I highly recommend to purchase.

Artist:
In[Perfektion]
(@)
Title:
s/t
Format:
Download Only (MP3 only)
Label:
Enoughrecords
(@)
Rated:
Another goody out of the rich source of the Portugal-based Enough Records label, offers us now the debut release of IN[PERFEKTION]. They decided to come out with their early demo recording, because this music project around mastermind Walter and his female half Charlotte (Walter is also part of the Hellektro Holocaust-recording artist HYSTAKMINE...) recently works hard on the last production efforts of an official debut album. And friends of the rather poppy sounding Futurepop-genre should continue to read on, since these first 4 tracks can be seen as Portugal's answer on ASSEMBLAGE 23. A very good timbre of Walter, plus a not-so-obviously-danceable song composition effort, keeps these 4 tracks amazingly interesting. Some would call it a weakness, not to concentrate completely on dancefloor-compatibility, but – wouldn't a track like the opener "Closure" offer the same impressive magic with this extravagant drum programming than with a rather 4/4-oriented kind of work? Not at all – track 4 "Willing For Suicide" attracts with a dreamy and catchy synth pad sound. It's all well done with this four tracks and this band should be able to earn a rich harvest also on international events.