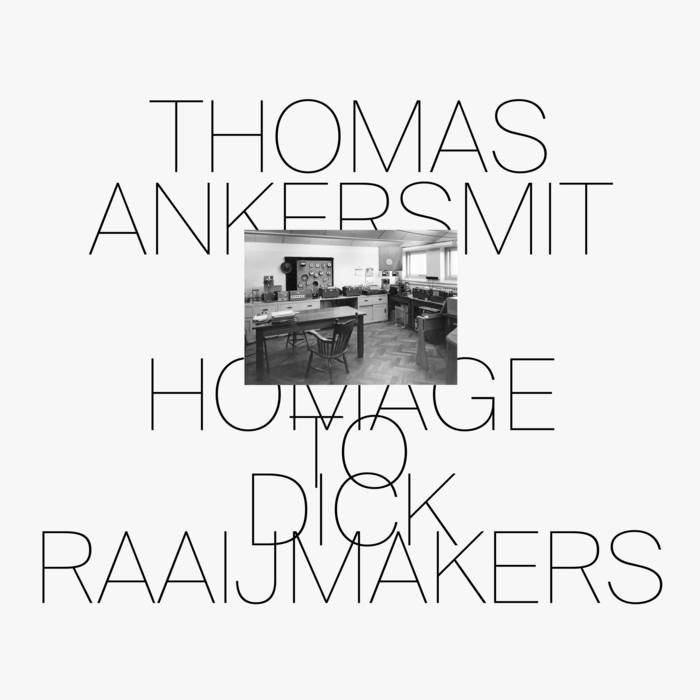 Artist:
Thomas Ankersmit
(@)
Title:
Homage to Dick Raaijmakers
Format:
CD
Label:
Shelter Press
(@)
Rated:
As the title suggests, this album is inspired by the work of Dick Raaijmakers which was one of the pioneers of electronic music and to explore the concept of the morphology of sound. Mimicking his works, Ankersmit uses the properties of sound to build a sort of weather system i.e., a way to reference phenomenon as storms with noise generators and envelopers by recreate its sound. This peace should be listened through loudspeakers as it make use of tones generated by the inner ear in response to the recorded sound and it configures itself as a map of synthetic sound.
The quiet noises open this release and are almost doubled by the other generators used, so a pulsating sound environment is created where a looping sine wave gives a temporal framework for the other insertion until a feedback acts as an interlude for the next part of the track. All this happens in the first three minutes of the track which evolves in abstract pattern of sound and with an highly structured sense of form. The sound is deeply rooted in an idea of sound reduced to its basic sources, sine and noises, and it explores its basic forms, duration and width, so it happens that the most rhythmical oriented form of sound, the pulse, emerges from its most static ones, sine and noise, and so the spatial element emerges from the elaboration of the sound made by ears; so, even a small rotation of the head change the perceived sound at least in one of its properties. The sense of dynamics of the composer ensures that quiet moments act as structural element to split composition's sections, and this way the parts based on noise generators are clearly separated by the ones with a more defined sound spectrum. At the end of this release noises are used as rhythmical elements and sharp sinewaves put a listener in a specific place until a lowing in frequency relax him to end the piece.
It's obviously a demanding listening for someone not used to this structured and abstract music; moreover, its length could be barrier in an era where opuses are heard in short fragments. However who is willing to listen will have a release that has something to be analyzed. Press the 'repeat' button.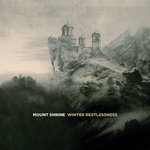 Artist:
Mount Shrine
Title:
Winter Restlessness
Format:
CD
Label:
Cryo Chamber
(@)
Rated:
Mount Shrine is a Brazilian project which releases an album which is presented by the label with descriptive words about a winter landscape and a journey to a place where someone can meditate. In other words, this is an ambient release where the focus of the composer is on the development of an atmosphere rather than on an evolution of the form.
The voices in the background that open "Winter Restlessness" introduce the listener towards an atmospheric and quiet ambient album where drones slowly evolve in a mid frequencies range so it's really close to classic ambient and the voice carries no real message but it's a way to let the music blend with the listener's environment. Even if it seems static at first sight, the sound nuances of "Moon's Distrust" constantly evolves. The crescendo of "The Silence Between Our Houses" is as predictable as evocative, so underlining the quality of the sound construction. "Foggy Deck", as its name suggests, alternates almost silents moments to droning ones. The field recordings of "Lifeless Indoors" creates an environment in which the listener find himself. "Exile" closes this release with a blurred drone which is gradually focused.
While it isn't adding anything new to a canonical form overtly in debt with the classic form of ambient, the quality of sound construction and the comprehension of the concept of this music ensures that a really enjoyable release is done. Recommended for fans of the genre.
Artist:
M. Geddes Gengras
Title:
Light Pipe
Format:
2 x CD (double CD)
Label:
Room40
M. Geddes Gengras' tenth release is a gentle fusion of synthetic ambient textures and soft, superslow melodic synthwave pads worked into long, slow and calm sonic baths that you can luxuriate in. Sometimes, soft plucked guitar or guitar-like sounds amble over the top, washed in reverb and sustain, evoking images of wide open spaces with just the faintest twang of electronica-meets-Americana.

"Irwin" is reminiscent of Jean-Michel Jarre's "Waiting For Cousteau" (the track, rather than the whole album), bubbling along through a broad environment with a strong sense of wonder and very formless melody, while the album's nearest orbit towards rhythm- manifested in subtle pulses and lower-pitched arpeggiating patterns- borders obliquely with the lighter side of soft techno, but with the emphasis on 'soft'.

There's a little bit of grit in certain pieces that differentiates these works from vanilla chill-out fare, for example the lo-fi atmospheric hiss that threads itself through "Cherise", or the rumbling growls that open "Water Study" which, if you've fallen asleep listening to this, might nudge you slightly towards nightmare- but these elements are relatively few and far between.

Fans of Moby's ambient works- particularly his more recent and indulgent sleep offerings- will find something worth wallowing in here, as will anyone willing or wanting to spend two and a half hours immersed in a warm and meditative fug that manages- just- to avoid most clichés and leave you feeling peaceful and refreshed- or asleep.
Artist:
Keisuke Matsuno, Moritz Baumgärtner & Lars Graugaard
Title:
Crush
Format:
Download Only (MP3 + Lossless)
Label:
Clang
For the second time, back in 2016, Danish avant-garde artist Lars Graugaard, German modern jazz drummer Moritz BaumgÄrtner and experimental e-guitarist Keisuke Matsuno met for a single day's soundclashing and instrumental improvisation in a Berlin studio and here, just over two years later, is the output- fifty minutes of a relatively raw and spontaneous experimental fusion, split across five tracks with fairly different outlooks.

"Tomorrow Never Comes" is a haunted house affair full of sharp strings, thick reverbs, sinister approaching bass pulses and distant eerie rumbles, while the short "Grindle" is an vignette of electronics-led dark jazz, while "Blended Conurbation" more guitar-noodling orientation places it on the grittier side of prog rock.

Final and longest piece "Keep Something On" is more immersive, its own twenty-three minute ebb and flow which again skirts around prog rock but with glitching (that at times frankly sounds like a faulty CD-R read but probably isn't) and some sporardic dives into deeper rumblier noise washes, before resolving into perhaps the most conventional structure of the set for a moody finale that seems to throw back to opener "Wheefing The Hoofer".

It's certainly an interesting collaboration, one that would certainly bear interesting creative fruit if nurtured long-term, but as it is, the somewhat raw edge to it perhaps doesn't work in its favour, but it's still a bold experimental statement.
Artist:
Stromstad
(@)
Title:
New Devored Human
Format:
CD & Vinyl
Label:
Malignant Records
(@)
Rated:
I know this has been out for a while, but it has come into my hands only recently (through no fault of anyone), and although my taste for noise-electronics has waned over the years I feel compelled to review it because I believe that it's an important work. Stromstad is a collaborative project between Jasse Tuukki and Toni MyöhÄnen of STROM.ec and Kristoffer Oustad. Oustad is known for work under his own name, and also as part of the Kristoffer Nyströms Orkester with Peter Nyström (Megaptera). If you're familiar with STROM.ec then you know their type of power electronics/death industrial music and already have a pretty good idea of what this album might sound like. Oustad brings his own flavor of dark ambient to the mix making this an expansive and intriguing outing that doesn't disappoint. Beginning with the harsh opener - "Inherent Resurrection," we get nastily processed, shouted vocal over an abrasive storm of (sometimes rythymic) electronics. It may sound like just another angry rant, but when you read the printed lyrics (and you will probably need them), it will begin to make sense. "...By the fragmentation and degeneration of the 'old world,' we stand on the very brink of oblivion. The beginning of the end has set in. The beginning of a new religious era. There must be a new heaven and a new earth. A new heart and a new soul. All new, a pure resurrection...." That's some food for thought there. This is a much more spiritual work than a cursory listening would leave one to believe, and that's amplified by Oustad's droning dark ambient strings on "Nattsvermer" and "Kosto," where stark minimalism is the order of the day. The 8 tracks on this album are short (the longest being 6:38, and the whole being a compact 36 minutes) for this genre which is often prone to lengthy excess, giving it a modicum of commercial appeal. Most of the more abrasive tracks have similarly inclined vocals ( Grutle Kjellson from Enslaved provides vocals on "Reluctant Traveler"), and I suppose in this kind of environment anything other than that would be inappropriate. But the words are poetic, the poetry of the diseased, displaced and disenfranchised. In other words, a major portion of humanity as they will likely appear in the not too far off post-apocalyptic future. Rhythms, where present, are of course industrial-mechanical but not tribal, so there is no sense of community, just the thrumming of process. Yet this is the best course for the delivery of the artists' vision. 'New Devoted Human' is effective, compelling, and thought-provoking, far more than I thought this kind of music was capable of.