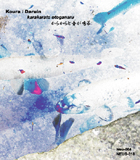 Artist:
KOURA, DARUIN
Title:
karakarato otoganaru
Format:
CD
Label:
Neus
(@)
Rated:
Interesting label and record here and from these cd I'm reviewing they put out heterogeneous materials. In this case we're in front of a duo performing a sort of field recording versus music concrete sort of music. I imagine many of you are probably wondering if here we've somebody following the footsteps of Organum or Steve Roden, but this one has nothing to share with those names. Sometimes during the listening I got the impression there's an almost imperceptible thread of experimental japanese electronic music pulsing underneath in the sound of this release and the electronic music element is what differentiate them from many artists working with field-recordings. They use a lot of hi-pitched frequencies, white noises, and crackles with which the counterpoint many of the concrete sounds here featured. Somehow this cd recorded me of a modern version of some old series 3" mcd came out for the Metamkine, just a bit more electronic oriented and the live tracks reinforce this idea. With the last tracks the electronic element comes further and they add some bass frequencies that in most of the tracks you wont hear, judging from the result I guess when doing a live performance they become more trippy and physical but maybe that's just an impression.



Artist:
ROBOT KOCH
Title:
Death Star Droid
Format:
CD
Label:
Robots Don't Sleep
Rated:
Already active with Jahcoozi and The Tape Vs Rqm as well as remixer for many international artists, Robot Koch releases his first solo full length album titled DEATH STAR DROID. Available on CD, vinyl and digital download, the album contains ten tracks in balance from dub-step, two-step and grime with many other influences. Robot don't focus his stuff on powerful blasts or crazy rhythms that may sound like an exercise in style, he build the tracks keeping an eye opened on melody and the other on the overall atmosphere focusing his efforts on the use of a rich web of sounds. We have energizing tunes like the opening "Death star droid" or the following mid tempo "Away from" as well as melancholic tunes like the cover of Door's "People are strange" (supported by the voice of Graciela Maria) or the following "While" (featuring Manya on vocals), where soft piano melodies are supported by a bass grime sound. The winning point of DEATH STAR DROID is to gather soulful atmospheres and dub-step sounds that enrich and empower the tracks with a touch of hip hop sensibility and a bit of will to experiment (check the i.d.m. blend of guitar samples and bleeps on the closing "A song formerly known as tooth").
Artist:
The M.E.M.O.R.Y. Lab
(@)
Title:
Modern Expressing Machine of Revolutionary Youth
Format:
CD
Label:
D-Trash Records
(@)
Distributor:
D-Trash Records
Rated:
Getting a new batch of CDs to review is always a treat, and gives me a bit of a tingle of anticipation, as well as trepidation for what delights and horrors await my thirsty ears. Thumbing through the pile, I saw some really cool and bizarre stuff, but no matter how tempted I was to take the easy way out and stay in my comfort zone, I knew I had to review this one first.

A bit of background on this CD- it is a collaborative project of Marc Urselli (yeah, OUR Marc Urselli) and Nicola "The Old Nick" Curri of 90's era black metal band, Funeral Oration. Curri went on to become an art restorer, set designer and artist. Now all I really knew about Marc up until this time is that he's my contact at Chain D.L.K. (and also a fine reviewer) and every once in a while he call me up and asks me if I'm ready for more CDs to review. My shock and awe began when I discovered he's a well-known audio engineer and remixer, and has several Grammy Awards under his belt for doing just that. (Somehow Grammys and Chain D.L.K. just seem like opposite ends of the musical spectrum.)

Well, Grammys don't necessarily give you cred in the Industrial music world, but those engineering and production skills come in handy when you want to put out a great album, and this is one GREAT album, all things considered. I'm not saying that because of my Chain D.L.K. connection with Marc, I'm saying that just because IT IS. The album was actually conceived (and mostly executed) nearly 15 years ago, but it has the power and presence to stand up to anything in the Industrial music realm today. I wondered why I never heard of M.E.M.O.R.Y. Lab back then, and apparently it was because they only made it on to a few compilations and released a very limited cassette demo.

M.E.M.O.R.Y. Lab is an acronym for Modern Expressing Machine of Revolutionary Youth, something that summarized their philosophy of music back in Southern Italy in mid-90's. Other members of M.E.M.O.R.Y. Lab included bass player Fabrizio Giannese and Dario Campeggio, but it's Marc and Nick that are really responsible for this album. M.E.M.O.R.Y. Lab broke up in 1999 when Marc moved to New York to pursue an audio engineering career. The album might never have seen the light of day if Marc didn't rescue the original recordings from a dusty Italian basement and digitally re-master them.

So, what about the music on the album? Well, this is hard as titanium Industrial, something much tougher than Reznor and his Nails of Nine ever dreamed of. Urselli cites M.E.M.O.R.Y. Lab's influences of a whole range of groups- Die Krupps, Young Gods, NIN, Pantera, Sepultura, Faith No More, Einsturzende Neubaten, Front Line Assembly, Skinny Puppy, Ministry, Fear Factory, Legendary Pink Dots, Current 93, Das Ich, Psychic TV, Sigillum S, Christian Death, Sisters of Mercy, Pink Floyd, etc., etc. and it shows. Some more than others. The first thing that impressed me about this album is the drum programming. Not your standard stuff here. It is varied and often processed to perfection; complex rhythms (Front Line Assembly/Skinny Puppy style), loops, odd Neubaten-ish percussion, manic drumming, you name it. The synth and sampling work is very good too; somewhat old school' because that was THE school n the 90's when this was done.

Nick has an interesting vocal style, multifaceted and often manic. When he's not ranting and raving Manson style (Charles, not Marilyn) which he often is, he's nearly whispering David Tibet/Edward Ka-Spel gibberings in the quieter passages. And there are a number of them to break up the sturm und drang, which is a very good thing. Actually, there are a whole lot of influences at work here; it is more an amalgam of everything these guys absorbed and put into one sonic H-Bomb of a package guaranteed to blow your mind. It will definitely take you more than one listening to absorb it all, and it has a high replayabilty factor. Even the one track I wasn't wild about at first, "Another Nail into the Cross," with its Christian Death martyr overtones seemed better the second time around. Nick reminded me a bit of the late mad magician Geoffrey Crozier. Few know of Crozier now (Google him, watch his YouTube video, and you'll get the gist), but back in the late 70's he was somewhat of a legend amongst the New York City underground music scene. I had the pleasure of experiencing his demented performances first-hand, and I tell you there is something of his energy and angst in Nick's vocal on this CD. I think you need a certain kind of nutter on vocals to make this kind music work and leave the pack behind.

Modern Expressing Machine of Revolutionary Youth' is a very strong effort which might have become a classic if it was released back in the day, but with the re-mastering, I'm sure it's much better now than it than it might have been then. As with a lot of Industrial music then, there are sampled dialogue passages and sampled hard guitar, but they're used sparing – no overkill. Not a lot of melodic content, but real Industrial music doesn't need a lot of melodic content. If your complaint about so many Industrial' bands today is their music is geared more to club play and the dance floor, then this is definitely for you. There is so much meat on the bones here, and nothing gets stale. Nick's vocals and Marc's synth/programming/production work hand-in-glove together. A perfect fit. Who cares if sounds a bit old school in places. Do you still listen to Hard Wired', Land of Rape and Honey', Too Dark Park', Tabula Rasa or Embryodead' and believe they're brilliant albums? Then M.E.M.O.R.Y. Lab is for you. The only other thing I can say is, it's about fucking time.

image not
available
anymore
Artist:
2JUNXION
Title:
Acid Rock "The remixes"
Format:
Download Only (MP3 only)
Label:
AJ Records
Personally I'm not that much into acid techno and neither into releases containing remixes of only one track. This 2Junxion release covers both the cases so I'll try to be honest as much as possible. Originally released for Acid Tracks label in 2005 as A side of a 12", "Acid rock" was a dancefloor hit and when played today, it still convince acid techno lovers. Based on 303 bass lines, acid sounds trained by filters' tweaking, the tune (which is available as closing track also on this digital download release) contains all the elements of acid techno: crazy bass lines, punching rhythms, hypnotic atmosphere and vocal samples used as instruments. During almost nine minutes, "Acid rock" is divided into three main parts based on three different melodies (this helped me a lot during the listening and I appreciated that 2Junxion didn't stick on two sounds for the whole time). The other tracks (the first three) you find here are remixes of the original tune reworked by Sorgenkint (this is a ten minutes sort of industrial acid techno version where drum and bass sound like an hammer) , Acid Junkies (they picked up the main bass line and repeated it for six minutes and half tweaking on filters and samples) and SynnyS (this is kinda minimal and it's focused on one bass line, a melodic line and rhythms but it's the one I preferred because it plays a little bit with melodies).
Artist:
VV.AA.
Title:
Songs for a Child - A Tribute to PIER PAOLO PASOLINI
Format:
CD
Label:
Rustblade
(@)
Distributor:
Masterpiece
Rated:
Some Italian journalists have tried to make a great fuss about nothing related to this interesting issue and right and proper tribute by the Italian label Rustblade to the most prominent Italian poet and intellectual of the previous century, Pier Paolo Pasolini, whose death by mysterious homicide dated to back to 34 years ago (it was 2nd November 1975 when his body was found on the beach of Ostia, nearby Rome, being run over his own car by Giuseppe Pelosi, a 17yrs old hustler, even if the way events occurred is still substantially unexplained) has been recently remembered by some media (sometimes inaccurately). The uselessness of the above-mentioned polemics being about the presumable lack of suitability between a collection of songs belonging to the so-called avant-garde music scene and the poet's hostility towards some futile excesses of some avant-garde forms of art and literature consists in the "genetic" defect some reviewers show when they didn't manage to contextualize expression as they look too self-confident in arguing that contemporary musical languages are just a product belonging to our days. Are they so sure that Pasolini would not have appreciated this tribute as well? As I'd like to exclude the hypothesis those reviewers act like mediums chatting with the souls of dead bodies (requiescat in pacem!), I think these polemics are quite fruitless. It's even longer sensible to them asking what should be the ideal arrangement of Pasolini's thinking (in particular his ardent critic to consumerism running side-by-side to the one against bourgeois values and ambitions standing behind the picaresque neo-realism, standing out among his flunkey contemporaries) nowadays.


An elegant artwork with images provided by the portrayer Saturno Buttò and the painter Alessia Catanuto for a selection of 14 tracks (hurry up if you're interested in it as it's another strictly limited edition... just 696 copies issued... ) signed by an interesting roster of European underground scene, ranging from the renowned Coil '" whose track Ostia (The Death Of Pasolini) propelled by an entrancing string session composed by Billy McGee, a sort of musical epigraph on the death of this illuminating as well as troublesome intellectual , was already issued in their intriguing apocalypse-inspired Horse Rotorvator '" to the foggy dark-ambient by Bahntier '" project by the label head of Rustblade, Stefano Rossello '", from the touching and crystalline folk-pop by Spiritual Front to the lopsided fractured drops of diapasonic guitar of Les Mille Et Une Nuits by Ah Cama-Sotz to the corrupted string sonata on the subliming vocal samples by Pasolini himself reciting the so-called "civil poems" propelled by the creativity by Alio Die, from the electrified oddities by Teatro Satanico in Ppppetrolio and the esoteric choirs combined with ritual sound hooks by In Slaughter Natives, from the stinging dark pulsations of the obsessive downbeat by Condanna to the grand droning with some famous samples by the poet attacking fascists depicted as criminals thirsty of power by Sandblasting and so on... And even if the Supplica by Black Sun Productions could not easily be compared to the most famous one by Diamanda Galas, we have some evidence to say that maybe Pier Paolo Pasolini could appreciate it if still living as one of the most intriguing musical memorial and summary of the highlights of his scathing thought...