Artist: Golden Oriole
Title: Golden Oriole II
Format: LP

An energetic, backwards-looking stab at recreating edgy, experimental instrumental 1970's psychadelic prog rock, Golden Oriole's second release hits its apparent target. Often manic guitar-led meanderings are bolted together with analogue effects and twiddles bounce off against rigid, sometimes tribal-tinged drum work that has the consistency and sometimes tone of a drum machine, but sometimes the complexity of a complete wig-out.

It's made of two tracks, though each track has fairly distinct parts so this seems a little arbitrary. "The Waxwing Slain", after a particularly aggressive opening, evolves into a longer more mesmeric shifting pattern in two parts. Three minutes before the end of the seventeen minute piece it drops out completely, to introduce a high-pitched tinnitus-tickling electronic screech to either brainwash or punish the loyal listeners.

Second track "Az Prijde Kocour" kicks off with similar punchiness, which this time takes longer to abate. When it finally settles it works itself into a strangely funk-channeling stepping-groove affair, as though aimed at the world's twistiest dancefloor.

It's a punchy and very focussed LP that will appeal to anyone who fondly remembers (even if they're not old enough to remember) some of the experimental-guitar excesses of the 70's.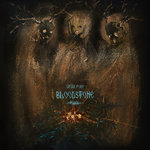 Artist:
Sacra Fern
Title:
Bloodstone
Format:
CD
Label:
Black Mara
(@)
Rated:
Sacra Fern is the project of Dmitry Fedoschenko that is based on a form of dark ambient with extensive use of field recordings. This release is presented as a sort of soundtrack for a video part developed upon shots in the forest tied to the presentation of this release which describes the stone giving the title to this release as a magical artifact which can absorb power.
The singing birds of "I Saw It" opens this release upon a droning crescendo and generate a tension as they seems to escape from somewhere. The long track which is the center of this release, "Transparent", starts in a quiet and meditative mood where all metallic beat are exalted as the drone is not the gravity center of the track but only an element to underline the field recordings and the small sounds which are the main element of the track; so, the result is closer to certain ritual music rather than proper ambient. The framework of "Black Rain" is instead a more canonical dark ambient with a small interlude based on field recording. "Storm Of The Century" is a short drone crescendo which underlines the menacing field recordings in a rather evocative way. The bells of the first part of "Crimson River" are almost enchanting in their resonances and bring the listener toward the final part of this release with the field recording of what is sounds like an extinguishing fire.
With his reasonably personal use of field recordings this release doesn't sound just like another dark ambient release but as a more elaborated release. It could be a little too adventurous for fans used to releases which sound more or less the same but will find something worth a listen. A really nice release.
This is an interestingly blended three-pack. The title track is an up-tempo electro jack near-instrumental with a crisp and rather catchy lo-fi aesthetic and a little bit of everything, sometimes recalling progressive house, sometimes 90's bigbeat almost.

A2 "Jackson Kalter" takes an old blues recording and builds a steady lower-paced and quite deferential instrumentation around it in a way that's not miles away from Moby's "Play" but with some deliberately rougher edges, before the deceptively titled B-side "Madass" is the calmest track of the set, a fairly perky light-touch techno instrumental with soft building pads and a sunny afternoon vibe that's undercut a little by a harsher synth bassline.

A nice crisp second release on the Tropical Animals label which looks like it's going to be one to watch.
'Electricity' is the broad theme here, with the layering up of different electric and electronic sound sources into eleven rather miscellaneous but generally dark works of noise and experimentation which seems to take on a variety of influences ranging from 60's radiophonics to 80's industrial proto-techno to 90's-era more 'mainstream' ambient approaches.

Many of the pieces are little more than sonic vignettes, like the endearingly quirky "V", but there are some slightly longer works to get your teeth into. "II" has an acid-techno-ish pulse that runs around it and grounds it. "IV" is particularly unusual, initially throwback-minded piece that evokes strong memories of black-and-white sci-fi but which then throws in some freeform electric guitar strumming and then some odd spoken-word poetry to muddle things up somewhat. "VI" is a broader journey into where feedback and distortion meet ambience, and is the track most fitting of the album's title.

Generally it's got quite a raw sound that's quite playful and somehow feels quite authentic, as though faithfully retreating the steps of pioneers half a century ago exploring electric weird sounds for the very first time. Not just a nostalgia piece, it does work in its own right, albeit in a slightly incoherent fashion, and fans of early electric oddness will appreciate this as more than a homage and a worthwhile listen in its own right.
Artist:
Mike Cooper
Title:
Tropical Gothic
Format:
LP
Label:
Discrepant
Mike Cooper uses his collection of guitars as a primary sound source, but wraps and envelops them in thick processing and ambience to create 'ambient exotica soundscapes'. This release takes those soundscapes and fuses them back with more conventional instrumental song structures, sometimes bordering on pop, resulting in a rather idiosyncratic whole with a quite distinct flavour. While 'exotica' might sometimes bring with it connotations like 'kitsch' and 'cheese', more often than not this is a brooding collection of sonics from the underbelly of the same soundworld.

The first side of the LP is made up of eight short tracks, some just vignettes, ranging from the quirky Hawaiian-tinged lounge vibe of "Running Naked" to the slightly sinister ambiences of "Shindo's Blues".

The second side of the LP is entirely given over to the 18-minute piece "Legong / Gods Of Bali", a more immersive wallowing in bells and reverb and gentle exotic rhythms that's quite mesmerising if just sometimes shading a little too close to the 'Glastonbury wigged-out hippy tent' vibe.

Distinctive and full of character, it's an unusual dark twist on tropical tones that tells its own story and tells it well.