image not
available
anymore
Artist:
SOLVENT
Title:
Subject To Shift
Format:
CD
Label:
Ghostly International
Rated:
Six years after his latest studio album "Apples and synthesizers", Jason Amm is back with a new one titled SUBJECT TO SHIFT. Released always on Ghostly, it is available on digital format, CD and double LP (on this you won't find the short opening "Elevator up" and "Unknown caller" plus "Don't forget to phone" have been replaced by "Echo on your voice", and "Red and metal"). This new album finds Solvent in a perfect shape and ready to please lovers of analog synth sounds. The tracklist of CD edition (the one I'm reviewing) is well balanced and it has eleven songs: we pass from the upbeat dance rhythms of "Formulate" (check its acid TR-303 sounds) and "No one should be living here" (it has distorted drum beats, dark atmospheres and cool fragmented vocal samples) to suspended in time instrumentals "Elevator up", "A product of the process", "Unknown caller", "Life size image" and "Panoramic" passing through menacing mid tempos ("Take me home" has slowed down vocals which create a great atmosphere with the windy grinding synth sound and the minimal drum machine beats) and great upbeat synthpop songs (some of them with clean vocals) like "Caught a glimpse", the great dreamy pop of the single "Loss for words" and "Don't forget to phone". I think that SUBJECT TO SHIFT is the best Solvent album to date as it has many different atmospheres and is able to switch from synthpop upbeat songs to mid tempo instrumentals carrying the listeners through a pleasant trip, making them wanting to take another ride.
image not
available
anymore
Artist:
Life In Sodom
(@)
Title:
Alone
Format:
CD
Label:
Nutrix Recordings
(@)
Distributor:
CD Baby
Rated:
This Dark-Wave band returns with a full-length CD full of competently performed songs expressing the themes you would expect from the genre. For the black t-shirt crowd who watch a lot of teen- and twenty-something vampire series TV and movies. It's all done well but I feel that all the aggression and danger has been smoothed out by an over-produced treatment. It's just all a bit too polite.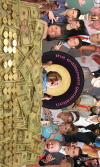 Artist:
nonnon
Title:
The Entitlement Generation
Format:
Tape
Label:
Automation Records
(@)
Rated:
Nonnon is Dave Madden of Salt Lake City. I usually don't like hip-hop based music but this I like for some reason. It's probably the kitchen-sink attitude Dave uses to bring about his highly experimental beat based songs. It is well in the realms of hip-hop rhythm-wise but hanging out on the edge so far that he's liable to fall off. The music is not dangerous, in an aggressive way, but it there is aggression here. Subtle but still present. Demanding that you listen, not knowing what's coming next. Definitely worth a listen for that at least.
After their previous sonic issues (sometimes close to lo-fi techno and electronic razor-shaped industrial'¦you could imagine something amidst Negativland, Psychic TV and acid techno era strips), the mysterious duo hailing from east boroughs of Leeds ' one of the English city's baking some interesting experimental projects -, known as The Truth About Frank, reaches his 4th 4-tracks Ep just before announcing (finally!!!) their first full-length, acting as a confirmation of their skills in forging strange sonic creatures, which could be perceived as playful and disquieting, elegant and aggressive at the same time throughout rapid passages (or I'd better call them interpenetration of )from hollow even if agonizing dreams to sinister scary nightmares. These brainy guys don't use sounds to excess, but they wisely treat them in that hallucinogenic way able to pierce listener's search of strong audible emotions, stimulating thoughts without any recurrence to Gothicism or industrialism injections. Artworks ' there's one for each track, partially reminding those provocative collages of some cyber-punk graphic designer, rich in fluorescent outlines and psychedelic mosaics- seem to play almost as a caption for tracks and the above-mentioned contrast between peaceful and disquieting elements resurface mostly in the last one, Welcome, in which The Truth About Frank loops a low-pitched voice morbidly repeating 'Welcome to My World' on a flat slow-changing half-melody. You could easily grab the implicit irony and the keenness behind a track like that! Maybe this Ep will not murder your sleep, but it surely could unsettle it! I'm curious to listen TTAF forthcoming album after listening to this taste of their enjoyable quibbles!
Artist:
ARI BENJAMING MAYERS
Title:
Symphony X
Format:
CD
Label:
Potomak
Rated:
Collaborator of Philip Glass, Einsturzende Neubauten, The Residents, Morton Subotnik, The Orb, and Sun Electric among others Ari Benjamin Meyers worked also for classical institutions including the Semper Opera Dresden and the Berlin State Opera. He also is conductor and composer at the Juilliard School, Yale University, the Peabody Conservatory, and the Hochschule für Musik Hanns Eisler in Berlin as well as a founding member of the avant-hardcore band Celan (along with musicians from Unsane and Oxbow) . On SYMPHONY X, Ari, presents four movements which are linked to the minimal suites of composers of the likes of Philip Glass or Glenn Branca. Ari made something similar to the Glenn Branca guitar symphonies recordings using a symphonic orchestra made of saxophones, brass, strings, electric guitar, electric bass, drums, and electronics. Repetition and variation are the key element of the CD. We have atmosphere alternation where percussions and bass/guitar make the tension grow slowly with constant repetitions of one note and all of a sudden part of the brasses section start to play the same note alternatively, each part of the section hit a different bit of the measure producing an hypnotic effect. The four movements sometimes start from a reprise just to change tiny things, then ending into something different. Great album that you'll love if you like epic sounds and experimental/modern classical music.