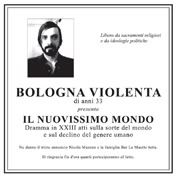 Artist:
BOLOGNA VIOLENTA
Title:
Il Nuovissimo Mondo
Format:
CD
Label:
Bar La Muerte
(@)
Rated:
Nicola Manzan is a trained Italian poly instrumentalist who studied classic violin but who decided to follow his instinct and to make a musical project that would blend his passion for B-movies where cynicism and exploitation are only a way to show the worst side of human race. IL NUOVISSIMO MONDO (which means "The brand new world"), is the first Bologna Violenta CD, released after some mp3 E.P.s for SKP records, Coreback Records and Sociopath Recordings. Structured like a concept where the 23 tracks are parts of the same drama (the album's subtitle is "Drama in 23 parts, about the fate of the world and the decay of the human being"), IL NUOVISSIMO MONDO finds Nicola writing short songs that are formed by grind guitar/drum machine parts mixed with recitative vocals recorded like they were movie samples. Even without listening to the music, the cover says it all: graphically made like it was an obituary the first lines says "Free from religious sacraments and political ideologies". "Nuovissimo Mondo", "Morte", "Trapianti Giapponesi", "Danze Cecene", "El Grindo", "Un Virus Terrificante", "Le Regine Delle Riviste Porno", "Il Sommo Fallo" or "Maledetta Del Demonio" are frames of the same picture as the album recalls mondo movies of the likes of "Mondo cane" or "Africa addio" (the most famous director was Jacopetti). Grind music isn't the only thing you'll find on IL NUOVISSIMO MONDO as many tracks have violin or organ intermezzos with vocals and Nicola paid a tribute to 70s Italian movies by covering "Blue song", a song written by the De Angelis brothers for the movie "Milano Trema". Let yourself be shocked by the naked truth of Bologna Violenta...
image not
available
anymore
Artist:
VAN RAVESCHOT
Title:
Eden East
Format:
CD
Label:
Pale Music
Rated:
EDEN EAST is the debut album of Van Raveschot, a band coming from Berlin but formed by people coming from different sides of Europe: Amelie a.k.a "Van Raveschot", French singer, composer and writer, arrived in Berlin at the end of 2006, Henrik on guitar, Hannes on bass guitar and Arek on drums. Their music alternates vibrant energetic post punk/wave songs like the opening the great "Comme des histoires" or the following "No matter what" (it has a really nice dark sounding intermezzo) and "Sexe" to dark mid tempos where Amelie's vocals incarnate very well the stories of tortured loves she wrote, sounding intense and passionate. Some tracks tend to lose their grip because the guitar passes on the background but it's a matter of few moments. Nice debut...
Artist:
Dmitry Mazurov
(@)
Title:
Creature on a Lavatory Pan
Format:
CD
Label:
Electroshock Records
(@)
Distributor:
Eurock Distribution
Rated:
This has got to be one of the most interesting albums I've received in the latest batch from Chain D.L.K. HQ. Dmitry Mazurov is an artist on the cutting edge Russian Electroshock Records label, and his eclectic album, 'Creature on a Lavatory Pan' certainly fits within Electroshock's roster. The title is much creepier than the music, which is a mixture of dark ambient, semi-classical and cinematic soundscape. Although Dmitry's artwork for the CD cover does show a bizarre creature on a lavatory pan (actually, it looks more like a toilet) I think it is more macabre and overt than the music, which is subtle and sublime. Opening with a brief piece titled 'Abyss' which sets a ghostly dark ambient tone, more light is shed in 'Luminos' which follows, as medium tempo piano arpeggios play over a sustained nebulous background of strings. It adds an aura of mystery. Sparse piano melody follow, accented in places by the string ensemble. Gradually, a theme develops through more orchestration. Way cool! It is like the soundtrack for a movie in the imagination.

'Burevo' plunges the listener into a fantastical environment where many subtle elements (both musical and noises) coalesce into an other-worldly soundscape, a subterranean hive of activity and elemental movement. I could imagine this as background of a mysterious (not your 'shoot-em-up' type) video game. 'Depths' goes even deeper with very low frequency drone, subsonics and bubbling liquid. One gets the impression of a number of aliens creatures moving through this environment, although what they may be up to is oblique.

On 'Surovitsa' you get the impression of something slogging through some type of pebbly terra, finally reaching an area where strange lifeforms hold sway. There is such a collage of different, yet purposeful sounds, some acoustic, some electronic. An eclectic guitar (by Jury Starosotnikov) plays a suspenseful sustained tonal rise (think Pink Floyd in Umma Gumma days) that culminates into a brief resounding 'BLANG' for lack of a better description. Frenetic string scrapes on the bridge leading into a wailing entity while low, slow moving orchestration fills in the background.

'Lethargie' puts the listener on more solid footing, as a melancholic slow-moving theme plays out with higher strings accented by the occasional chime. Very classical sounding. There is a sweet and sad feel to this piece, and understated drama. 'Mask for Delicate Aesthetes' is the longest track on the album at 14:35. It begins atmospherically, but soon a rhythmic sequence comes into play. It comes and goes as synth ambience fills in the background. This may be as close as it come to anything conventional (and I use that word loosely) in the realm of IDM, more Autechre-style than anything else. Eventually the sequence disappears and is replaced by more ominous electronics'¦think Klaus Schulz being kind of 'out there'. An Enoesque melodic passage follows, and I have come to realize that this album is absolute cinematic genius. I don't think I have ever heard anything like it. A stronger melodic theme develops toward the end with some phantomesque violin courtesy of Oleg Huhua while sporadic noises erupt in the background. Magic, pure magic.

'Oblivion' uses a subtle industrial loop and floating sustained chords and electronic pads to create an atmosphere that is both cosmic and tremulous. 'Reminiscences' puts the piano upfront again with supporting orchestral elements, developing a theme, then playing a fantasy on it. I am reminded of Harold Budd. Then dramatic percussion kicks in for effect. Sometimes I hear strains of Satie, sometimes Wojceich Kilar, surely other soundtrack composers too; you are bound to come up with your own parallels.

The final two tracks on the album, 'Awe' and 'Sisters of Gloom' are no less enthralling but I am running out of descriptive adjectives. If you're not checking into where you can buy this CD by now, I suppose there isn't anything more I can say about it. But you should buy it. It's that damn good.

Artist:
Level 2.0
(@)
Title:
Armageddon
Format:
CD
Label:
Nilaihah Records
(@)
Distributor:
Amazon.com
Rated:
Level 2.0 are a Long Island, New York EBM/electro-industrial band consisting of Mike Hoffman (vocals) and Matt Clennan (synth/programming). They've been around for about five years, released a couple of full albums and an EP, all of which I haven't heard. I would assume their latest, 'Armageddon,' is their best since it was strong enough for Nilaihah to release. I find myself feeling really ambivalent about this album. On the one hand, the programming is solid, the songs are mostly pretty good and the vocals are intelligible, which is often a rarity in this type of music. On the other hand, there seemed to be something lacking that I couldn't put my finger on at first but became clearer the more I listened to 'Armageddon'. To begin with, Hoffman isn't that strong of a vocalist; for the most part, the quality of his voice just doesn't seem to measure up to the drama and power of the material overall. There are moments, but I'm not hearing enough of them.

The most noticeable evidence of this is on the choruses. Hoffman's snakey voice works fine for the verses, but is not enough to push the payoff of the choruses on a number of the songs. This is something that could have been solved in production. Let me use another band in comparison ' Front Line Assembly. Bill Leeb has never been known as an outstanding vocalist, yet the vocals always manage to have certain strength to them. When it comes to the choruses of FLA's music, the vocals are like a wall of sound; they punch through in a dramatic way that rockets the track into the stratosphere. (And Front Line Assembly is a band where the vocals support the programming, and not visa versa.). That is largely production technique, multitracking, some harmonizing and effects. It could have been done here by Level 2.0, but if it was, it wasn't enough. The consequence of this is that on tracks with potentially strong hooks like 'Rising,' 'Invincible,' 'Closer,' and 'Darkness' there is a lack of presence and power that doesn't effectively sell the songs. One exception is the title track, 'Armageddon'. The tasteful addition of vocoder helps make this the strongest track on the album. Still, I think it could have been more.

As for the electronic and rhythm programming, Matt Clennan provides a solid and serviceable, although not particularly innovative skillset for this type of music. 'Armageddon' still posseses a fair amount of power and drama in the music as well as aggressive beats; club-potential abounds throughout many of the tracks. One misstep though is on 'Stolen Kiss,' a downtempo number where Hoffman is vocally emoting his heart out and the mood is sabotaged by a 4-on-the-floor beat and rigidly programmed hat rhythm that gives the song sound a plodding tap-dance feel. On the plus side, dialogue samples (you know how I loathe them generally) are mostly kept to a minimum throughout, even subdued in places.

The first 7 tracks were mastered by Ted Phelps of Imperative Reaction, and the other 5 by Nemesys Music and Jason Barbero, and it shows. Ted's mastering generally sounds stronger. Actually, by the time I get to the 8th track, I am already ear-weary. It just isn't compelling enough, or as compelling as it could be.

The way I see it, 'Armageddon' is an album that is ripe for remixing. There is lots that could be done with it ' beef up the choruses; add more vocals; change up the beats and insert industrial loops, beatbeats, and other interesting percussive elements; replace some of the standard synth sounds with a more adventurous sound palette; and totally replace that rhythm track in 'Stolen Kiss' with something more free and less obtrusive to allow it to breathe and give it the atmosphere it really needs to come alive. This wouldn't be a case of remixing just to streamline the songs and make them more dance-addictive (as so often happens on remix projects); it would be a matter of turbo-charging what is a good album and making it a GREAT album. I believe Level 2.0 have a lot of potential, but it is not fully realized on 'Armageddon'.

Artist:
TESLA BOY
Title:
Thinking Of You
Format:
Download Only (MP3 + Lossless)
Label:
Mullet Records
(@)
Rated:
Coming from Russia, Tesla Boy are a band that is able to compose the finest dance pop wave around. Being heavily influenced by 80's dance music (which was still carrying the echoes of the late seventies funk music) Tesla Boy mix past and present into an energetic formula that you have to check to believe my words (their debut album has been just released by Mullet Records on CD and that is the label's first release to gain that format). Coming from "Modern thrills", THINKING OF YOU is here presented into four different versions: we have the "Radio edit" (it lasts four minutes instead of the seven of the album version) where the Russian trio mix a bouncing bass line along with catchy synth spatial leads and heavy drum beats. All this to support the great vocal melodies of Anton Sevidov (try to imagine a male Donna Summer meeting Simon Le Bon). Along with the original edit we have three mixes: Casio Social Club (the project of Mullet Records' boss Justin Winks) kept the original flavor but doubling bass line and drum rhythms and switching real drums with a blasting bass drum/snare drum 4/4 and bass guitar with a fat synth bass. Perfect to start the dances... Baxter kept the spatial sounds and the bass line upfront, making a great dance tune with the song's structure intact. Mam, made of it a funky electro song that is able to compete with Daft Punk but he played a little more with stops and go and repetitions. We have only one song but each version is a valuable one... Check it at Juno, iTunes, etc.