Artist:
Daemonia Nymphe
Title:
Live At La Nuit des Fées
Format:
DVD
Label:
Prikosnovenie
(@)
Rated:
Daemonia Nymphe, in my humble opinion, are one of the most enchanting bands of the whole Prikosnovenie catalog. They have a mystery halo and their self made instruments which reproduce antique Greek models make sound their music even more involving. This DVD catches them live at the 2009 edition of La Nuit Des Dees festival where they performed eleven tracks. I don't know if you ever saw a photo of their act but I assure you that they are worth your time: try to imagine three white witches wearing masks dancing smoothly while percussing their tiny bells (or performing like on "Divined by Trophonios") or playing ancient strings instruments while three guys on the background beat hardly their drums, play a percussive string instrument (sorry but I don't know its name) and guitar. For 50 minutes you'll be enchanted by sirens' chants and even if you don't understand their language you'll dream of heroes battling while trying to return to their homes, magic spells, angry deities and feasts. The sound and image is great and different cameras have been used, shooting the concert from different angles just to give an extensive live experience. As bonus (along with the Daemonia Nymphe video of "Divine goddess of fertility"), to make you live in full the atmosphere of the La Nuit Des Fees festival, Prikosnovenie shoot a panoramic introduction to the stands and to the people present to the event and also put an extract of the Corde Oblique gig (they perform six tracks where you'll be able to appreciate Riccardo Prencipe's guitar and the soft harmonies of Claudia Sorvillo's vocals) and ten minutes of Djaima with two tracks of their Bulgarian folk (really touchy the atmospheres of "Mamo").
Artist:
Argine
Title:
Umori D'autunno
Format:
CD
Label:
Ark records
(@)
Distributor:
Masterpiece
Rated:
The new album from Argine is an album inspired by autumn the season of falling leaves and days becoming shorter. After "Dentro" a short instrumental which open the album there the first peak of the album "Risveglio" when a piano gives light to a sad and calm acoustic guitar riff (we are in pure neofolk territories). "Lontana" could well stand in a Death in June album, and this is a compliment. "Pioggia" drives us in war songs territories with a good choice of synths and the rage of the electic guitar and the filtered voice. "Distesa" yelds perfectly the band's idea of autumn with a wounderful description of a landscape and the melody of the violin. Then the album continues with two electical songs "umori d'autunno" e "insofferenza" and two acoustical songs "Ad una finestra" e "Parole e segnali conosciuti". "Dicembre" is almost a new wave songs with the lines of electic guitar and the fast rhythm. "Blu Luce" close the album with an atmosphere which recall the first light of the dawn after a long night. This band shows a solid idea of song structure and musical ideas of a variety unknown of most band of the neofolk scene. This album will end up in an end of the year playlist.
image not
available
anymore
Artist:
Ufomammut
Title:
eve
Format:
CD
Label:
Supernaturalcat
Rated:
A five chapter concept work for this renowned italian power trio and it's a forty five minutes single track divided into five different movements evolving around the concept of "Eve", the first woman on earth and the first rebelling to her creator. Ufomammut are quite well-known both for their live activity and for the fact two third of their line up consists of two on three of the members of the popular design/graphic company called Malleus. I'm sure if you know their graphic style you will agree their music is perfectly aligned with the subjects of their drawings, therefore if you're into vintage-seventies imaginary and into stoner-doom-sludge-slow shit I doubt you've never heard of them. This work opens with one of those post-neurotic track starting slow and slowly reaching the climax thru a crescendo to pass to a keyboard-driven (organ sounding) second episode that at the end of the song turns into a squared tribal drumming ritual where I know the most of you will find reminiscences of Neurosis. It's with the third movement you get you patiently awaited dose of stoner rock to which you can stick to your "live to ride, ride to live" tattoo and even if these mammoths quite down a bit the atmosphere passing to full blown psychedelia, the basic musical theme is the same also in the following episode (probably one of my favorite of the whole lot). The closing long song is the one where the structure is a bit less predictable and presents a solid riffing with a sudden insertion of drumming and some sudden slow and heavy breaks a la Black Sabbath which are a sort of trademark of the genre, at least like an acoustic guitar is the lowest common denominator in folk music. Thanks to some different and andante tempos this closing chapter is also the one that probably gets the easy-digestible status for its heterogeneity and in someway it sums up many of the feels of the whole recording. I can't say this' one of my favorite records of the band but I can bet it's one of the most accessible and consequentially sellable record of the trio and even if many of you will find them influenced by Isis or bands in the likes I think it has not that much to share. Power to Eve or as Kim Gordon used to sing: "Use the power of women...use the word FUCK!!!".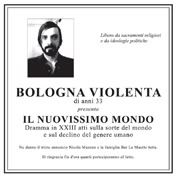 Artist:
BOLOGNA VIOLENTA
Title:
Il Nuovissimo Mondo
Format:
CD
Label:
Bar La Muerte
(@)
Rated:
Nicola Manzan is a trained Italian poly instrumentalist who studied classic violin but who decided to follow his instinct and to make a musical project that would blend his passion for B-movies where cynicism and exploitation are only a way to show the worst side of human race. IL NUOVISSIMO MONDO (which means "The brand new world"), is the first Bologna Violenta CD, released after some mp3 E.P.s for SKP records, Coreback Records and Sociopath Recordings. Structured like a concept where the 23 tracks are parts of the same drama (the album's subtitle is "Drama in 23 parts, about the fate of the world and the decay of the human being"), IL NUOVISSIMO MONDO finds Nicola writing short songs that are formed by grind guitar/drum machine parts mixed with recitative vocals recorded like they were movie samples. Even without listening to the music, the cover says it all: graphically made like it was an obituary the first lines says "Free from religious sacraments and political ideologies". "Nuovissimo Mondo", "Morte", "Trapianti Giapponesi", "Danze Cecene", "El Grindo", "Un Virus Terrificante", "Le Regine Delle Riviste Porno", "Il Sommo Fallo" or "Maledetta Del Demonio" are frames of the same picture as the album recalls mondo movies of the likes of "Mondo cane" or "Africa addio" (the most famous director was Jacopetti). Grind music isn't the only thing you'll find on IL NUOVISSIMO MONDO as many tracks have violin or organ intermezzos with vocals and Nicola paid a tribute to 70s Italian movies by covering "Blue song", a song written by the De Angelis brothers for the movie "Milano Trema". Let yourself be shocked by the naked truth of Bologna Violenta...
image not
available
anymore
Artist:
VAN RAVESCHOT
Title:
Eden East
Format:
CD
Label:
Pale Music
Rated:
EDEN EAST is the debut album of Van Raveschot, a band coming from Berlin but formed by people coming from different sides of Europe: Amelie a.k.a "Van Raveschot", French singer, composer and writer, arrived in Berlin at the end of 2006, Henrik on guitar, Hannes on bass guitar and Arek on drums. Their music alternates vibrant energetic post punk/wave songs like the opening the great "Comme des histoires" or the following "No matter what" (it has a really nice dark sounding intermezzo) and "Sexe" to dark mid tempos where Amelie's vocals incarnate very well the stories of tortured loves she wrote, sounding intense and passionate. Some tracks tend to lose their grip because the guitar passes on the background but it's a matter of few moments. Nice debut...