The project of Angelo Bignamini and Luca De Biasi returns with a tape released by Dokuro that presents this release as "flowing between movement and disappearance and is ultimately capable of expanding the listeners' sound perception in innovative ways". Prior to discuss this statement it has to be said that this release is a single track in two parts.
The first side of this tape could be described as a field recording immersed in a background noise that could be a sonic mimesis of the title; it sounds as concrete while it's been realized and this sound immersed in a realistic environment. In the B side this is however exhibited in his apparatus in the moment where there's a void in the sound reproduction; it doesn't matter if this is a fault in the reproduction or is a deliberated choice of the performers as the result is the same: to show to the listener that this is not field recording but a deliberated composition of sound.
It could be a little too static or too long for the few sonic material that is handled by this duo; however there's a concept of sound and his manipulation behind this release that is remarkable and could be well appreciated by fans of experimental music. Non only for collectors and a project to follow.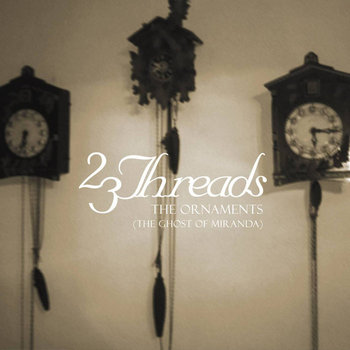 Artist:
23 Threads
Title:
The Ornaments (The Ghost of Miranda)
Format:
CD
Label:
Zoharum
(@)
Distributor:
Alchembria
Rated:
The return of 23 Threads with a new release is another work in balance between the neofolk and industrial but, while in their previous 'Conspicuous Unobstructed Path' they searched a sort of crossover between the two path, this time the tracks could be divided in two sections: the "song" and the "experiments". While half of the track could well be defined as proper, even if weird, neofolk songs, the other are centered upon more abstract and electronic elements.
The words by Ingrid Swen written in the inner sleeve are the center of "On This Darkest Night" where the background is as minimal as evocative. A track like "Rainy" based on voice and quiet guitar is peculiar with his ability to create something with nothing. If there wasn't the electronic treatments "No More Flesh for You" and "An Abyss" could sound as a neo folk track but they evolve in almost experimental territories, especially the first one. The almost noisy and evocative interlude of "My Name is Miranda" introduces the listener into the second part of this release. "Embrace the Stone" borders almost industrial territories as it doesn't feature any acoustic instrument, but "Now It Is Too Late" reassures the listener with the remarkable voice of Ingrid Swen. "Talisman-Only the Fog" borders almost pop territories but closes with an ambient final part. "Scattering of Storm/Sins" closes this release almost as cover of a Different State (the other project of Marek X. Marchoff) or as an hint of how the musical framework of the two band could collide in the near future.
Oscillating between neo folk and experimental aim, this time their musical influence could be perhaps too evident, and the album lacks a true unifying element, but it's so well written and executed that could well be appreciated by fans as they would realize that this is perhaps a transitional release. It's really worth a listen.
Artist:
Sonologyst
Title:
Apocalypse
Format:
Download Only (MP3 + Lossless)
Label:
Eighth Tower Records
(@)
Rated:
The follow up of last year "Beyond The Logic Of Science" is a completely different album as, instead of working with the language of historic electronic avant-garde, it's roughly rooted in the language of dark ambient. However it's rather more complex than the average release of the genre as Raffaele Pezzella tries to use different structures to the tracks instead of varying the sound upon the same framework.
This release starts with a track like "Abandoned city" that introduces the listener into an environment created with a static drone and some foley. "Sulphurous rain" seems instead developed from tone generators vaguely reminiscent of radio noises. The loop at the core of "Hypnosis" ties voice samples and noise. The evocativeness of "Stay in your homes!" is assured by the used of voices taken perhaps from a movie while "Global threat" and "System collapse" sustain his musical tension with the use of sharp tones and drones. The distortion applied to "Dying oceans" creates something between a dream and a nightmare. "Towers of sand" and "Prayers from nowhere" are long and static track mainly working on positioning the audio and the first deals with bass frequencies while the latter with higher ones.
Inspired by the theme of Apocalypse, rendered with reasonable adherence to expectation, it's not a release that could entertain the casual listener but it could be well received by fans of genre searching for something different from the canon. Nice but not for everyone.
Artist:
Samuel Rohrer
(@)
Title:
Range of Regularity
Format:
CD
Label:
arjunamusic
(@)
Rated:
The open-minded attitude by Swiss-born (but Berlin-based) producer and improviser Samuel Rohrer can be easily guessed by the impressive diversity of festivals and their audience, where he performed (CTM Berlin, MoldeJazz in Norway, Nuits Sonores Lyon, Huddersfield Contemporary Music Festival, Vancouver International Festival, Sunwaves Festival in Romania and many more), as well as the variegated bunch of stylistic differences of the artists he works or worked with (Ricardo Villalobos, Nils Petter Molvaer, laurie Anderson, Eivind Aarset, Mark Feldman, Sidsel Endresen, just to name a few of them) and the collaborative projects (the one with Claudio Puntin and Max Loderbauer, AMBIQ, is maybe the most known). Such a grandiloquent CV could let you think that his solo work could be something snooty for an elitarian niche of listeners, but I don't think Samuel turned his nose up by this debut album, even it's something really classy. He forged six amazing movements, whose "regularity" made them easy to chew to listeners who prefer a certain immediacy in music, but this apparent simplicity got refined by intricate webs of overlaps and an impressive diversification of timbres through a wide kit of acoustic and electronic tools (including prepared drums, detuned ziter, found objects, mini synths, Moog-driven bass, cymbals and many percussions). Such a sophistication, that together with a clear stylistic refinement and a sort of functional slit by the author (looking like something in between a sound sculpturist and a live performer) in every single track, is going to delight more demanding listeners as well. The opening "Microcosmism" is a good starter, while the following "Lenina" (the first of the three longest - lasting more than ten minutes - suites) is a first assay of the skills of mirroring the apparent contrast between tradition and modernity of tools (electronic and acoustic) by the style (a sort of accelerated adaptation of traditional afrobeat!), but the first real evidence of Rohrer's rhythmical dexterity is clearer on the third track "Nimbus" (in spite of some rough presets). Samuel turns his sonic textures into a light-tight item on the contemplative 4-minutes lasting parenthesis of "Sunclue" (something good for meditation), before the aural pleasures he forged by the other two long-lasting suites (the obscure dub dim light of "War On Consciousness" - close to some stuff by Jah Wobble - and the awesome interplay between kraut and electronic dub of the final "Uncertain grace"). Check it out together with the outputs of his personal imprint arjunamusic.

Artist:
TriAngular Bent
(@)
Title:
s/t
Format:
CD
Label:
self-released
Rated:
TriAngular Bent is a trio composed of Don Preston on piano, computer, electronics and gong; Jeff Boynton on cello and custom bent circuit instruments; and Philip Mantione on computer, custom software, electronics and guitar. With this list of instruments, we get some sense of what we are in for. My attention was immediately piqued when I realized that Don Preston had worked with Frank Zappa and the Mothers of Invention, so I had high hopes for this disc. Thankfully, TriAngular Bent delivered. "Set 1" opens it off, and sounds like soundtrack music that goes off the rails, with peaceful drone mixed with high pitched noises and the occasional gong hit. This is the music of a hallucination that hasn't decided if it's going to be a good trip or a bad trip. Next up, we have rapid fire bass and bears that keep "Set 2" aggressive from the start. Analog noises filter in and out, giving it the feel of a 1950s sci-fi film. "Don and Jeff" switches gears, opening with a melancholy cello, but then dominated by piano and snippets of strings. "Set 1B" takes a kitchen sink approach, with a lot going on. Take some cello, loops of someone yelling about jealousy, random bleeps and bloops, a malfunctioning drum machine, and put it all over a bed of circuit bent electronics. Fun stuff. "Guitar and Other Stuff," is like an incredibly long guitar solo over the 60-cycle hum of an overdriven amp.Partway through, we get some appegiated analog sounds. This is what it would sound like if Zoviet France suddenly decided in the middle of an album to invite Def Leppard to do a solo. "Don and the Voyager" is probably the low point on the album, and pretty much consists of Preston noodling around on a Moog. Not terribly interesting. "Set 7" is more minimal than the other "sets." If a video game company commissioned Oval to write a funk soundtrack to an 8-bit game, I imagine that it would sound something like this. "Piano Solo" closes it off with a jazzy piano solo. Overall, this is a lot of fun, and well worth picking up. This album weighs in at around 60 minutes.