Artist:
Song Circus
(@)
Title:
Anatomy of Sound
Format:
CD + DVD
Label:
Lindberg Lyd /2L
(@)
Rated:
Song Circus is a five-piece female vocal chamber ensemble from Stravanger, Norway led by Liv Runesdatter. 'Anatomy of Sound' is comprised of two works - "Landscape with Figures," composed by Reuben Sverre Gjertsen, who also supplies the electronics for the piece, and
the second work - "Persefone" by Ole Henrik Moe. I should mention that the latter work is an acoustic piece written for five female voice and wine glasses. Already from the little that I've mentioned you must be getting the impression that this is serious avant-garde modern classical music, and you'd be absolutely correct in that assumption, but what you will actually hear here subtly takes sound beyond the confines and preconceived notions of what you've ever experienced before. For your listening pleasure, you have two options - (it is a two disc set) Blue-ray surround sound (your choice of three different modes), or SACD. I found the Blu-ray to be the most rewarding experience, putting the sublime into perspective and best emulating a live performance scenario, although even the SACD will give you a wonderful sonic experience.

The collaborative "Landscape with Figures" took four years for Song Circus to work out with Reuben Sverre Gjertsen, and it's an epic 45 minute excursion into what voices and electronics can accomplish together. As the liner notes state: "The composition stretches the limits of tonal flexability and microtonal precision." Gjertsen studied Wishart and Ferneyhoug (New Complexity) for their systems of notation and composition to achieve this (yes, all the music was actually scored, not merely improvised) so you know this is pretty heady stuff.

Although not required, a familiarity with works by such composers as Morton Feldman, John Cage, George Crumb, Edgard Varese, Anton Webern, Harry Partch, Karlheinz Stockhausen, Luciano Berio and others in this field would be helpful, but not essential in appreciating these works. While not musique concrète in the strictest sense, "Landscape with Figures" does seem to have sonic similarities - episodic and sporadic events in both vocals and electronics, radical sound characteristic variations, and impressions of extensive electronic manipulation of both voice and synthesizer. The voices however have not been electronically altered (to my knowledge) but some of the vocal techniques employed may give one that impression. The best way of describing "Landscape" is an aural dreamworld that sometimes mixes natural ambient (although no field recordings were employed) with snippets of other-worldly elements, and also whispers. Vocally, the composition ranges from onomatpoetic utterings to seductive, siren-like glissandoes. Electronically, well, much of it is what you'd expect in an avant-garde composition of this nature, and some of it is not. There is almost no concession to anything musically traditional, and the multitude of electronic variation used ranges from passages of subtle drone to bit of random sample and hold, tinkling belliish tones, something that sounds like a sink drain being unclogged, gong-like sonorities, and random orchestral elements that aren't actually orchestral. There is no rhythm; just a multitude of events that float along occasionally combining and intertwining leaving the listeners to form their own impression. The majority of this work is low-key and jarring events are in the minority. It never seems chaotic, cacophonous or claustrophobic, but rather playful and open, even though it can be a little alien at times. A portion of this piece uses combined fragments of anagrams from a passage of Joyce's "Finnegan's Wake" vocally, but don't expect that to be prominent in the listening experience. The piece is also divided into 12 tracks (sections) but you'd be hard-pressed to separate one from the next. In fact, it slips so seamlessly into "Persefone" that you'd hardly know you were on to another composition.

Ole Henrik Moe's "Persefone,' the piece for five voice and wine glasses, is radically different from the preceding work, being a textural study of vocal sound, dynamics and microtonality inspired by Morton Feldman. The description in the liner notes say "...in the first part he stretches silence and slowness so far that any sense of a horizontal timeline dissolves into a music of state." That's pretty much on off mark. It will be difficult to discern the sustained voices from the wine glasses here. Voice and glass harmonize in a mostly smooth 12 minute moan that has little in the way of hiccups until
near the end. After listening it is easy to hear why this composition was included in the recording.

I readily admit that most of my interest in avant-garde modern music stemmed from an earlier time when I was ever so curious about music that did not conform to convention and transcended traditional form. 'Anatomy of Sound' however has rekindled a spark for this kind of thing, being some of the best "new music" I've heard in a long, long while. While the performers and composers are to be lauded for these works, the whole is greater than the sum of the parts, and discerning listeners are sure to be rewarded, especially with the proper playback equipment.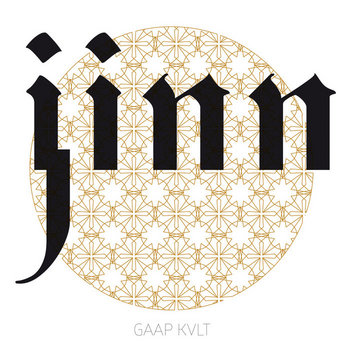 Artist:
Gaap Kvlt
Title:
Jinn
Format:
CD
Label:
Zoharum
(@)
Distributor:
Alchembria
Rated:
his release from Gaap Kvlt, a mysterious Polish project, is inspired by the climate of the Moroccan deserts, hot during the day, very cold at night and so it's a two faces release. One part of this release is based upon drones while the other is based upon beats so the listener oscillates between ambient moments and minimal techno ones and this characteristic blurs the sense of boring that often arises with release too focused on the canon of a particular genre.
The drone of "Prayer" opens this release slowly developing, with the insertion of the sample of an oriental prayer, into an evocative sonic meditation. "Abu Kamal" is, instead, a rhythmic track closer to some minimal techno using the aural space to generate a sense of immersion into an abstract space. "Bou Rattat" starts as an ambient track but slowly adds hypnotic elements as beats and loops. "Peninsula" is a soundscape slowly evolving into a drone track. "Prayer 8 (Death)" takes the elements of the first to track but in an almost industrial way creating a track of great impact. "Larache" returns into minimal techno territories while "Tangsir" plays with the disposition in space of the samples. "Ovidius" tries to be an evocative track using synth lines to obtain a cinematic effect. "Vient" closes this release with a quiet track which uses gentle layers of quiet drones until the return of the rhythm reminds to the north Africa inspiration of this work.
Wandering between ambient and techno with a great production, it's the typical release to be heard with headphones to enjoy the various subtleties of the music. It's really worth a listen.
Artist:
Underdark
(@)
Title:
Ynomrah
Format:
CD
Label:
Wraith Productions
(@)
Rated:
This new release by Wraith is a reissue of an old demo by Underdark, issued as a tape in 2011 by Evil Beasts. Ynomrah, reverse for Harmony, is a mixture of black metal and electronic without any ground-breaking moments but with a strong sense of personality.
Layers of distorted voices introduce the listener, with "Rise of Cthulhu", into the black metal framework of "About Pyramid" where the use of synth and electronics collocates this project into the realm of experimental. "Ynomrah" alternates fast sections with slower ones while "Necromantica" is a finale, it closes the A side of the tape, for voice and guitar. "Aklo" features two distinct vocal lines and synth insertions of great impact. "A Minute Before the End of the World" is an evocative track for guitar and electronics while "The Excess Ones" returns to a more canonical form. "Satanic Wehrmacht Inquisition" closes this release with a slow track that reveals a great attention for details.
This is an interesting release whose probable remaster unveils some details that could be buried in the original tape which take this release into one of the most courageous release in a genre in a perennial fight with cliches. Recommended.
Artist:
Kim Myhr & Jenny Hval ft.Trondheim Jazz Orchestra
(@)
Title:
In The End His Voice Will Be The Sound Of Paper
Format:
CD
Label:
Hubro
(@)
Rated:
While listening to this lovely release, the result of a collaboration between inventive improviser, performer and guitarist Kim Myhr and Trondheim Jazz Orchestra, where Kim himself invited Jenny Hval to borrow her eerie vocals, you could guess they used they made a wrong gender agreement in the use of possessive adjective due to the significant part played by a voice that enchanted many listeners all over the world in critically acclaimed albums such as "Apocalypse, girl" (2015, Sacred Bones) and "Innocence is Kinky" (2013, Rune Grammofon) as well as in many different collaborative projects (particularly the ones with Jessica Sligter and Håvard Volden - Nude on Sand -). In reality the title "In the End His Voice Will Be The Sound of Paper", which could have no real connection to what you're going to listen and has no reference to the way of speaking/singing by Jenny, got inspired by a conversation about the aging of Bob Dylan's voice. Jenny's voice got astonishingly colour-changing over the wisely crafted atmospheres of the album: the 12 chords of Kim's guitar and other instrumental elements - Christian Wallumrod's piano, Tor Haugerud's drums and Morten Olsen's percussions above all - sound like rendering the intricate web of tree's branches of a dense woodland in tracks like the opening "Seed" or the entrancing "The Beak", where Jenny's voice sound like flying as a blind bird; she could vaguely resemble the languid and somehow sorrowful intensity by Beth Gibbons over some moments of "Something New"; she sings like an invisible nymph on songs like the gently trembling "Soft As Tongues" or the lovely final elegy of "Silence a Beat". Premiered at the Ultima Oslo Contemporary Music Festival in 2012 - it was described as a musical combination of improvisation, contemporary Feldmanian music, pop and spoken words on that occasion -, recorded at Rainbow Studio in Oslo in August 2014 and finally mixed at Amper Tone Studio together with technician Johnny Skalleberg, Jenny described the compositional approach and the whole collaborative experience as well as her own part for this release as follows: "Kim gave me a lot of sketches and music, I wrote the melody and lyrics, and we improvised. This is a collaborative effort, even if it is mostly Kim's music. It's his artistic vision, and it was a great honour for me to be able to take part in it, because you can learn a lot by working with fantastic people. Sometimes I feel that improvised and abstract music is trying desperately to avoid the emotional elements that can be inherent in the music. This was something I thought a lot about when we were going to work with this recording. That's why I wanted to write romantic lyrics. There is a sense of longing in these lyrics. I wanted to combine something charming, in both the lyrics and the melody, something that wants to be loved, with this more abstract and fragmentary music. I'm interested in vulnerability; the music must have a kind of vulnerability at some level.".
Assign or relate a function to music - a song for having a coffee with friends, a song for letting your children sleep, a song for a pervert night, a song for an elevator, a song to charm snakes or beetles - is an old-fashioned way of advertising records that gradually disappeared and made me smile. Many musicians have reasonable arguments against this method of introducing music, which was widely used by first ambient labels and got massively reprised by new age-focused labels and compilation pushers, that expanded the types of situation to fit sounds, songs, and any supposedly suitable audible products. Welsh label Serein introduced this collection of beautiful tracks by highlighting the perfect usability during a journey, but the quality of each track is so high and elevating for the mood and thought of listeners that most of the reviewers could turn a blind eye against this grossly hackneyed manner of speaking about music. Most of the tracks are close to that traditional interbreeding between ambient music, contemporary classical and tonal spraying that featured stylistic grounds that got fertilized in the recent past by other labels as well, such as London-based Just Music through the releases by artists such as Jon Hopkins, Echaskech, Honeyroot and Leo Abrahams, but there are many variations on the theme of escapism in this selection widening the stylistic range: tracks like Benoit Pioulard's "Alogia" or The Inventors of Aircraft's "No Returns" lap upon Boards of Canada's ethereal shores, some similarities to the pianism by Ludovico Einaudi, can be caught in the beautifully melancholic opening by Otto A Totland on "Selon", the ecstatic tension by Brambles on "Petrichor" could be matched by some divagations by Johann Johannsson, some stuff that rearranged sounds according to a fuzzier logic such as Ametsub's "Blue Loop" - I already introduced "All is Silence", one of the best output by this sound artist in this space - or the entrancing "Solaris", co-signed by Yui Onodera and Chihei Hatakeyama - other known names to Chain DLK followers - or the warm thin sonic vapor by Imprints' "Roy" or the crepuscular intercrossing with field recordings by Donato Wharton on "A Lightless Volume of Water". The mentioned tracks and the whole content of this excellent compilation will demonstrate that your mind could reach unpredictable space orbits using well-selected tunes whether or not physically traveling on rails, wheels or feet.