Artist:
Quentin Hiatus
(@)
Title:
It's Only
Format:
CD
Label:
Free Love Digi
Rated:
According to his own biography, "earthborn children told stories and called him Beastman, scurrying into the night in fear of him. As the years past, he cultivated the Solo System and emerged from the wild, determined to Experience the Mysterious. Guided by the great master Sophos, he mastered the art of Formtranse". Besides his imaginative description and the somewhat mythological parthenogenesis, Quentin "Hiatus" McFadden's music has really neither beastial nor divine traits. Quentin's dexterity with bass-driven rhythmical contraptions could let you think he comes from UK, the homeland and the meeting point of many talents of the scene; his headquarters are actually in the heart of US, Arizona, an almost unknown scene that Quentin is tryng to display by means of his own label, Free Love Digi, by which he also launches this full-length album after a series of tidbits with the imprint of some underground labels. Even if it could sound like a stretching of the point, its "Americanism" could gathered by the way he chews percussive elements like they were chewing gums that he inflates out of his brain by airy sonorities. Some tracks of his album such as the title track "It's Only" or "Digress" are so breezy that could be rather matched with some old chillign entries from mainly German sound jugglers and his mania for heavy "spacialization" of sound could be linked to another (stereo)typically American mania and source of pride, the conquest of space, so that some tracks like the lovely dedication to so-called Def Poetry in the middle of the album, the bouncy sidereal drumstep on "Unexpected Red" or the synth-propelled whirligigs on "Behaviourism" could sound like the sonic mirroring of space walks on board of a starship, whose shields got constantly hitten by space debris. The fluorescent blood from the scarred sniggering heart on the cover artwork spilled delightfully listenable lymph out.
Jens Berents Christiansen's brainchild Rumpistol is one of the few projects that makes progress without deteriorating or messing around by licking fashionable sonorities and this album is the most convincing patency that he has not scattered his creative forces that marked his merriest first steps. All tracks, whose titles start with A, on "Away" reveal that chromatic luxuriance of his gentle style, which wisely blends IDM, dub, techno, broken beats, downbeat and even jazz and modern classical spurts, but manage to pierce through mature topics such as soul drifting, loneliness and alienation, which got remarkably depicted by means of piebald sonic springs: the danceable carousel of hypnagogic clots of "Asleep", the volatile vaporizations of "A Glance", which could resemble to some stuff by Royksopp, the tamished bespeaking of borderline urban living of "A Town", the electronic dub swarms of "Allahbad", the lovely sullen cycloids of "A Fall", the abulic slow-motion of "Amar", the lovely a-whirl dub of "Adrift", the abraded mellowness of the song "Away" which features a lovely duet by Red Baron and Katherine Mills Rymer (OOFJ) and the emotional intensity of John LaMonica's singing on the final track "Atacama", which vividly evokes the coastal desert place between Chile and Peru, the driest non-polar desert in the world.
Artist:
Alexander Robotnick
Title:
Vintage Robotnick
Format:
12"
Label:
Medical Records
Rated:
Exclusive Record Store Day LP presented on high-quality 180gram tri-color transparent blue/purple colored vinyl and limited to 2000 copies, "Vintage Robotnick" is a selection of eleven tracks coming from Maurizio Dami's (a.k.a. Alexander Robotnick) archives which have been released on vinyl for the first time. Recorded during the years 1982-1984, the tracks have been previously available on CD on the 2003 'Rare Robotnicks' compilation, except one track from 2005's 'Krypta 1982' ("Appuye Sur Le Champignon" and one other track culled from 'Robotnick Archives' ("Minore Terzo"). The album opens with 'I Wanna Believe', a single released under the Gina & The Flexix moniker back in 1985 on the Fuzz Dance label (an Italo Disco sublabel of Materiali Sonori). It's a song with lush atmospheres, nice melodies and catchy female vocals. "Les grands voyages de l'amour" is a great track which combines danceable rhythms, great synth melodies and a bit of melancholy in less than three minutes. Also "I remember Kamchaka" and the following "Soundtrack" follow a similar path but with "Celle Vache De Ma Mere" we pass on a different atmosphere made of mystery, sensual melodies and ironic lyrics. "Araba" mix middle Eastern melodies and robotic sounds while on "Ambient Robo" we have the robotic melodic sounds only (try imagine to Kraftwerk on a trip to Florence). "The Vampir" is a really good song which mix eerie sounds and danceable rhythms. "Appuye Sur Le Champignon" is really italo disco sounding with mid 80s guitar riffs. 'C'est La Vie' was a 7" released in 1987 and the song is a really nice synthpop fresh danceable one. The album closes with "Minore Terzo", a track which is in balance from Detroit techno and acid. Great release!!!!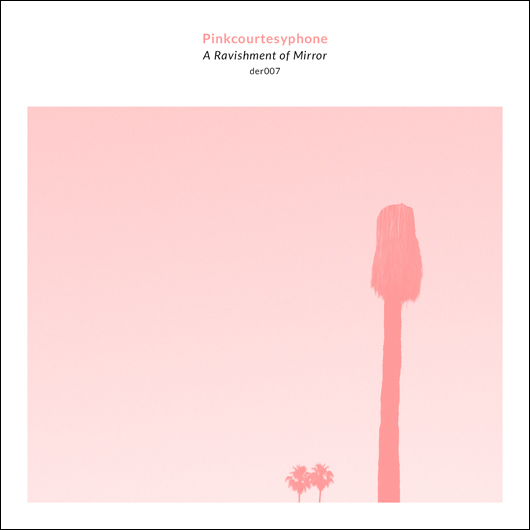 Artist:
Pinkcourtesyphone
Title:
A Ravishment of Mirror
Format:
CD
Label:
self-released
Rated:
This album is full of warm ambient tones that surround the listener, yet fall short of providing a lush atmospheric space. Instead, there is a pink noise that leaves one feeling unsettlingly enveloped by emptiness like a broken rain sound machine. According to the artist's statement, the album is supposed to be conceptually wrapped up in the plastic world that is Los Angele. Like a Tati film, its grand, ethereal criticism of the modern 'Hollywood' decadence is not at all lacking in humor. There is a sort of irony involved - like a New Age guru enticing the listener into meditation over reasonably priced self-help DVDs. This is not an album for a relaxing background soundtrack but rather an interesting experiment in binaural noise and concept.

Artist:
Bruno Bavota
Title:
La casa sulla luna
Format:
CD
Label:
self-released
Rated:
Upon first listen, Bavota's simplistic chord progressions and melodies appear to be rather trite and repetitive. This may be so ' however, upon closer look this simplicity is not lost on the listener who longs not only for something merely digestible but, also finds the moody environment of La casa sulla luna a meditative one. Even the album artwork is playfully stylized as if it were drawn directly from a children's bedtime tale. With each depression of the piano's damper pedal, one is drawn into the feeling of the performer - hushed tones and swelling melodies surround. This is precisely why I am loath to label this 'neo-classical' because its roots are firmly embedded in the Romantic tradition of the likes of Liszt ' whose own use of melody, at times, is that of simplicity wrapped in the grandeur of large tonal clusters. There are no deceptive cadences here and one can assume an entire piece's progression with confident assurance. The Italians have always possessed a nature of unabashed celebration of pure aesthetic experience without the weightiness of conceptuality as a burdening factor. While the notion of 'endless melody' is embraced here, this is no grand Germanic Gesamtkunstwerk - form and content merge with the playfulness of a Rossini. The album leaves just as it entered: without pretentious posturing of self-explanatory affect. It is as if Bavota has let his self flow freely, from feeling to fingers, bypassing 'heady' conceptual dwellings altogether.