Artist:
Georges Forget
Title:
Le dernier présent
Format:
CD
Label:
empreintes DIGITALes
(@)
Rated:
Georges Forget could be considered a proper poet of sound and field recordings as you can easily infer since "Urban Adagio", the first long suite that opens this collection, where he inspires the poetic description of an urban environment and a city as a tired woman at the end of the day in opposition to the typical saying that some cities never sleep: "My own city is very tired when evening comes, weary of the uproar and hubbub. I can see her struggling to accompany citizens to their final occupations. Here she is, streets and boroughs blinking as she yawns and stretches out at the bottom of streets that are emptying slowly... my city falls asleep; she quitely lets erode away the forlorn destinies of the handful of souls still up to contemplate her, their shadows fading away under the pale light cast by the lampposts", according Wahed Gotref's introductory words. Premiered on April 23rd, 2010 as part of the concert "Con sordino" by Code d'acces, which commissioned it, at Relais Mont-Rotal in Montreal, the suite renders such a portrait in a very astonishing and somehow cinematic way, but it's only the first assay of the remarkable skills of representation, transfiguration and translations into sounds that got displayed on "Le dernier present": the following suite "Metal en bouche" - awarded at the 25th Concorso internazionale di musica elettroacustica e rumore Luigi Russolo-Rossana Maggia at Annecy in France and at the 3rd Destellos Electroacoustic Composition Competition in Mar De Plata, Argentina - seems to render an attempt of asphyxiation of someone by means of faggots made by impressively resounding minced metallic objects; the noise of creaky boards, forestays and shroads could surmise the physiological outputs of a living entity on "Une ile", the suite that precedes the narrative one "Orages d'acier", whose alternation of moments here violence becomes hallucinatory and suspended anxious moments of emptiness render the inspiration that Georges took from Ernst Junger's novel "Storm of Steel" (published in French as "Orages d'acier"), where the author releates his combat experience in World War I, and the more recent motion picture "The Thin Red Line" by Terrence Malick. Forget quotes the translation by Jack Collings Squire of the first stanza of "The Invitation to the Voyage" from Baudelaire's "Fleurs Du Mal" as framework of the more intimistic suite "Seul et semptembre" (2008) and an extract from Melville's "Moby Dick" - 'Whenever I find myself growing grim about the mouth; whenever it is a damp, drizzly November in my soul; whenever I find myself involuntarily pausing before coffin warehouses, and bringing up the rear of every funeral I meet; and especially whenever my hypos get such an upper hand of me, that it requires a strong moral principle to prevent me from eliberately stepping into the street, and methodically knocking people's hats off ' then, I account it high time to get to sea as soon as I can. This is my substitute for pistol and ball. With a philosophical flourish Cato throws himself upon his sword; I quietly take to the ship. There is nothing surprising in this. If they but knew it, almost all men in their degree, some time or other, cherish very nearly the same feelings towards the ocean with me.' - as a description of "L'appel", the acousmatic masterpiece that closes this collection.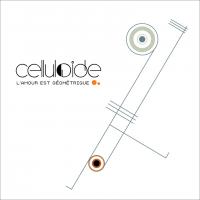 Artist:
Celluloide
(@)
Title:
L'amour Est Geometrique
Format:
CD
Label:
Boredom Product
(@)
Rated:
Ten months after their latest album 'Art Plastique', Celluloide are back with an album containing alternate versions or remixes of 'L'amour Est Clair', 'Le Basier Geometrique', 'Art Plastique', 'Gris', 'Le Salon Noir' (which now is a nice piano/synth track and it's titled 'Esquisses Preparatoires Pour Le Salon Noir') and 'La Guerre De Cent Ans'. To these songs we have to add three new ones: 'Intraveneuse' (a cover of the Bel Canto song), 'Reve Ideal' (a Eric Ferrand's song cover) and 'Gnossienne N°1' (a cover of a piece by Eric Satie). I'm surprised and pleased to notice that this album isn't a worthless remix album containing many versions of the same tracks made by people who doesn't give a damn about the original ones. It only contains two songs repeated in the track list ('L'amour Est Clair' and 'Art Plastique') and maybe it sounds more like a revamped version of the previous one, with a slightly different tracklist. Also the remixed songs ('Art Plastique' remixed by Missing Square, 'Gris' remixed by Orange Sector, 'La Guerre De Cent Ans' remixed by Opera Multi Steel, 'L'Amour Est Clair' remixed by Dekad and 'Le Baiser Geometrique' remixed by Foretaste) offer a new sound which add or change something compared to the original versions but are able to be true to them: they sound more like collaborations than remixes and this is a nice thing, as it allows to the track list to run smoothly without you wanting to skip anything. There's no track I preferred, because I enjoyed all the CD and for sure I would suggest it to everyone that already loved 'Art Plastique'.
Artist:
Echoes of Yul
Title:
The healing
Format:
CD
Label:
Zoharum
(@)
Distributor:
Alchembria
Rated:
This new release from Echoes of Yul is something between krautrock and doom, it's something atmospheric and heavy and evolves from perhaps few ideas but developed with a clear vision of how to write this release.
A drone opens "Ester" and introduces a meditative track based on a psychedelic guitar. The first part of "The Trick" is focused on the accordion while his second part is based on heavy guitar notes. "Diorama" is a piano based interlude to "Apathy Rule" whose meditative first part evolves into a crescendo based on synth. "Organloop" juxtaposes guitar lines while "Gush" is a guitar based interlude to "The Healing" whose slow notes evokes spiritual rest. "The Better Days" closes this release returning to territories closer to some krautrock.
Playing almost all instruments in this release, MichaÅ Åliwa, mixing influence from minimal to krautrock and aided by the mastering of James Plotking that exalts all the resonances and sustains of the musical spectrum used in the tracks, is responsible to a release in the vain of all those projects exploring slow-motion music but with enough personality not to be a clone. Recommended.
Artist:
Flowers for Bodysnatchers
Title:
Aokigahara
Format:
CD
Label:
Cryo Chamber
(@)
Rated:
This release from Flowers for Bodysnatchers, the project of Duncan Ritchie, is inspired by Aokigahara, known as the Suicide Forest, a place with an historic association with demons in Japanese mythology. Partly departing from other release by Cryo Chamber, this release is not a typical dark ambient release but it tries to approach more canonical musical development i.e., melody, as a way to introduce elements of interest or to border territories of modern classical.
The piano opening "Prisoner of Night and Fog" is an element that recurs overall the release that is mirrored by the cello of the second part of the track. "And There Is A Darkness" is instead focuses on soundscape in the foreground rather than on the piano in the background. "Field Of Ink" is based on the reverberation of the piano while "Kuroi Jukai" is closer to a song structure with use of a japanese voice. "There Will Be Lies" is an evocative track focused on foley sounds while "Night Heroin" is a long track developing a soundscape of great suggestions. "Aokigahara" starts like a piano piece and ends as a dark ambient track, "A Rope To End It All" develops the same structure using instead a cello and "A Man Metallic" is an ambient track based on field recordings and resonances. "The Games Foxes Play" closes this release starting as an almost new age tracks but develops with sparse noises creating an atmosphere of pure tension.
Oscillating between dark ambient and modern classical, this is a release that could earn even listeners not at ease with more experimental work and the usual quality of Simon Heath's mastering exalts the variety of the musical offer. It's really worth a listen.
Artist:
-EMERGE-
Title:
Indulgence
Format:
Tape
Label:
attenuation circuit
(@)
Rated:
This new release by -EMERGE- on Attenuation Circuit hasn't any liner notes so there's any viewpoint from the artist or the label to approach this release. Indulgence is a long electro acoustic track divided in two parts: "indulgence 1" starts with static crackles which ebb and flow like the water's sea then this small sounds are echoed and layered to obtain moving masses of sound using an high level of dynamics to use moments of almost silence interleaving the track parts; "indulgence 2" starts along the path of the first movement but it slowly evolves by accumulation until the parts raise a continuous wall of sound, a short quiet interlude introduce the listener to the final part based on a reverberated drone ending in silence.
The overall result is a work exploring the complex acoustic environment that could be created by small noises immersed in a quiet silences, so it's a difficult release which challenges the listener to have a conscious ear to follow the small variations in a continuous sound palette and this is adverse to the actual trend of distracted listening. All fans of electroacoustic music will enjoy this release.