Artist:
HHY & The Macumbas
(@)
Title:
Throat Permission Cut
Format:
12"
Label:
Silo
(@)
Rated:
The first ring of Silo, the brand new label by Raz Mesinai aka Badawi and Jonathan Uliel Saldanha aka HHY, one of the founding member of Soopa collective and one leg of Fujako, the abstract-hop project I spoke about on the occasion of "Soul buzz EP" a couple of months ago that he leads with Nyko Esterle, comes from the collaboration of Saldanha and The Macumbas, a Porto-based underground collective whose number of people varies even if some musicians such as self-taught drummer and percussionist Joao Pais Filipe and trumpet player and vocalist Alvaro Almeida are almost permanent. The mesmerizing intro of the opening track "Isaac, The Throat" as well as the distant horns and the dub-like obsessive delays whose sound seems to be enveloped by clouds of desert sand could let you imagine that the following sonorities comes from a broadcasted nightmare where they wisely spinned dub, tribal drumming - closer to bedouin trance dances -, screaming jazz/funk, electronic fibres and occasional diffractive sonic elements that could sound like a possible crossbreed between Muslimgauze, The Master Musicians Of Joujouka and Le Sony'r Ra's mystical tangents as well as amazing hooks to 7'ies blaxploitation sonorities on tracks like "Barbaron" and "Lewopa De Kristal". A very interesting debut, even if I can surmise that one of their live exhibitions - I think some people who heard them at Sonar and Primavera Sound can confirm my assumption - could be much more engaging.
Artist:
Lawrence English + Werner Dafeldecker
(@)
Title:
Shadow Of The Monolith
Format:
12"
Label:
Holotype Editions
(@)
Rated:
Lawrence English, who recently told some adventurous details about this release, and Werner Dafeldecker, who came back after a period of fallowing, joined their interest in the combination of electroacoustic and acousmatic techniques in order to lead listeners to explore some sonic crannies in Antarctic Peninsula, a place which most of people won't visit every day, by means of a paraphernalia of hydrophones, aerial and contact microphones. The recordings they collected while staying in those regions got later reassembled in Brisbane and turned into a soundscape, where the almost total absence of human elements matches the somehow dashing desolation of the most inhospitable place for human settlements on our planet, which nevertheless keeps on inspire many musicians and sound artists. Since the opening track "Fathom Flutter", where you could imagine that these artists managed to ignite ice blocks while listening the frozen crackling over the first five minutes of this polar scanning, the listening experience on "Shadow Of The Monolith" is so weirding that even the occasional clues of human activity on tracks like "Marambio" that they supposedly grabbed inside the Argentinian Antarctic base, or "Fall", where they seems to have taken the noises from attempts of anchorage of underwater probes, as well as the coring out of glacial gusts of wind in "Mapping Peaks" and frozen waters of "Rio Gallegos" seem to belong to other worlds and such a sense of immersive estrangement got reflected in the only two "musical" tracks, "Intake" and "Outtake", where Lawrence and Werner hybernated abstract chimes that brush against deafening silence.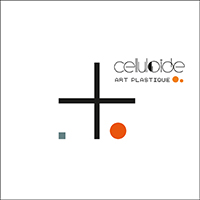 Artist:
Celluloide
(@)
Title:
Art Plastique
Format:
CD
Label:
Boredom Product
(@)
Rated:
Four years after "Hexagonal", Celluloide are back with a new fantastic album titled "Art Plastique". Always formed by Darkleti, Member U-0176 and Patryck Holdwem, Celluloide succeeded into making an album that works under different sides: it has really catchy melodies, sharp warm sounds, upbeat rhythms, rich sounds palette and more. The eight tracks of the album are able to catch immediately the attention of the listener and to involve him into a deeper listening which will bring him from the start to the end in a flash. Yesterday I wanted to start this review and I found myself listening to it three times in a row, without writing a single word. Instead, I was trying to understand the lyrics (that this time are only in French language), I was making attention to the bleeping sounds that were popping out from my studio monitors just to found myself tapping my foot on the e.b.m. hard rhythms of "Gris", wandering with my mind following the dreaming atmospheres of "La Guerre Des Cent Ans" or the mid tempo sensual of the single "L'Amour Est Claire". The album starts with a blast thanks to the complex bleeping rhythms of "Le Baiser Geometrique", song that mix e.b.m. intuitions, romantic atmospheres and synthpop catchiness. This for sure is a winner, but the band did an excellent work with all the tracks of the album and the warm detached vocal style of Darkleti find its counterpart into the complex instrumental side played by Member U-0176 and Patryck Holdwem. If you never tried them, I think that this is definitely the time to do so!
Artist:
Tokyo Prose
(@)
Title:
Presence
Format:
CD
Label:
Samurai Red Seal
(@)
Rated:
After the first introduction of his music by means of a couple of EPs ("Introducing Tokyo Prose" parts 1 and 2) in 2011 by Geoff Presha's Samurai Red Seal, Sam Reed turned his trickles in the field of liquid drum'n'bass into a proper flood on this nice album, which will undoubtedly delight the followers of this branch of dnb. Since the opening track "16 Bar Cycles", which features young New Zealand producer Cristoph El Truento, some similarities to progressive chill out and soothing downbeat are quite clear, but the following tracks shows a certain stylistical diversification. If I have to look for some small flies in the ointment, I could say that Sam seems to have focused so scrupulously on melodies that some rhythmical patterns sound too steady even if they are essential propellants which optimally enhance the charming melodic fluttering. Some tracks such as the intensely emotional "Won't Let Me Go", where the presence of Dutch producer Teije van Vliet aka Lenzman and the smooth MCing by Phil "Fox" Box are clearly distinguishable, the piano-driven "Small Gains", the metronomic soulful romance of "Ventura" or the lovely "Sunsets" that Sam built with Luke LSB Beavon and Delroy DRS Pottinger which sounds like the bubbles in a Kir Royal, get closer to some recent pearls by Dramatic and Seba., Other highlights of this album are "Common Ground", the collaboration with Mancunian producer Synkro as well as my favorite track of the whole album, the sparkling glassiness of "Covet" and "All Things", the light and dark contrasts on "See Through Love" and "Fragmented You". That's a very good collection of smart strategies for dnb lubrication, whose title got explained by means of some words by German influential writer Eckhart Tolle: "Presence is when you're no longer waiting for the next moment, believing that the next moment will be more fulfilling than this one".
This release from the duo of India Czajkowska and Sebastian Madejski is based upon early instruments (viola de gamba, psaÅterium) flute, piano, synthesizer, guitars and two voices. So it's showing his legacy with the works by Dead Can Dance or Ataraxia and is focused on the form rather than the innovation of the genre. However there's an almost pop attitude that seldom is able to give a personality to this release.
The quiet and solemn atmosphere of 'Entoihen' introduces the listener in a sonic journey where the song form is not a synonym for pop music. 'Natres' shows the impressive voices of this artists while 'Mirtey truti' features a musical lines that follows the vocal ones. 'Kan di kam', with his rhythmic evolution, is hypnotic while 'Eigis' is a vocal introduction to 'Sirhe noria', the longest track of this release, where cello and synth creates an almost religious background to the voices. 'Neritiese' is a lied for piano and voices while 'Naya trea ne' is hypnotic with his use of harpsichord. 'Hosenais' is a catchy pop :) tunes for glockenspiel and voices and 'Selionei' is an ethereal track focus on India's voice as 'Ane kaliman' that closes this release.
Even if it shows perhaps a too evident legacy with their influence, the form is so well developed that marks this project as something to hear in their next releases. Not only for fans of the genre.