Artist:
Red Industrie
Title:
Censored
Format:
CD
Label:
EK Product
(@)
Distributor:
Bandcamp
Rated:
Mexico's Helder Camberos counts already to the veterans out of his country and presents now his second full-length album signed to the Italian EK Product label. After the well recognized last album 'Destroyer' and the short-time episode signed to Germany's Electro Arc label, this all new album can count on a lot of similarities compared to the predecessors. It's not only EBM presented on this with 18 tracks opulent offered silver-circle, Red Industrie intermixes with genre-bending styles like Futurepop, Electro-Clash, and/or Powernoise to hunt for attention of the international audience. Helder is also world-wide known for his talent to cooperate with international renowned artists for their influence on his compositions. This kind of work could be already noticed under his more Synth-/Electropop-oriented project Isis Signum (check for reviews here on our site'¦) in mutual compositions, remix contributions, or guest vocal appearances. So you can be assured to get a varied Electronica album from Helder with mostly danceable tunes while you should keep in mind that not all of his compositions end in a satisfying result. First of all the foundation is based on minimal EBM / Electropop structures on nearly every track. Guitars provided in a pathetic Rock-Music manner are seemingly an allowed music-instrument to use ('(D)ark Angel', 'Still Breathing'), but this element is seemingly a matter of taste. It also needs to be said that there are out there more talented vocalists and lyricists than Helder is actually capable to deliver. His 'messages' out of his lyrically content dealing with fetishes, control, censorship and rebellion are mostly slogan-likes shouts with a plain meaning. There can be at times extracted the tacky suspicion, that this album 'lives' from the guest appearances and their talents, because the best and most satisfying results belong to the collaborative tracks like the nice pads / bass-line sequences of 'Kathy's Song (Apoptygma Berzerk cover)', or the noise patterns of 'Fetiche Futuro (feat. H.I.V.+)'. As far as remixes go, the worlds' most hired remixer alive, Mr. Peter Rainman (People Theatre)' adds a post-modern outfit and adds his voice for a few parts on the already mentioned cover 'Kathy's Song', while Dark Control Operation know perfectly how to program a badass bass-line on 'Fetiche Futuro'. Also the further remixes of Tourdeforce, LA-X, Tecnoman SF, Neikka RPM, and Matsfer provide satisfaction and compensate for the almost average own compositions. 'Censored' as a whole album is a two-sided sword and it needs an open mind to accept the complete content. In the first instance it looks a bit like overkill to provide 18 tracks, but since this album touches a lot of diverse styles and offers a lot of Helder's talent to collaborate with musicians out of very different countries, it finally makes sense. If it comes to rate Helder's very own compositions it needs to be said that they aren't cooked with the freshest water available. There's a lot of space for development.
Artist:
Tangent
Title:
Transience
Format:
CD
Label:
Tympanik Audio
(@)
Distributor:
Bandcamp
Rated:
Tympanik Audio comes up with a Netherlands-based project. After their debut release signed to the hard working people of the Dutch Mindtrick Records, this Dutch duo presents us their second full-length album to the US-based No. 1 institution for demanding Ambient/IDM/Electronica music, Tympanik Audio. Label-mastermind Paul Nielsen has had again the right nose for talent, as 'Transience' easily approves. Both band-members, Robbert Kok and Ralph van Reijendam, present us their eclectic and eerie form of post-modern Ambient-Electronica music, which turns out lesser 'powerful' than mentioned in the accompanied label info-sheet. This duo concentrates to produce icy and filmic sounding Electronica-/Ambient-soundscapes which got supported by abrasive and at times noisy rhythmic elements which can be found in several related IDM- / Glitch-productions. That doesn't mean that Tangent have to be reduced to be a copy-cat. It's rather the opposite, but Tangent stands for another example that it is nearly impossible to search out the true pearls out of the mass of mediocrity when it comes to point on the rhythmically part of a production. A track like the opener 'Drifting Frontiers' lives essentially of its ongoing addition of those experimental sound collages until the scattering percussion set joins the scenario. 'Sublimated' is more accessible rhythmically, it even offers linearity, but it too points out, that Tangent's music scores the most with their crystal-clear produced Electronica- / Synthesizer soundscapes. Also worth a mention is 'Shattered' with its plain starting lo-fi synth-drops and the ongoing abrasive percussion set until the Gridlock-like, ice-cold pads drive this track. To follow the lost piano drops produced under large hall reverb-effects in 'Radiating Singularity' is another thrilling experience worth to discover. With the track 'Bloom' there came up hopes that the whole sound-environment would change to a warmer, friendlier tone, but also this bloom rather acts like an ice-flower. So the whole album is not at all a new collection of more or less rhythmically Noise-tracks, which would work well in the clubs. It is rather a precisely and fascinating produced album of futuristic, icy soundscapes which need a bit free time to catch the whole content. It is definitely not the soundtrack for plain background entertainment, but throughout an enlightening album and an ideal addition to the Tympanik-roster.
I could guess that Austrian composer Fadi Dorninger aka Hun-Fa-Di, one of the men together with John Fitzpatrick behind the curtains of The Smiling Buddhas, could have an instinctive penchant for the research of something above the lines and the challenge against altitude sickness that he gushes on this release both under the musical viewpoint and the "conceptual" one, where elevations of his native country got linked to the attempts of overtaking stylistical fences by flavoring his sonic explorations (or I'd rather say his sonic translation of a journey in the native region of Austrian Alps) by means of the audible impressions of his experience in the field of OST and music for theatre: for instance on the opening track "Snow Melt and Wet Avalanches", he turns an imaginary xylophone-like sound that could come from crystal drops over icy keyboard into a dub-oriented dance of electronic bleeps, where the majesty of Alps peeps out of a mellow drumming before getting compeltely unveiled in all its scenic splendor by sturdy synth-boom on the contemplative "Wintersun". The Smiling Buddhas renders the vertigo and the excited palpitation which precedes a ski slope into sound on "Seconds Before Skiing Down Steep!", the concern for intense electrical activity and a vague sense of sdisorientation nearby the safe mountain refuge of Studlhutte on the cushioned techno song of "Thunder and Lighting near Studlhutte", the creaking of wooden celing of an isolated hut under heavy snow drifts on "Snow Snow Snow", a thrilling skydown with Firngleiter on "Skiing Down Grosser Sonnblick (9941 ft.altitude)" and the rocky behemoth of Eiger notorious northface on "Nordwand", whose choirs and acid techno lines evoke its mortal shadows - many climbers died after they fell from its steep walls - , while the final track "Falling" is a soundtrack of Fadi's only fall into the rope experience, where you can vividly feel his levels of adrenalin!
Feel No Other is a project combining the electronic productions of one Brian Lea Mackenzie (Electric Bird Noise) with the muscular voice of Claudia Gregory (Exhaust the Fox, Claudia Versus the Queen of Hearts). The result is an album of somewhat uncharacteristically electronic americana/folk rock. Overall, this effect is more one of production than of voice. The usual instrumentation - guitar, piano etc. - is enlisted throughout, without hesitation. However, imposing compression lends a thickness to the sound, voluminous but rigidly full, with little breathing space. On the beatless 'Eclipse', for instance, Gregory's lyrics punch tangibly into the bed of strings courtesy of side-chaining. Elsewhere, overdriven thumps on 'Gunslinger' blast through the rest of the composition, managing quite well to illustrate the song's title. These methods might seem to cause a bothersome wrestle of frequencies, but along with an EQ heavily favouring the upper-mids they certainly associate the album with 'electronic' styles, even with the overall texture feeling quite lo-fi. Moreover, they give the whole thing a kind of brash, noisy urgency.

'My Brother's Guns and Knives' assumes the role of a stirring pop lead, tasked with setting the album's momentum. Unbridled and catchy, theatrically it trudges beneath Gregory's glum vibrato along a rousing progression punctuated by a wilting synth solo. This style is never quite revisited; the song favours looping hooks over outright balladry. On the other hand, the rest of the album seems to opt the other way, leaning between outbursts and quieter passages.
Balladry, of course, is mainly what fights the 'americana' corner. On 'Winter is All Over You', a trickling motif on banjo and piano dances beneath a familiar C-G#-F-G chord sequence. Meanwhile, Gregory's lyrics seem to follow the tradition of lacing tales with emotive, hyperbolic and slightly perplexing imagery ("Saw your mother at the department store / She looked innocent like a stillborn / But all I could think about was the sting"). On 'La fiance de l'eau', she sings in French, lending a further Continental theatricality to the whole thing. It's great.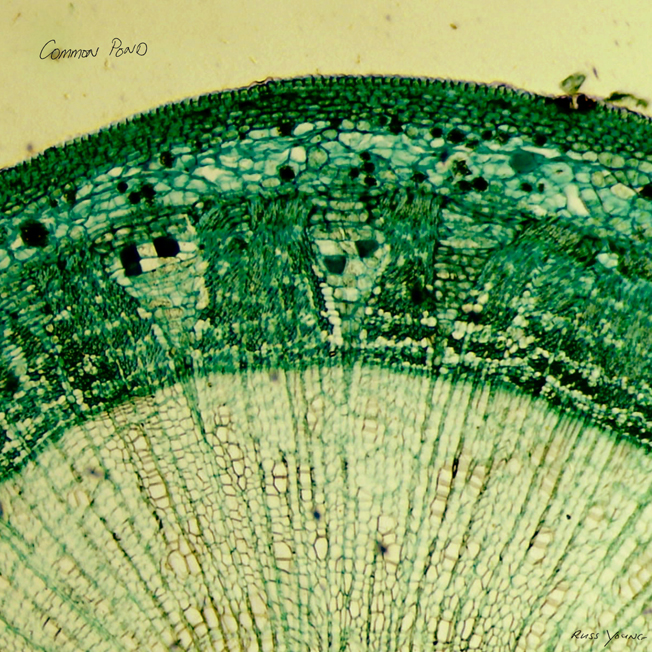 Artist:
Russ Young
Title:
Common Pond
Format:
Download Only (MP3 + Lossless)
Label:
Audiobulb
(@)
Rated:
This new, download only, release from Audiobulb is from an UK producer that introduces himself as someone "trying to create forms out of found audio" i.e., everything recorded in some form. According to the linear notes this release "try to create an image by assembling manipulated audio sources" that is a engaging statement as, in order to express image, there's a necessity to use strongly recognizable sources and a way to made the references clear to the listener. Unfortunately this is not always obtained through all this release.
The gentle sounds of "Cricket Pitch" and "Hewson Road" opens this release depicting a quiet landscape using two elements: a drone acting as a canvas and found sounds creating forms. "Lamy's Sound & Light" is a static soundscape while "Belmont Transmitter" is based on a single loop with little variations. "Common Pond" and "East Bight Stones" return to the form of the first tracks while "Phil's House", entirely based on field recordings, sounds as the only track that properly fulfills the linear notes' premises. The drones of "John's Bike" acts as a prelude to recording of a starting bike and "Observatory Roof" closes this release with small samples and sounds gently closing this relase as it started.
Due to the variety of sources and musical development it sounds more like a compilation than a proper album but this acts a costant reminder for the listener, only with headphone is possible to note the layers of small noise creating the textures of the track. Not only for fans and collectors.