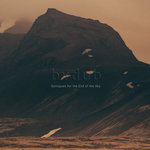 Artist:
Bvdub
(@)
Title:
Epilogues for the End of the Sky
Format:
CD
Label:
Glacial Movements
(@)
Rated:
Even if he's not a very known name, Brock Van Wey has a long history started in the late 80's and oscillating between deep house and ambient. With his new release on Glacial Movements he takes the titles of the tracks by a brief poetry and this is an hint that, more than a collection of tracks, this is a cohesive release.
The first track, "On Deaf Hearts Your Prayers They Fall", seems an usual ambient track with the juxtaposition of drones that create a quiet mass of sound but suddenly a piano chord if used to forge a second part of the track closer to certain modern classical. "With Broken Wings and Giants Tall" use the drone to blur the piano and the voice and transform them in abstract sounds to reveal them only in the closing seconds. The discernible melodies of the guitar and synth make "Sparkling Legions Turn to Black" a track away enough to the usual structure of the genre and closer to the form of the prime movers e.g., the Orb. "Your Painted Armor Aches to Crack" is quiet ambient watercolor and "Clouds Besiege What You Remain" is a crescendo for synth until his end in silence.
"Footsteps Fade If Not Your Pain" is based upon a beat that is loosely audible until when it stop with the soundscape to let an almost inaudible synth accompaniment. The cradling metaloop of "Love Is Never Asking Why" has a mirror in the almost static drone "It All Ends with the Coming Sky" which ends the release.
Even without any ground-breaking moments, this release let the will to hear it again as it balances his well known form with a remarkable sense of balance and a great craft for sound forging. It's worth a listen maybe with headphones.