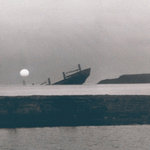 Artist:
Stefano De Ponti
(@)
Title:
Fin-d'Ersástz / 20xx - 2016
Format:
Tape
Label:
GrottaRecords
Rated:
The new release by Stefano De Ponti is another confirmation of his inclination towards the form of radio drama as this piece is a sonic collage of bits and pieces from movies or theatre and it's presented as a way to represent the state of entropy generated by the passing of time which makes all things equal under the dust.
The Domenico's monologue from Nostalghia opens the first side of the tape and introduces the "abstract" part where guitar, noises and resonances generates un interlude to another movie dialogue where one of the character talks about his music as empty and inexistent but this is instead, if not music, sound in one of his finest form. The first part of the second side of the tape is focused around guitar sound in his most hypnotic and, if possible, jazz oriented form when insert of piano and clarinet emerge from the context; when the voice of Domenico returns another voice declare "the music doesn't work" and start the most drone oriented and abstract part of the tape which has the role to conduct the listener to the desire to hear the tape again when the silence generates the void.
Even in an established and codified form, the Author is able to instill his personalities and erase all influences from the listener perspective and confirm himself as one of the key figure of the scene. Highly recommended.