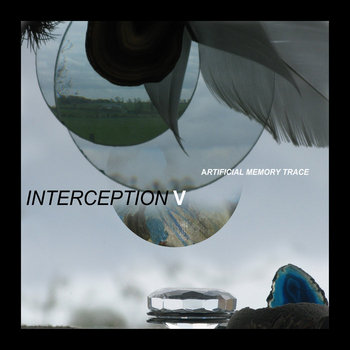 Artist:
Artificial Memory Trace
(@)
Title:
Interception V
Format:
CD
Label:
attenuation circuit
(@)
Rated:
This new recording by this project of Slawek Kwi is presented as using some field recordings by Porya Hatami, so the listening is done with a clear mind and this is a long release full of elements.
The barking of a dog introduces a first part based on field recordings and some filtering, or maybe samples, generating some resonances so while the source is clear e.g., the dripping of the water, there's a sense of something added but not immediately evident; so the track evolves in an hypnotic way as the resonances became the main element of the track until the samples and noises start to emerge and converse with the underlying element of the track until the return of the clean field recording of the dog marks the start of the second part of the track. The juxtaposition of the sound sources generates a thick mass of sound in which some element is put in the foreground and, when the dog's recording marks the third part of the track, it's unpredictable an expiration of sound details immersed in a quiet soundscape where all elements of the first two part return creating a sort of abstract narrative.
As his length is not properly compatible with times where listening is so parceled out in small excerpt, it's something not recommended with listeners with short attention span but the others will find moments of inventive sound construction. Nice.