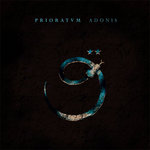 Artist:
Prioratvm
(@)
Title:
Adonis
Format:
CD
Label:
Final Muzik
(@)
Rated:
Prioratvm is the project by Mirko B. based on a form of neofolk in the vein of the gothic oriented form. So, while the classical guitar is often the main instruments used, the synth are mostly used to obtain atmospheres as sentimental as solemn which are far enough from being mawkish. As the genre's code imposes, the album is based on an ancient myth revolving around beauty.
After an initial atmospheric part, the opening track of this release, "Chajat", focuses on an almost oriental melody. "Belus at Biltis" is closer to some gothic or neofolk music as the classical guitar has the role to expose the main theme of the track. "Adonis" features an apparently different track structure as the synth is the main element instead of having an accompaniment's role. The voice of Maria Cristina Anzola on "Didusch" is able to carry all the musical content as the guitar does in "L'Age D'Or". The spoken words of "La Chute D'Adonis" marks an incursion into more experimental and evocative territories based on the used of more sustained tones as "L'arbre Interdit" partially continues with his hypnotic melody. While "Esvaba L'Usurpateur" partially continues on the same path, the return of the guitar marks the return into more neoclassical path so "Le Serpent Et La Sagesse" closes this release with a guitar melody.
Obviously it doesn't make sense to talk about any innovation when genres as neofolk or chamber are used, instead the quality of writing and the equilibrium of musical elements are the main points for the critical discussion. Adonis is a solid release, probably due also to the sonic equilibrium obtained by the mastering work, and the brilliant tracks make Prioratvm a name to keep an eye on for all fans of this musical genre.