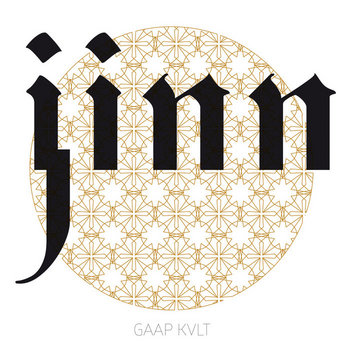 Artist:
Gaap Kvlt
Title:
Jinn
Format:
CD
Label:
Zoharum
(@)
Distributor:
Alchembria
Rated:
his release from Gaap Kvlt, a mysterious Polish project, is inspired by the climate of the Moroccan deserts, hot during the day, very cold at night and so it's a two faces release. One part of this release is based upon drones while the other is based upon beats so the listener oscillates between ambient moments and minimal techno ones and this characteristic blurs the sense of boring that often arises with release too focused on the canon of a particular genre.
The drone of "Prayer" opens this release slowly developing, with the insertion of the sample of an oriental prayer, into an evocative sonic meditation. "Abu Kamal" is, instead, a rhythmic track closer to some minimal techno using the aural space to generate a sense of immersion into an abstract space. "Bou Rattat" starts as an ambient track but slowly adds hypnotic elements as beats and loops. "Peninsula" is a soundscape slowly evolving into a drone track. "Prayer 8 (Death)" takes the elements of the first to track but in an almost industrial way creating a track of great impact. "Larache" returns into minimal techno territories while "Tangsir" plays with the disposition in space of the samples. "Ovidius" tries to be an evocative track using synth lines to obtain a cinematic effect. "Vient" closes this release with a quiet track which uses gentle layers of quiet drones until the return of the rhythm reminds to the north Africa inspiration of this work.
Wandering between ambient and techno with a great production, it's the typical release to be heard with headphones to enjoy the various subtleties of the music. It's really worth a listen.