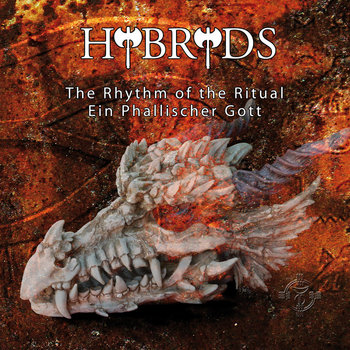 Artist:
Hybryds
(@)
Title:
The Rhythm of the Ritual / Ein Phallischer Gott
Format:
2 x CD (double CD)
Label:
Zoharum
(@)
Distributor:
Alchembria
Rated:
This new reissue from Zoharum collects tracks from two Hybryds' releases: "The Rhythm of the Rituals" (1994) and "Ein Phallischer Gott" (1997) which were related to the rhythmical and ethnical site of Hybryds musical output. According to the Magthea, cited in the liner notes, this music was made live using drum machine and sampler avoiding the use of Pro Tools which was popular in the "commercial" scene.
The first track are from the ritual side of "Ein Phallischer Gott": "Je suis le Premier et le Dernier", a track where Yasnaïa's whispers made hypnotic the rhythms in the background, "Keryneia", where the recording technique made the instruments sounds as in an open space, "Ruach" and "Moon Far Away", underlining their ethnical side. All track are based on vocals and percussion and use ambient reverberation to obtain an hypnotic effect. With "Call of the Tuareg", which was not present on the first version of the albums, the focus is shifted to a more abstract path based on drums, sparse field recording and flutes. The three successive tracks are from "The Rhythm of the Ritual": "Ritual of the Rave", whose first part is based on rhythm and second one on synth, "Hamyana el Caballo", with the return of Yasnaïa's voice, "For the Nameless One", closer in form to the first track of this cd. The other track are from the industrial side of "Ein Phallischer Gott": "Dolchineus", with his heavy beats, "Octahedron instrumental mix", hammering rather than hypnotic, "Urban War", apparently not available elsewhere, and "Totem of Revelation"; this track, instead of use ethnical reference are more obsessive and use more squared beats.
The second CD collects live recordings of these track and the line up is restricted to Yasnaïa and Magthea and so, what is lost in musical details is obtained in impact and accessibility.
An interesting reissue which (re)discover one side of this band but, sometimes, doesn't sound as good as it could because it's perhaps too compressed and sound a little too distorted sometimes. However, it's a document from a period that was the last true underground prior to the age where everything is apparently accessible. It's really worth a listen.