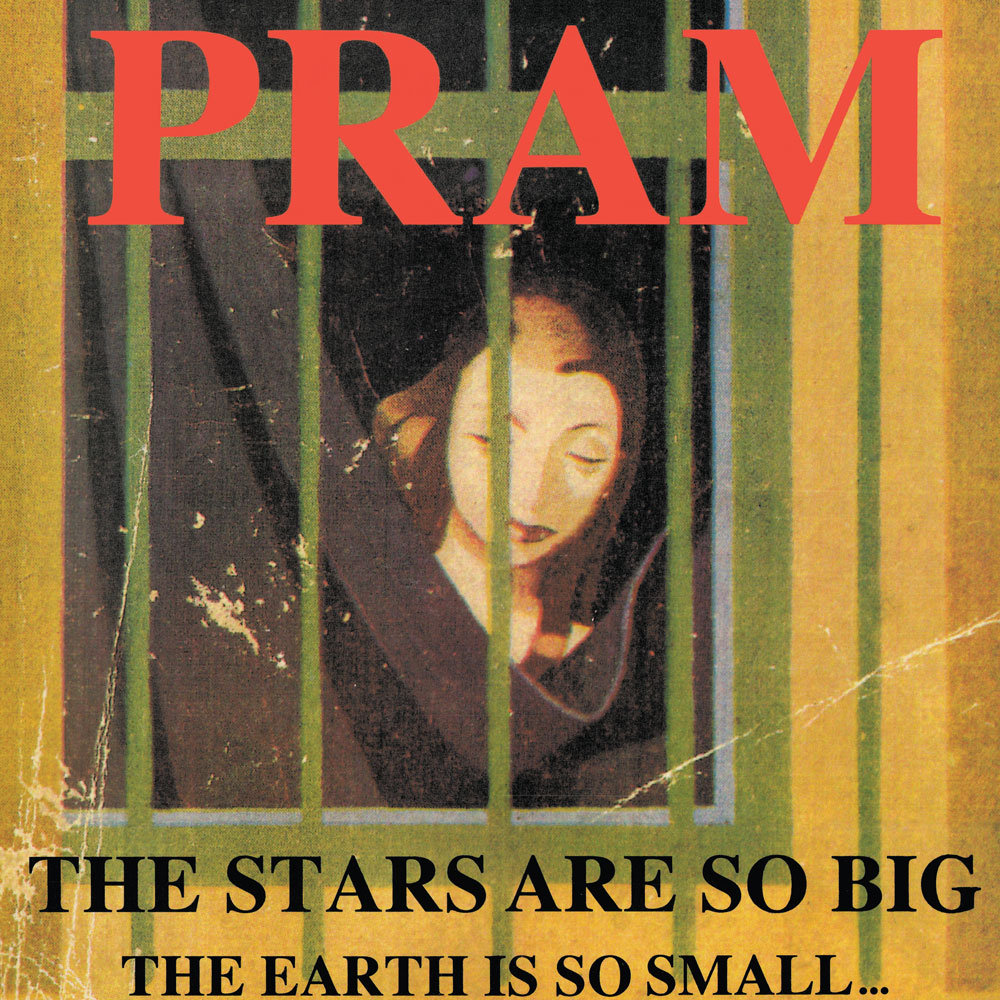 Artist:
Pram
Title:
The Stars Are So Big... The Earth Is So Small... Stay As You Are
Format:
12"
Label:
Medical Records
I missed this album the first time around, being four years old, and managed never in the years since to come into contact with the works of Pram at all. Now, thanks to present circumstances, I can at last get to know and enjoy this English band, who have turned out to be pretty superb.

First released in 1993 by Too Pure (also home to Stereolab and PJ Harvey), The Stars Are So Big... The Earth Is So Small... Stay As You Are was Pram's second LP. It's the first of two to have been reissued this year by Seattle's Medical Records, as part of a continuing project by the label to celebrate "seminal works" put out by Too Pure in the 1990s. In the case of The Stars Are So Big..., this reissue project takes the form of a red 180g vinyl repress, which I have not yet seen, but expect is a worthy labour of love.

Immediately evident when listening to this reissue is that it has not been remastered. This is distinct from some of Medical Records' other reissues, whose remasters have even been laudably restrained and clearly sensitive to the production of the original audio - showing taste and trustworthiness on the part of the label.
However, in this case, somebody involved decided a remaster wasn't necessary. The timbre of The Stars Are So Big... sounds soft and dated, muffled and a bit flat. It's possible that this sound was intentional even at the time, and that retaining it now is a conscious goal of the band's. I must agree, in any case, that there is no need to modernise these recordings. And this is likely true in most cases of reissuing music, however it was supposed to sound originally, unless we admit to participating in this period's fetishism for loudness and reappropriation, or devoting excessive energy to our commercial interests (if there's a difference). There is no 'right' way at all to do these things. But a listener's active acclimatisation to different kinds of recording and production styles, with their distinct historical and other kinds of grain, can be of great significance to the basic analyses and pleasures of musical experience. Both the process and any respect for it carry with them aesthetic as well as ethical importance.

To get to a more pertinent matter - the music itself - this album feels like a faintly twee, but rather opaque, mixture of dreamy art rock, kraut-like psychedelia and a little shoegaze. Through a filter of what sounds like no-budget, living-room production, the band's attention to detail and sonic experimentation are quite evident. Most generally, the album comprises distinct articulations of bass, guitar, electronics and drums, as well as the voice of Rosie Cuckson. On the opener 'Loco', she is nearly drowned out by noisy guitar and a throbbing, stop-start bassline. For the next tune, 'Radio Freak in a Storm', she spends the verses competing with a brilliant, metallic mallet synth motif; the guitar, this time, manifests as muted plucking. The sixteen-minute "In Dreams You Too Can Fly" is a splendid, relaxed jam. It falls quietly somewhere between jazzy stoner rock and what would later become known as post-rock, with horns provided by a guest musician known only as Verdigris. 'Milky' and the final piece 'Cape St. Vincent' are sweet and dreamy numbers, with Cuckson accompanied by cute melodies on glockenspiel, sprightly sinewave synth and, in the latter track, furry filtered piano.

Cuckson is often quite low in the mix on this record, a feature vaguely reminiscent of Belinder Butcher on MBV's Loveless. Another similarity is a prevalent emotional ambiguity, which at times Pram seem to take into outright obfuscation. Cuckson sings with an airy, aloof and shy manner, as if murmuring absently to herself. Particularly on 'Loredo Venus' and 'Dorothy', she conspires with the rest of the instrumentation to produce a beguiling, awkward and unsettling tone. It all feels fun and heartfelt, but also wry and quite uneasy. Somehow impenetrable, but deeply varied and enjoyable altogether.