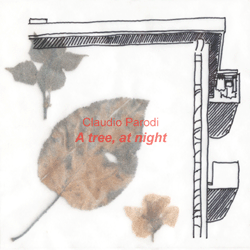 Artist:
Claudio Parodi
(@)
Title:
A tree, at night
Format:
CD
Label:
luscinia discos
(@)
Rated:
Claudio Parodi seems the typical example of an errant composer always searching for new path; after album of rigorous, and abstract, music research arrives at a sort of narrative album closer to the Residents' releases of the '80s. The relocation in a new house is the excuse to make a portrait of the new neighborhood which is a mirror of a part of the country and a social reflection as our cities became empty as book shops and cinemas close. So, the album is completely focused on the voices of Luigi Marangoni and Bobby Soul while Claudio Parodi set a quiet musical background with thumb piano and shakers overtly influenced by the african tradition of accompany a narrator which entertains the listeners.
The thumb piano that opens 'A tree, at night' introduces the listener into a sound field closer to some forms of radio drama as it aims to underline the voices; and the line "feather of an eagle" sounds as a loop which will recur along the album. 'Il Sediosauro' enacts the figure of the meddler living in a bench observing everything while 'corridoio, la Donna bicipite' portrays the figure of a smoking woman. The female cook of 'scale, Foglia rinsecchita' talks about the altercation heard in a condominium. 'Sutra di Guscio di Lumaca' features the most complex writing of this release as it compares the cyclist to the snail as only who travels slowly has the time to know the places and it could be a metaphor of the writer. 'Il Maniaco della Pulizia' is a mockery of the kind of person obsessed with cleanliness seen as someone who sees the world out of control. 'Sentenza n. 2255' orders the tree's cut that deprives the snail of an home. 'The red bad cat gang' is an interlude which reminds of some old cartoon about cats. 'Feather of an eagle' closes this release depicting the sense of relocating in a new home.
This release is another shift in the musical output of this artist as it's a work completely focused on words and is an half-serious portrait of a condominium so it's truly recommended to follow the music with the booklet to enjoy the search of the musicality of the speech. Truly recommended.