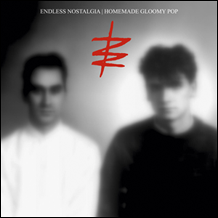 Artist:
Endless Nostalgia
Title:
Home Made Gloomy Pop
Format:
2CD (double CD)
Label:
Oltre La Nebbia Il Mare
(@)
Rated:
Endless Nostalgia are one of those bands that had an hard core following but that were unknown to most of the new wave followers of the 80s. The fact is that they released for Anemic Music (IRA Records) only one 12" in 1984, it was containing two tracks ("Me & My Alter Ego" and "Words And Silence") and they didn't exactly show what the duo was really. Those two were two nice italo dance tracks but Endless Nostalgia were also pop, electro and wave. Coming from Verona, Italy, Luca Rigato a.k.a. Bi Nostalgia and David E.H. (I don't know his surname, I only know that his name is Davide), run also their personal tape label called The League Of The Gloomers. With this label they released several Endless Nostalgia tapes as well as a Litfba live tape, an alternative soundtrack to Kenneth Anger's "Lucifer Rising" performed by Thelema, a tape by the Italian counterpart to Psychic TV, Rosemary's Baby, Hat Hat, etc, but most of the label's releases were dedicated to their own projects Endless Nostalgia and Bi Nostalgia. Recording their tracks at home, the duo was free to explore their melancholic feelings by giving an intimate touch to their sound. Using tiny synth sounds, upbeat drum machine rhythms and guitars here and there, they were able to channel their emotions building a particular sound. Sometimes they were recalling me Altered Images, sometimes Scritti Politti, then Paul Haig or Minny Pops. They also experimented Italian and English language mix on tracks like "Some Parts Of Me" or "The Correct Use Of Monuments". This double CD compilation released by Oltre La Nebbia Il Mare give to the band justice and to the listener offer tracks that span from 1982 and 1989 which include tracks from the aforementioned 12", others from "Two Days of Light", "Memories In Heaven", 'Lost" and "The Art of Nothing" tapes plus some unreleased ones. On some tracks you'll appreciate the cold wave atmospheres (check "Life Without Cushons" or "The Advance"), on some others the pop sophisticated approach to sound (see the late Associates) like on "Yellow Leaves Recover To Die", "Write A Letter" or "Tragic Beauty" or the dance freshness of "Memories Of The Night Before" or "Hidden In The Kitchen". This compilation will satisfy your will of sophisticated pop songs and it will do it helped by a nice package and a nice price!