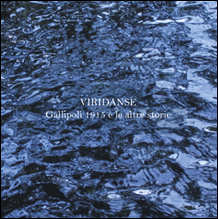 Artist:
Viridanse
Title:
Gallipoli 1915 E Le Altre Storie
Format:
2CD (double CD)
Label:
Oltre La Nebbia Il Mare
Rated:
I think that the first time I listened to Viridanse was thanks to the fanzine Amen and to the split tapes they were selling with their issues. Viridanse were on one of their tapes along with The Art Of Waiting (band coming from Bari that did only a MLP and that I hope someone will reissue soon). Viridanse were coming from Alessandria, Italy and they were active from 1983 to 1987. They did only two releases, both for Contempo: a MLP titled "Benvenuto Cellini" and an LP "Mediterranea". This double CD compilation "Gallipoli 1915 E Le Altre Storie", gathers both of them plus seven songs recorded live in Alessandria in July 1984 (unfortunately it wasn't possible to get a decent copy of the Amen tape to use) and a selection of four songs coming from the "Psycho Session" recorded in 1987. The first CD is the one that will please new wave and post punk lovers as on tracks like "Benvenuto Cellini" or "Vaso Cinese", the band was giving form to a personal mix made of razor blade guitars, punching bass lines and tribal drums. Another cool track is "Ultimo Canto": on this one, they used an atmospheric piano intro just to start a great energetic post punk song with drum, bass and guitars building a wall of sound. Lyrically the songs of this EP talk about freedom of expression (the title track), freedom of choice ("Ultimo Canto"), frailty of human relationships ("Vaso Cinese") and the fear of diversity/prejudice/marginalization ("Justine"). The seven live tracks are a historical document of their first years and are sounding like the ones of "Benvenuto Cellini", as they have been composed on the same period. The recording isn't perfect as the vocals are a bit low, but they testimony the energy and the impact Viridanse had on live gigs. "Dolce Vita", for example" recalled me band like A Certain Ratio and "Gallipoli 1915" is so aggressive that on some parts it seems a punk song. For "Mediterranea", the band changed slightly their approach to songwriting. The vocals are now more melodic and sustained at the end of the words (if you know early Litfiba, you know what I'm talking about), the rhythms are always upbeat and rich, also the bass lines are more sophisticated (Flavio Gemma was playing a second melodic line which enriched a lot the final result) and help sustaining the rhythm line very well. The overall atmosphere is less tense and here and there you can hear middle-eastern melodies. Recorded in Torino and produced by Marziano Fontana, "Mediterranea" is the natural consequence of a process of a band that wanted to grow, detaching themselves from the post punk spontaneity, creating a music that was also a challenge as songwriters. On this album they focused their lyrics on freedom like on "Sulla Strada", "Terra Di Sempre" (this one talked about the Palestinian people and about the feeling to being part of a stolen land), "Frontiere" and "Notte Chiara" or generally on a feeling of peace that could be felt on particular places or situations (like the sun warmth and the breeze of "Mediterranea"). The four closing tracks "Morgana", "Guarda La Balena", "Fronte Del Porto" and "Al Centro Del Mondo" were part of a recording session for an unreleased album. On these ones Viridanse recalled me the latter Denovo or Diaframma: the tracks were more influenced by Italian 70s music rather than post punk and I think that Antonello De Bellis, Enrico Ferraris, Flavio Gemma and Paolo Boveri could have joined the I.R.A. label hands down, with this kind of sound, but this never happened and you can only enjoy these tracks on this nice double compilation.