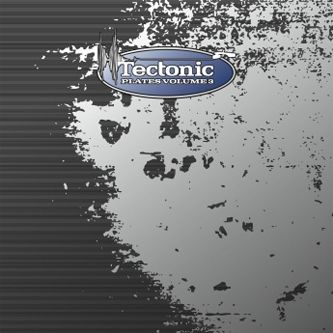 Artist:
VV.AA.
(@)
Title:
Tectonic Plates 3
Format:
CD
Label:
Tectonic Recordings
(@)
Rated:
Tectonic Recordings has had a formative influence on the evolution of Dubstep and its various bass-y tributaries. Run by Rob Ellis, aka DJ Pinch, over they years they have released a slew of classic Dubstep records by the likes of 2562, Distance, Skream! & Benga. It is fitting that on this most recent installment of the Tectonic Plates compilations, that they freeze and take stock of the current state of the bass.

Over the course of 13 tracks, it is possible to hear and identify many mutant strains of late-night LFO tweaking; from the now classic sub-woofer shredding of Kryptic Minds' "The Talisman," through the hypnotic tribalism of Tunnidge's "Universal" to the ends of an ATARI universe of Ginz's "Chrome". It draws a straight line straight from the earliest dubstep sounds, like Burial and Kode 9's wailing ghost divas and half-tempo locked grooves, to Skrillex's laser eyes and monster drops. Most of the tracks keep to the consistent 140 BPM, which makes for a smooth listening experience, well sequenced and well produced. There is also a pervasive mournful mood, brought on by heart-tugging strings, that harken back to the earliest days of dubstep, that sense of melancholy and immanent dread. Easy on the ears. Some of the tracks seem like works in progress, like Kevin McPhee's "Outs," which sounds like a dubplate rushed hot to the presses to someone's DJ friend, which seems like techno in its purest forms, utilitarian jams to make people dance.

In this day and age of media overload, trusted labels and selectors are more important than ever, and Pinch has been on the scene since the get go. Not every track on Tectonic Plates is essential listening, just like any DJ mix anywhere, but any of them would go over the for the late night faithful. Its interesting to speculate on where bass music will go from here.