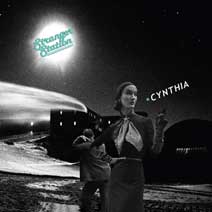 Artist:
TREELINE / POEME ELECTRONIQUE / STRANGER STATION
Title:
Too Hollow / She's an Image / Cynthia
Format:
7"
Label:
Attractive Co-ordinates
Distributor:
Anna Logue Records
Rated:
For years Steve Lippert is taking care of the Anna Logue Records' releases graphics. In 2008 he founded his own label which is a sort of Anna Logue Records sub label as Marc Schaffer is taking care of the distribution. I just received the new lot of Attractive Co-ordinates releases from Marc and I'll talk you about these new three 7"s. The first one is by Steve Lippert's own musical project Treeline. Treeline born in 1983 when Steve and Clive Weston bought some very cheap instruments - a Casio SK-1 and a Casio VL-Tone. They recorded ten tracks but they never released them. Seven years after, Steve, borrowed a Yamaha DX27 and recorded some more new stuff but always using cheap equipment (how does it sounds a mono tape recording to you?). Nothing new happened until the last year when the duo decided to put unto the first label's 7" compilation titled "Attractive! Too" their track "It's No Good Trying To Reason With Me". Now, it was the time to release something new and they picked up "Too Hollow" to be released as a 7". Originally recorded around 1986, the track is an experiment with tv and radio recordings mixed with few synth melodies. The result sounds quite dreamy and cause a feeling of anxiety too. I had the same feeling of when you see one of those old dolls on a bed pillow. The B side, has a "The Phone Mix" of A side. The track has the same feeling but it sounds even more hollow that the original one as some sounds have been removed and the vocals reversed. The second release is a new Poeme Electronique single. After the CD re-release of 'The Echoes Fade' we have the chance to check a new mix of "She's An Image" (Dave Hewson enriched the bass line and made of it a song which now sounds more dancey and upbeat) and a new song, "Rubber Dollies", which is coming from the band's vault of 80s unreleased tracks. It is a great dance tune with nice arpeggios, a tight bass line, upbeat rhythms and a great Sharon Abbott vocal performance. This is an appetizer of their forthcoming album "Fashion for all Sexes". Along with these old material, they are also preparing an album of new recordings. The third release of the bunch is a Stranger Station 7". Anna Logue Records released back in 2009 an album titled "Echoes In Infinity" (album that will be reissued soon on CD with bonus tracks) which contained their only 7" "Minutes To Silence" plus other eight unreleased tracks. Their characteristic was that they didn't use drums. Rhythms were on the bass lines. Anyway, this new 7" contains three unreleased tracks: "Cynthia", "Casey" and "Magic Carpet". The three tunes have three different singers Audrey, Pip and Corinne. All the tracks are based on melancholic synth melodies / vocal duets and they sound quite dreamy and they recalled me a minimal synth version of some 80s Robert Wyatt tracks (check "At Last I Am Free", for example).