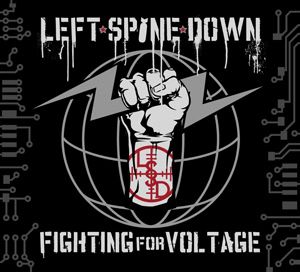 Artist:
LEFT SPINE DOWN
Title:
Fighting For Voltage
Format:
CD
Label:
Synthetic Entertainment
(@)
Rated:
Many bands took L.S.D. as a name acronym and this time it stands for Left Spine Down. They are a Canadian band and they have Jeremy Inkel of Front Line Assembly and Noise Unit and Denyss McKnight previously of The Black Halos on their line-up. FIGHTING FOR VOLTAGE is their first full length containing sixteen tracks that are in balance from cyber punk rock and metal industrial. Having melodies that sometimes recalled me the good Offspring tracks the band turned them into a voice/guitars/drums driven high energetic formula that goes at least at 140 bpm. For the whole album there isn't a lack of adrenalin, the melodies are quite simple and the songs work well. Take KMFDM or Skinny Puppy, remove from their sound the dark curtain, keep the speed pedal pushed down and you'll have an idea of Left Spine Down (practically a sort of cyber version of Misfits). They sing of the decay of human race and if you put in a row "U can't stop the bomb", "Last daze" and "Prozac nation" you'll remember them for your next car compilation. The album closes with an interesting 23 minutes industrial/synth outro. Not only good for M.T.V....