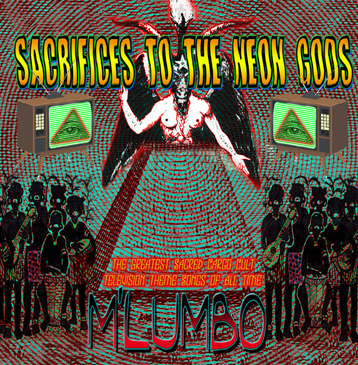 Artist:
M'lumbo
(@)
Title:
Sacrifices to the Neon Gods
Format:
CD
Label:
Mulatta records
Distributor:
City Hall records
Rated:
If you are in the mood for some crazy-ass music, then M'Lumbo is the band to turn to. This six piece NY based collective of musicians (who travels with two filmmakers and a sound guy) is renown for playing some of the most "out there" music out there, and they keep doing so since the late 80es.
Exotic, psychedelic, post-modern, avantgarde, esoteric, experimental and so on and so forth are all adjectives that only do half justice to the orgy of sound, visions and moods that M'Lumbo stirs up with their records and their live performances (which needless to say, you should try to make whenever they happen).

"Sacrifices to the Neon God" is their 6th full length CD release (which follow three tapes in the earlier days) and is basically a live-performance-mash-up of TV/cinema themes (performed by the band, not triggered from a sample library) from every era, studio or network, captured on the stages of The Knitting Factory, St. Ann's Cathedral and a studio. M'Lumbo could potentially appeal to fans of John Zorn and half of the records he puts out on his label Tzadik, Negativland, Le Forbici di Manitu', Miles Davis' craziest works, Tom Waits and many many more... It's practically impossible to define M'Lumbo by virtue of comparison or to file them under one category or music. Their style is a combination of so many things and they do it encompassing everything from weird and unusual to pop culture, from plagiarism to improvisational, from free-form jazz to rock and funk, from world music to pop music and everything in between. I dare you to listen to them and find the definitive label.