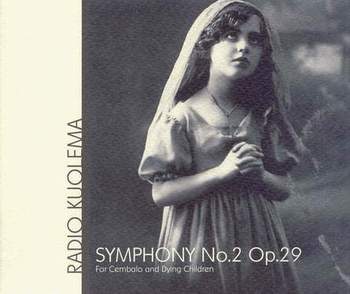 Artist:
RADIO KUOLEMA
(@)
Title:
Symphony No.2 Op.29 For Cembalo And Dying Children
Format:
CD
Label:
Ars Benevola Mater
(@)
Distributor:
Masterpiece Distribution
Rated:
SYMPNONY No.2 Op.29 is the third Radio Kuolema release. The CD openes with a couple of minimal ambient tracks ("Overture" and "Allegro") which alternate their ambience from melancholic orchestral movements to more dark industrial moments where subtle drones are coupled with harpsichord or violins. On these ones I must say that the melancholy was overwhelming but the musical score was a little simple (it was based on a couple of sounds only). On "Adagio" the industrial part starts to take a hold and the magmatic noises start to paint the picture you have finally with the fourth movement "A gothic romance". On this track we have a good dark ambient tension where different kind of drones (hisses, treated synth pads, etc) are layered to form a good moment. This scheme is followed also for "La muse venale" where there's alternation of dark industrial moments and calm orchestral spots just to end with the sum of the two. On "Nocturnal" Mauro worked on industrial ambient sounds composing an isolationist track which is able to create a good effect. The last one "Der wille zur macht" is the only track with a rhythmic section (even if distorted and treated) but, just like the other tracks, it turns into something different when the rhythm stops and a treated guitar sounding like a distorted wind blow take its place. The track changes again when the orchestral sounds starts its calmly melody just to turn into an industrial minuetto when the orchestra is joined by the guitar. The track ends with a chaotic suited performed by guitar and distorted/treated drums. I appreciated the dark industrial moments and some moments of tension where Marco was able to create the most effective ambience but there were also some other moments when I feel he lost the point and the melancholy or the nihilist approach took his hand.