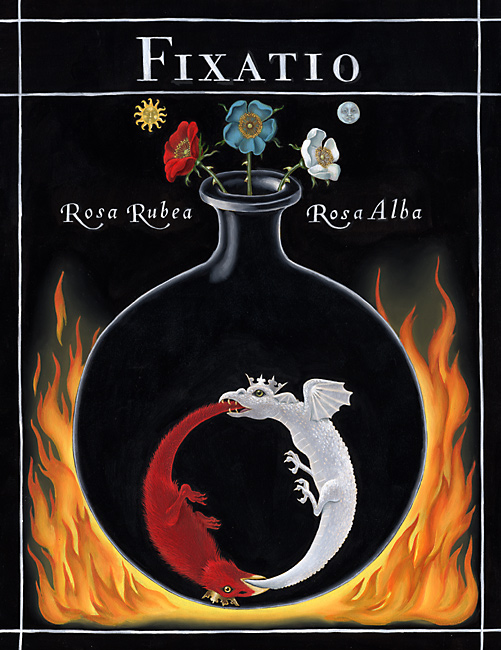 Artist:
OSSASERPIA
Title:
Music For Solve et Coagula
Format:
CD
Label:
HORUS CyclicDaemon
(@)
Rated:
The artwork for this album must be one of the most ambitious ones I ever seen.
It's not a booklet, it's a book (printed on Gmund Kaschmir cream 170g)! Hard-bound in A5 designed by Madeline von Foerster, known for her artwork she made to The Red King and Mirabilis.
Special limited edition consists of 500 hand-numbered copies
in hand-made box covered with rustish top-notch embossed Quilt 120g paper.

The album is composed by Vladimir Igoshin (Ossaserpia) and it is dark industrial, dark ambient with traces of classical music. The classical music influences are not obvious but very strong and strange. The music is often drone-like but not ever boring (like so many other bad ambient acts).

The inspirations for the album are theories by Robert Fludd (Robertus Fluctibus)
and Rosicrucian theories of the monochord.

I'm under the impression that "Music for Solve et Coagula" is one of the finest albums to date in the industrial ambient genre!
By the first track, Ossaserpia have not shown all their cards. The CD grows on you and when the 12th and last song plays you things have evolved. In the last song the classical influences are stronger than before and it really works!

I have to be honest and say that it's not an easy task to follow two wonderful masterpieces in Musterion "The Black Lodge" and K.Meizter´s "Traveling Light". During the first song I thought Ossaserpia failed but the more I heard of the CD the more I realized how wrong my first impression was!
The album could maybe be an alternative soundtrack for the great film "Stalker" (Andrei Tarkovsky, 1979). It would work well in horror, sci-fi films. So, if you like the feelings of space, magic and horror you should check out this release.

Horus is starting to stand out as they release experimental dark music. I think that Horus still need maybe 3-4 great releases more before be counted as one the leading labels but hell this is a great period for Horus right now!

Upcoming releases on Horus are: Silence & Strength, 4TH Sign of the apocalypse and Musterion!
2006 and 2007 seem to be the years of Horus CyclicDaemon of Czech Republic!