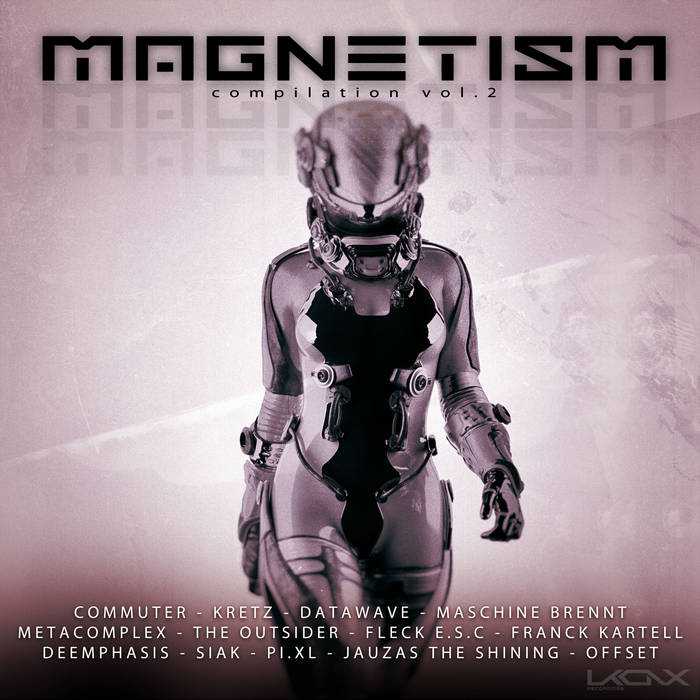 Artist:
VV.AA.
Title:
Magnetism Compilation Vol. 2
Format:
Download Only (MP3 + Lossless)
Label:
Ukonx Recordings
Rated:

The French label Ukonx is already busy into bringing us new dark electro tracks and this is the time of the second volume of the "Magnetism Compilation" series. It opens with Frank Cartell and his tribute to Kraftwerk with "Les Automates". On this one many parts have been composed having in mind Kraftwerk's songs but Kartell have been turned those ideas into new inputs in a really good way. Datawave's "Droid Lab" is sounding tense and fragmented. Maschine Brennt is kind of mixing the sound of the two previous bands by having robotic rhythms and vocals plus dark atmospheres. Kretz, from Sweden, is here with "Corporate Greed Will Proceed", a space electro funk track with filtered vocals. "Equanimity" is the track that Commuter, another project coming from France, is bringing to the attention of dark electro lovers focusing on the alternate of arpeggios, ambient pads and bass stop and go. Deemphasis is the project of the label's owner Stephane and with "Reactivity" is creating a mix of robotic and ambient tune with kind of middle Eastern's melodies. Pi.XL, from Spain, with "Do It Yourself" is focusing his track on rhythm layers with few harmonies here and there. Let's go back to France with Offset where a drum sound similar to a 80's Linn's drum is the core of "Framework", a nice track in balance from electro and vapor wave. Japan is waiting for us with The Outsider's "Noctilucent Clouds", a track could be useful for a soundtrack thanks to its inintelligibile treated vocals, sampled breaths used as part of the rhythmic structure and horrific pads. Siak Phd, instead, like it loud and their kicks are hammers that works as counterpart to the metallic like sounds and breathing sampled vocals. Hungary is Metacomplex's home and with "Neurosilence" we have an electro suspended in time effect thanks to the delay applied to the melodic synth parts. Jauzas The Shining is a project I know since ten years or so from the Black Montana days of which I lose tracks. With "Surveillance ", he's bringing paranoid atmospheres which play around one arpeggio. Fleck ESC (which I also reviewed about 10 years ago) is closing the compilation with "Fantasm", a track that plays with a rich rhythmic palette, as usual for the French project relocated in Japan lead by Frank Collin. The compilation works as a soundtrack presenting part of nowadays dark electro panorama, so check it out...