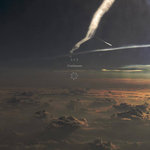 Artist:
Inner Vision Laboratory
(@)
Title:
Continuum
Format:
CD
Label:
Zoharum
(@)
Distributor:
Alchembria
Rated:
It's always nice to hear a release from a project which marks a difference from its previous ones; it's not a matter of evolution but of expectation. Especially in the dark ambient area, it's usual that a formula is repeated without any deviation but "Continuum" is somehow different from the previous efforts by Inner Vision Laboratory. Departing from the calm shores of dark ambient, Karol Skrzypiec explores new territories using a richer sound spectrum not using impressive sound effect but new musical elements from other genres.
The speech by Alan Watts, about how human unhappiness is based on the feeling that life is meaninglessness, introduces the listener towards an ambient release based on suspended slow tones and resonances. Some samples, maybe field recordings, gives the illusion of track being recorded in an open environment without the sense for special effects so common in dark ambient nowadays. The use of guitar and piano among the usual electronic equipment which is the base of the genre is the key to a link to certain minimalism which is the center of the second half of this release which seems an hint of a change of musical direction in the next releases.
In a precarious equilibrium between classic ambient, minimalism and experimental music, this new release by Karol Skrzypiec is a little gem that could be well received by most fans and demands a certain number of listening to catch all the grains hidden in an apparently canonical form. Highly recommended.