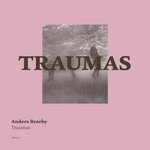 Artist:
Anders Brørby
(@)
Title:
Traumas
Format:
CD
Label:
Forwind Press
(@)
Rated:
According to the liner notes, this release aims to explore feelings of 'fear, isolation and trauma' and it's by an artist, Anders Brørby, not overtly known even he has a considerable discography. The premises of this release are rendered with a relatively canonical ambient form, sometimes blended with some noise or house influence which results in a pseudo-personal form which gives a convincing sense of easy listening to the whole.
"Hatred to all Living Things" opens this release with an atmospheric track based around a drone which is underlined by inserts of acoustic and electric guitar and samples with the result of a sort of crescendo ending in the final voice speaking about consolation. "Body Love" is instead a catchy track based on a dancey beat and dreaming synth. "In My Dreams My Teeth Fell Out" is a short and static, but noisy, interlude to "Various Positions, According to the Gospel" an eventful track based on rhythmic cages for samples and synth. "Trauma" is almost a proper IDM track based on a clear melody and complex beats. "Cruel Morning Orgasm" is an ambient track based on droning crescendo ending in a quiet noise. "Depression Puzzle" oscillates between quiet moments and noisy ones in a climate of suspension. "Describing Beauty" is a rarified and ephemeral track based on a delicate drone. "I Won't Be around When You Really Need Me" is a short track in two parts: the first one is a form of static crescendo where a drone is juxtaposed to an accelerating beat while the second one is a static soundscape ending with radio noises. "Dogma" is an almost new age quiet track which ends this release.
This is a multifaceted release clearly written without abstruse experimentation so, even if someone could have a form of déjà-vu during hearing, it's an enjoyable release for a reasonably wide audience. It's really worth a listen.