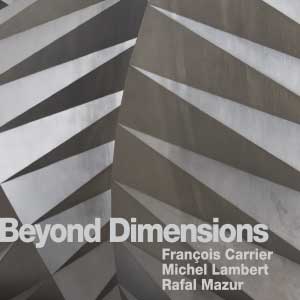 Artist:
François Carrier, Michel Lambert, Rafal Mazur
(@)
Title:
Beyond Dimensions
Format:
CD
Label:
FMR Records
(@)
Rated:
It's not the first time that François Carrier (alto saxophone), Michel Lambert (drums) and Rafal Mazur (acoustic bass guitar) play together as a trio, so they have an recognizable sense of interplay. As they usually improvise, this release was recorded live and collects four track played in Romania. Their music stands along the path of free jazz where the harmonic structure is reasonably thin to make all player has a lead role in certain sections of the tracks.
The first track, "Open Dream", opens this release with the saxophone in the foreground which is sustained by the bass which sometimes takes the lead of the improvisation with the remarkable work of the drums which underline the sections of the track being more sparse when the bass is in the foreground and more dynamic during the sax's sections. "Namagiri" is instead focused on sax but there's a constant dialectic between its lines and the rhythmic section which sustain them instead of simply accompany. "Unseen" is the shortest and perhaps more harmonically fragmented track of this release where all instruments have equal musical space. "Beyond Dimensions" closes this release with Carrier that creates a melodic framework where Lambert and Mazur sustain or contrast depending on the moment.
This is an enjoyable release where the idea of improvised music as a way to escape the constraints of a score, intended as a role imposed on the instrument whether soloist or supporting, is reclaimed in an equilibrium between all player. Recommended for fans of avant-garde and free jazz.