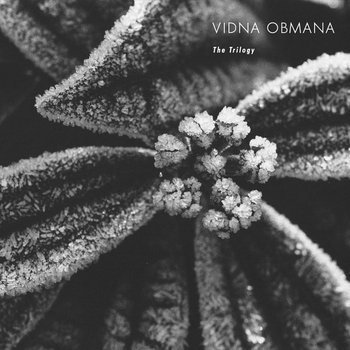 Artist:
Vidna Obmana
Title:
The Trilogy
Format:
3 x CD (triple CD)
Label:
Zoharum
(@)
Distributor:
Alchembria
Rated:
After his initial release oriented towards industrial music, Dirk Serries began to define his perculiar vison of ambient music. This reissue collects the first three movements of this journey: "Passage in Beauty", "Shadowing in Sorrow" and "Ending Mirage" which were long out of print. Even if they were already collected a single release, each one has a distinctive quality which made it a step in a process of discovering the art of Vidna Obmana.
The first one, "Passage in Beauty", is centered upon "Awaken in Floating Colours" which is presented in three compositions and it's the most drone centered and perhaps has the slower development even it's the brighter of all three e.g., the resonances of a track like "Mood in Pears" doesn't almost appear in the other chapters of this trilogy. "Shadowing in Sorrow" is a darker and sharper release starting with a track like "One Charming Delight" which immediately marks a change of direction towards a more drier sound even if the form is similar and this create a sense of blurring of the sound spectrum. "Ending Mirage" closes this trilogy with a process of rarefaction of sound which few similarities even with other Serries' opus, so while the other chapter and especially the first where practically based on a fullness of the spectrum which enchanted the listener, this one begin to use silence as a pillar of his sound, so this was a true development of the form marked by the impressive dynamics of a track like "Luxurious Fragment (in Two Parts)" which requires a particular commitment of the listener to catch all the small nuances of the sound which border lowercase music which will be formalized years later.
This are true masterpieces which have written a piece of history of ambient music so it's an essential release for those who haven't this albums in their collection. Absolutely recommended.