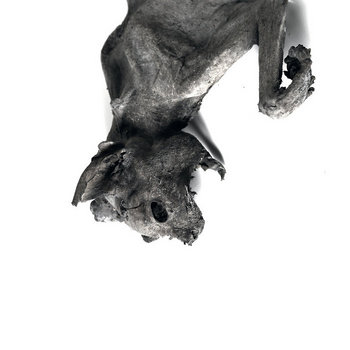 Artist:
Nordvargr
(@)
Title:
Metempsychosis
Format:
CD
Label:
Cyclic Law
(@)
Rated:
This new release by this artist known primary for his role in MZ.412 is inspired, according to the liner notes, from the the transmigration of the soul intended as a choice rather than a judgement. This marks a movement from his now canonical form of industrial ambient to a more song oriented form with the result of being one of his most accessible release yet.
After the atmospheric introduction of "Into The Cycle Of All And Nothing", the vocals of "Metempsychosis" set immediately the framework of this release that is the song form as, even in the pseudo growl mode, the lyrics are almost discernible; while this track is grave and based on a drone, "First East" is martial and aggressive with his rhythmic cage. "At The Crossroads Of Immortality" is a remind of his well known ability to create dark soundscapes while "Invocation For A Malicious Spirit" is a sonic depiction of a ritual. "Salve Teragmon" is dancey and close to certain EBM, even in his noisy aggressiveness, while "Manifestation" is evocative with its sound immersed in silence. While "Sweet Death Triumphant" is based on menacing declarative lyrics upon a noisy background based on loops, "Consolamentum" is quiet and cinematic. "Livet Tar Slut" closes this release with a pseudo crescendo based on vocals and power electronics.
It's probably unfair to expect something new from someone who has forged one of the most recognizable sound of the '90s and has influenced an entire scene. It could be considered a fan service but it's so well crafted...