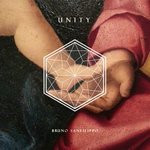 Artist:
Bruno Sanfilippo
Title:
Unity
Format:
CD
Label:
Dronarivm
(@)
Rated:
There's one problem with a release that has to be filed under the term "modern classical" which is the prejudice that it's nothing more than a nom de plume for a sort of nostalgic, if not reactionary, piano music more or less influenced by romanticism. This is not the case of Bruno Sanfilippo, which is a classically trained musician, as it uses elements of electroacoustic music to expand the palette of this genre of music and tries to avoid the cliché.
The first track, "Spiral", is an ethereal piece for voices and synth of remarkable atmosphere and clarity revealing also a sort of religious inspiration. Instead, a track like "One", dangerously borders the romantic borders of the genre luckily far enough from its shoal upon which the minimalistic framework of "Lux" docks. The violin line of "Simple" reveals an apparent simplicity to cover the complexity of the accompaniment while "Oneness" relies on the catchy melodic framework. The electronic treatments of "Entity" and "Cyclical" creates a lingering sense of suspension to balance the romantic piano melody. "Unity" close this release with a long and reasonably complex track where repetitive and hypnotic melodic elements creates a development ending in a ethereal final part close to canonical ambient.
The evident working on sound to juxtapose a patina of modernity to an overall traditional idea of music, as minimalism in this case is not based on repetitive figure but on a plain melodic plan, saves this release from the perilous courses of the genre but it could be not enough to earn something more. Perhaps not only for fans and collectors.