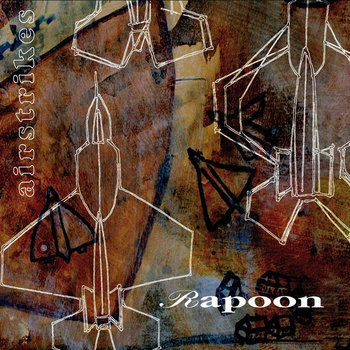 Artist:
Rapoon
Title:
Airstrikes
Format:
CD
Label:
Zoharum
(@)
Distributor:
Alchembria
Rated:
Robin Storey returns with a new release on Zoharum, after three years from his previous "Blue Days", with longer tracks and more political influence. Samples referring war and fake news are as sparsely used as highly evocative and are a sign that, even if not as innovative as some years ago, his inspiration remains almost intact.
The juxtaposition of complex rhythms and the classic oriental music samples is the base of "Airstrikes (Disaster... Fake News)" where, as the title suggests, a sort of commentary about political facts emerges. Despite his canonical elements, "I Hold You" takes full advantage of his short duration to grab the listener's attention while "We Pray for Rain" is perhaps too long for his sparse musical material. Only a simple sample from perhaps a movie gives a sense of evocativeness to "Drones". Even if a little too predictable, the oriental flavor of "Whisper in the Suk" is emotional while "We Watch in Wonder" revolves around his complex rhythmic pattern. The intersections between all the elements of the previous track makes "We Are Such Stuff…" a long and evocative journey around the confusion of modern world especially in the central part were the voices float upon the minimal background.
A little too stretched out in some moment, this release is sustained however by the indisputable class and craft of his author. Perhaps not among his best efforts but his fans will have another moments of enjoyment. Nice.