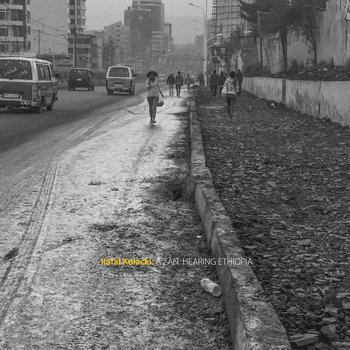 Artist:
Rafał Kołacki
(@)
Title:
Ā'zan. Hearing Ethiopia
Format:
CD
Label:
Zoharum
(@)
Distributor:
Alchembria
Rated:
As its previous "Hijra. Noise from the Jungle", this new release by this Polish artist is a set of field recordings; they were made in Addis Abeba and this city was chosen as there are many different languages and different forms of religious activity. So, there's again a cultural and political concept in this recording: the possibility of coexistence of different cultures in the same place.
As the first seconds of "'zan" are heard, the listener is immediately placed in Ethiopia, and there's an audio feeling of a postcard, as there's the sound of the environment, more precisely bird's singing, along with the recording of a song from the radio or tv. As the release develops, it's clear how there's any interest in documenting the musical scene of the place but to capture the sound of everyday life. While there are anyway tracks like "'gar" devoted to the music of this place, it's mostly, if not entirely, singing as if they were recorded from a religious rite. Instead, as in "R... 's", music emerges as a phenomenon as just another sound i.e., a clacson, and where is completely absent, as in "Ab", there's a perceptible evocation in the recordings. So, as the of voice of "Faras" end his chant, and the release, there's a sense of a journey's end.
Absolutely impressive in his ability to capture the soul of a place, it's completely different from the typical release of field recording more concerned with the precise audio details; so it's absolutely necessary.