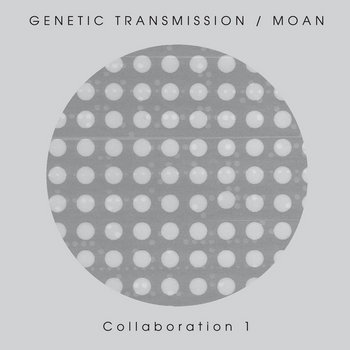 Artist:
Genetic Transmission / Moan
(@)
Title:
Collaboration 1
Format:
CD
Label:
Zoharum
(@)
Distributor:
Alchembria
Rated:
As usual for this label, the reissue plans for selected artists are carefully done: this time is the turn of Genetic Transmission and his collaboration with Moan. This release was conceived as a sort of split release were they contributed their own sonic vision and their track even if they conceived together the sound sources and exchanged their results.
Track 1,3 and 5 were arranged by Tomasz Twardawa (GT) and the first one disposes the sound in the audial spectrum in such a way to properly define a space were an environment unfolds while the second one is more concerned with the sound details and their evocativeness and the third evolves by accumulation of sounds until a more sparse framework closes this release.
Track 2 and 4 were arranged by Rafa Sdej and the first one is focused of the surrounding of the listener with the construction of thick drones upon which small noises generates movement and became the focus of the second part of the track and this framework is further developed in the long other track where this form is expanded not only in time but also in the depth of the musical elements.
An impressive release were especially the Moan's track reveal the level of craft involved in the release of such masterpieces of experimental music. It's not the writing involved in this release, but the manipulation of the sound until the listener has not to follow a sort of discourse but he's placed in an environment in which his mind can move. Truly recommended for fans of the genre.