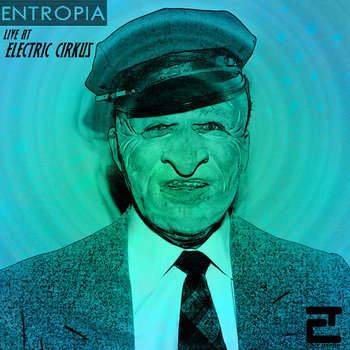 Artist:
Entropia
Title:
Live at Electric Cirkus
Format:
CD
Label:
Eclectic Productions
Rated:
There no introduction to this release except from the line up of the band (Dr.Lops: keys, modular synths; Ugo Vantini: electronic drums; Amptek:b synth guitars, analog sequencers; Carlo Micali: sound engineer) and the liner notes stating that this live was recorded on two tracks i.e., no overdubs. However Entropia's music could be roughly described as techno with a splash of ambient.
The release is divided in two parts: the first one is composed of four solo track: "The Great Escape From The Holographic Sanitarium" and "Fight The Winged Dragon" are from Ugo Vantini and they are minimal tracks based on the manipulation of the rhythmic sources and so they are more atmospheric than hypnotic. "Modular From Cassilde Hell" is from Doc Loops and is a crossover between a noise track and a sci-fi oriented synth track. "Supercluster Blaster" is from Amptek and it sounds as more oriented towards kosmische musik as the sound of the guitar is so effected that it's closer to a synth.
Then it starts the part featuring all the band and, instead of being the mere juxtaposition of the elements of the solo tracks, there's some elements emerging from the interaction: the rhythmic cages reminiscent of certain techno, with convincing results especially in "Memories Of An Electric Circus" and "Dance U Sob", which moves the result from the relatively meditative territories of the first part to more danceable one until "Nasty Tales From The Maudit Stage" marks a final part with a more attention towards the sonic construction until "Inner Spooky Universe Paraphernalia" closes this recording blending all the elements of the previous tracks.
This is a release oriented towards a very defined audience that could appreciate the craft of exploring this clearly defined genre while the others could be a little disappointed by the absence of any deviation from the canon. A nice release.