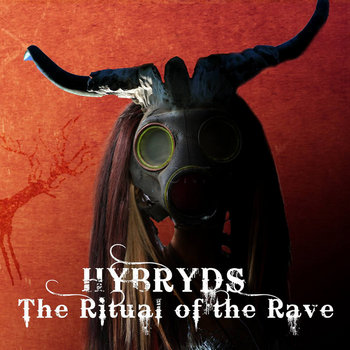 Artist:
Hybryds
Title:
The Ritual of the Rave
Format:
2 x CD (double CD)
Label:
Zoharum
(@)
Distributor:
Alchembria
Rated:
This new reissue of the Hybryds' discography was originally published the same year as "Soundtrack for the Antwerp Zoo Aquarium" but while those album was a demanding gem of experimental music, this one is more oriented towards a dance oriented electronic music whose development is mostly slow or static and where even the hypnotic element is put aside.
The rhythmic framework of "Red Lebanon" immediately exposes the style of the band at the crossroad between tench and ethnic music or between dance and hypnotic aims while "Sjamanistic Dream (ravemix)" is more unbalanced towards the dance floor as it's completely focused on the rhythmic functionality of all the elements. While the initial of "Icarus" with the apparently ritual spoken words hints a change of direction, there's a immediate return to the rhythmic elements but with a subtle research for a sonic nuance mainly for the ambient background. "The Ritual Should Be Kept Alive (Part 3)" revolves around ever evolving rhythmic patterns and "Prometheus' Quest for Fire" uses a piano in the first part to mark a break for this rhythmic exploration only to return to an obsessive rhythmic part seldom doubled to create variation and movements and using the ethnic overtone while "Sjamanistic Dream (computermix)" has a synthetic palette. After three minutes of silence, an hidden track closes this release with an evocative ambient tune.
The bonus cd collects a live recording where the sound construction is in evidence instead of the rhythmic element even if the sound quality is not always excellent mostly in tracks like "Zoo Intro" and "Call of the Tuareg" and other rarities which are on the same framework of the other tracks of this reissue.
Honestly, this is mainly a release for fans and collectors that, even with the undoubtable ability of the performers, sounds more as an adjustment to times than a proper follow up of their masterpieces. However, it's not even aged a little bit.