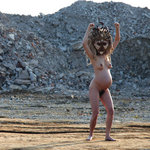 Artist:
Stefano De Ponti | Eleonora Pellegrini
(@)
Title:
Physis
Format:
CD
Label:
manyfeetunderconcrete
(@)
Rated:
With his now considerable output, Stefano De Ponti is perhaps one of the most interesting composers around. Physis, more than his proper new release, is the completion of a project with Eleonora Pellegrini born in 2011. The basic idea of this work is a body and sound performance about the evolution of Nature in an historical line from the beginning to the future.
The first part of this release, "I", quietly starts with "Non dèi invocar" a drone broken by the voice of Eleonora Pellegrini whose intensity increases as time goes by and is underlined by the soundscape in the background until a crash introduces the second part of the track, "Physis", based on stone's noises, or so they sound, upon a quiet resonating background. As the concrète source of the sound emerges, with "The Fishing Ape" the listener is closer to a part based on sharp high tones, "Seirn", paving the way for a song, "Canto", closing this part in which the voice seems at a distance and the noisy background gradually overwhelms everything.
The second part of this release, "II", is based on two movements and it's a more static part: "Grey Desert", a quiet and meditative positioning of sounds generating the sense of being into a primitive but cinematic environment and "Oracle" where the concrète element returns and the voice of Eleonora Pellegrini closes this release without the accompaniment of any sound.
While the first part of this release takes his character by the interaction and the mutual support of voice, words and sound and it one of the finest moments of the year, the second one sounds more like a questionable coda or a sound mimic of the cover than a fully developed piece; it's like it needs a visual counterpart to be effective. As a whole it's probably something than every fans of experimental music should hear.