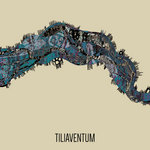 Artist:
Deison & Mingle
(@)
Title:
Tiliaventum
Format:
CD
Label:
Final Muzik
(@)
Rated:
As the title suggests, this release is an homage to the Tagliamento, one of the few braided river remained and, for his morphology, could be easily seen as a metaphor about life seen as the intersection of personal destinies or about place viewed as the sum of personal contributions. While it's plenty of contributions, every theoretically external input is fully absorbed in a coherent musical field.
The sounds of "Arteria" opens this release with an equilibrium between a sense of movement and a sense of rest where even some field recording seems to emerge. "Tiliment" is a quiet and meditative piece for sustained tones supported by the beats while, even in an abstract way, "Agane" reveals a sense for melody closer than expected to pop. "La Piena", with his heavy beats and square structure, takes this release towards certain industrial territories. The complex soundscape of "Sotterraneo" is an interlude to "Grave" which continues on the path marked by the use of terse beats while "Pietra Viva" reveals in the background the craft in the shaping of sound and the clever use of field recordings. From a certain perspective, "21:00:12" seems the second part of "La Piena" while "Savalon" and "Nel tuo letto" are quiet sonic watercolors and "Ajar e aghe" closes this release with a song for voice and field recordings of the water.
The use of sounds derived from natural elements like stones seems the glue that ties togheter a release swinging from experimental angst to pop attention, so resulting in a release that could find an audience even outside of the genre's circle. Recommended.